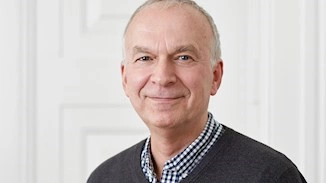 Research area
The long term goal of my research is to develop an immunization protocol that prevents Plasmodium falciparum malaria by controlling asexual parasite multiplication in infected individuals and sexual parasite development in the infected mosquito. This work has led to the testing of a blood-stage malaria vaccine candidate, GMZ2 in a total of 1870 African children from. In parallel with the vaccine research, I have also been engaged in basic research in malaria immunology and human genetics to understand the basis of naturally acquired immunity to malaria.

Prizes and honors
Bourse d'accueil postdoctoral Manlio Cantarinii (2000).
Thorvals Madsens mindelegat (2003).

PubMed link
Responsibilities
Responsible for malaria vaccine research at SSI.
Participating in the screening program for the newborn.

Publications
Stone WJR, Campo JJ, Ouedraogo AL, Meerstein-Kessel L, Morlais I, Da D, Cohuet A, Nsango S, Sutherland CJ, van de Vegte-Bolmer M, Siebelink-Stoter R, van Gemert GJ, Graumans W, Lanke K, Shandling AD, Pablo JV, Teng AA, Jones S, de Jong RM, Fabra-Garcia A, Bradley J, Roeffen W, Lasonder E, Gremo G, Schwarzer E, Janse CJ, Singh SK, Theisen M, Felgner P, Marti M, Drakeley C, Sauerwein R, Bousema T, Jore MM. 2018. Unravelling the immune signature of Plasmodium falciparum transmission-reducing immunity. Nat Commun 9:558.
Singh SK, Tiendrebeogo RW, Chourasia BK, Kana IH, Singh S, Theisen M. 2018. Lactococcus lactis provides an efficient platform for production of disulfide-rich recombinant proteins from Plasmodium falciparum. Microbial cell factories 17:55.
Simtong P, Romphruk AV, Traum A, Burg-Roderfeld M, Bein G, Jakubowski K, Dominik A, Theisen M, Kana IH, Sachs UJ, Santoso S. 2018. Molecular and Functional Characterization of Fcgamma Receptor IIIb-Ligand Interaction: Implications for Neutrophil-Mediated Immune Mechanisms in Malaria. Infection and immunity 86.
Kana IH, Garcia-Senosiain A, Singh SK, Tiendrebeogo RW, Chourasia BK, Malhotra P, Sharma SK, Das MK, Singh S, Adu B, Theisen M. 2018. Cytophilic Antibodies Against Key Plasmodium falciparum Blood Stage Antigens Contribute to Protection Against Clinical Malaria in a High Transmission Region of Eastern India. The Journal of infectious diseases 218:956-965.
Theisen M, Jore MM, Sauerwein R. 2017. Towards clinical development of a Pfs48/45-based transmission blocking malaria vaccine. Expert review of vaccines 16:329-336.