Statens Serum Institut has a long tradition of epidemiology research, and today the epidemiologic research milieu is among the strongest and most renowned in Europe.
Statens Serum Institut's research activities have been described in articles in Science entitled "When an entire country is a cohort" and "The epidemiologist's dream: Denmark". In a third Science article, the initiative to perform genomic studies using PKU cards was described as "a gold mine".
SSI's epidemiolgic research activities include:
Research in public health, e.g. the efficacy and effects of national vaccination programmes
Pharmacovigilance activities
Disease surveillance and monitoring of treatment programmes
Basic epidemiologic research
A large part of our basic epidemiologic research focuses on disease etiology and risk factors for disease. Focus areas include:
Allergic disease
Autoimmune disease
Cancer
Cardiovascular disease
Genetic epidemiology
Infectious disease
Pregnancy and its complications
Vaccine safety
Resources available for epidemiologic research
Researchers at SSI make use of a large, diverse set of resources. Many studies are register-based; others use information from a number of unique databases that have been established at SSI and include information not available in the registers. Still other projects are based on the analysis of biological specimens for e.g. cytology, histology, microbiological agents, genotypes, biomarkers, micronutrients, and immune system responses.
National registers
Thanks to a long tradition of nationwide registration of civil and health data, Denmark is an international pioneer in the field of register-based research. The cornerstone of the Danish registers is the Danish Civil Registration System. Established in 1968, it contains continuously updated demographic and vital status information on all persons residing in Denmark, aided by the unique personal identification number assigned to each Danish resident.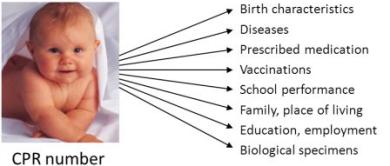 The personal identification number permits tracking of individuals in the Danish population over time and accurate linkage of individual-level information from Denmark's nationwide population-based registers.
Many nationwide health registers, including the National Patient Register, the National Prescription Register, the Danish Cancer Register, the Medical Birth Register and the Cause of Death Register are hosted by the Danish National Board of Health Data. Other nationwide registers on economic and social issues, such as the Education Register, the Employment Classification Module, and the Income Statistics Register, are hosted by Statistics Denmark. An introduction to Danish nationwide registers on health and social issues can be found here. Similar registers exist for Greenland. One of the newest nationwide registers, the Danish Vaccination Register, allows researchers to investigate effectiveness and safety of childhood vaccination programmes. Another is MiBa, a national microbiological database that contains nationwide data on microbiological diagnoses at the individual level.
Cohort studies and data collections
Prospective cohort studies offer ideal opportunities for epidemiologic research. A great deal of SSI's epidemiologic research uses material from the Danish National Birth Cohort (DNBC) a nationwide collection of data and blood samples from almost 100,000 mother-child pairs. DNBC mothers were interviewed twice during pregnancy about general health, dietary intake, and a range of environmental exposures. Since the birth of the DNBC children in 1997-2003, multiple rounds of data-gathering have been carried out using interviews and questionnaires, yielding detailed information on the children's health, growth, and development. Many genome-wide association studies (GWAS) have been conducted based on samples from the DNBC biobank, with GWAS data generated for approximately 7,000 DNBC mothers and 5,000 DNBC children. These data are stored in the DNBC databank and are used together with the available detailed phenotypic information for new genetic studies.
Other important resources for epidemiologic research at SSI include the Scandinavian Donations and Transfusions (SCANDAT) database, cohort studies of maternal nutrition and developmental programming, and cohorts of healthy pregnant women and women with preeclampsia. Large cohort studies and biobanks have been also established by a research station in Guinea-Bissau (Bandim Health Project) and through research activities in Greenland.
Biobanks
The availability of biological specimens from large population groups, coupled with detailed phenotypic information, provide unique opportunities for genetic epidemiology studies, as well as other laboratory-based studies. SSI has a long tradition of epidemiologic research based on biobanked material from e.g. the DNBC biobank and the Danish Newborn Screening Biobank, which is hosted by SSI and contains dried blood spot (Guthrie card) samples for virtually all persons born in Denmark since 1982.
To further strengthen research opportunities, the Danish National Biobank was established at Statens Serum Institut. Inaugurated in March 2012, the biobank boasts state-of-the art freezers, robotic systems and laboratory facilities, and has the capacity to hold 15 million biological specimens. In addition to the physical biobank, the Danish National Biobank also includes an on-line biobank register, which links information about available biological specimens throughout Denmark with disease codes and demographic information from national registers.