Pneumococcal vaccine for vaccination of risk group patients now again open for orders
Considerable drop in invasive meningococcal disease in connection with the 2020 lock down
Pneumococcal vaccine for vaccination of risk group patients now again open for orders
SSI has received a new supply of 23-valent pneumococcal vaccine (PPV23). PPV23 is offered free of charge to anyone who has turned 65 years old, nursing-home residents and people attending other housing schemes, and to a number of select person groups who are at a particularly high risk of invasive pneumococcal disease (cf. Executive Order no. 840 of 10 June 2020).
Read more at the SSI website about persons at special risk of invasive pneumococcal disease and also see EPI-NEWS 14-16/20 and 23/20.
Considerable drop in invasive meningococcal disease in connection with the 2020 lock down
2019 saw 56 cases of invasive meningococcal disease (MD), and in 2020 a total of 19 cases were recorded.
The number of cases recorded in 2019 was the highest since 2012, but declined in 2020 to the lowest number ever recorded.
In both 2019 and 2020, group W was the most frequently occurring group accounting for 39% of the cases in 2019 and 47% of the cases in 2020.
Six patients (11%) died due to MD in 2019, all were more than 40 years old, whereas no patients died due to MD in 2020.
Prior to the March 2020 lock down, a high number of MD cases was being recorded (n=12) most of which (n=8) were caused by group W. Following the March 2020 lock down, only seven additional MD cases were recorded in 2020, including one group W case.
A special subclone of group W has been observed in Denmark since 2016 causing 15 of 23 cases of group W in 2019 and the majority of the 2020 cases. This subclone has shown no signs of increased mortality or morbidity compared with group W isolates belonging to other clones.
For a detailed description of the incidence, please see the 2019 and 2020 annual reports on invasive meningococcal disease.
In 2015-2018, the total annual number of MD cases remained stable around 40, but the number increased to 56 in 2019, see Figure 1, corresponding to an incidence of 1/100,000. The prevalence of the various serogroups changes continually;, and the 2019 increase was mainly attributable to an increase in cases caused by group W and, to some extent, group Y. In 2019, group W was the most frequently occurring group, whereas the second most frequent group was group B. Most of the group W cases occurred in patients aged more than 40 years and none in children below 14 years of age. In contrast, group B occurred in all age groups, but was more frequent among children and young adults. This development continued in the first two months of 2020 when ten cases of invasive meningococcal disease were detected. Two additional cases were found in early March, but during the Danish lock down implemented due to the COVID-19 epidemic, a decline was observed in the number of MD cases. In the period from 11 March 2020 to 2 July 2020, only one case of MD was detected. As from 2 July, another six cases of meningococcal disease have been observed. including one group W case. Overall, 19 MD cases were detected in 2020, corresponding to an incidence of 0.3/100,000. The considerable decline in the total number of MD cases in 2020 seems to indicate that both the lock down in spring and the tightened hygiene and social distancing provisions have limited the spreading of meningococci. See Figure 2 for the distribution of MD per month in 2019 and 2020.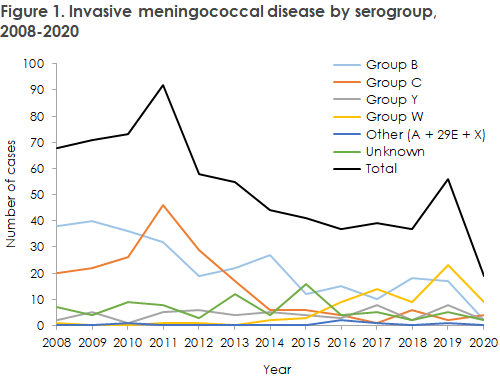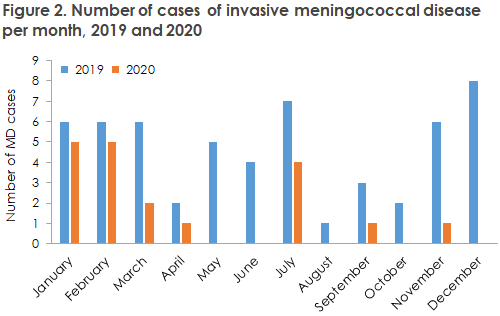 Six patients (11%) died due to MD in 2019. All patients were in the 40+ year age group (range 45-88 years). Hereof, four had MD caused by group W and two by group Y. Among the four cases with group W, three had underlying conditions and both group Y cases had underlying conditions. No patients died due to MD in 2020.
Sequelae were recorded in ten patients following MD in 2019 and in six patients following MD in 2020. The share of patients with sequelae to MD was slightly higher in 2020 than in the preceding years. For more details, please see the annual reports.
Trends in group W
Group W was the most frequently occurring group in 2019, and the increase in this group continued into 2020 when the period leading up to the lock down in March recorded 12 cases of invasive meningococcal disease, including eight with group W. Following the lock down in March, only one additional group W case was found among a total of seven MD cases recorded in the same period.
In Denmark, a special subclone of group W meningococci has been identified. It was initially identified in 2016 and has not been observed outside of Denmark. This subclone has comprised around half (30/64) of all group W cases since 2016. The subclone belongs to a larger group W clone seen across Europe, which has been known since 2013. This clone is called CC11 UK Novel 2013.
Further study of the Danish subclone has shown that, barring one case, it is found exclusively in persons from the peninsula of Jutland and particularly among persons in Central and North Jutland.
All cases have been sporadic, and no outbreaks with this subclone have been observed. Based on the limited numbers, there is no indication that this subclone causes a more severe disease course or an increased mortality than is observed among other group W cases. Even so, it is remarkable that the subclone has been found in synovial fluids in five of the 30 persons, including three children, who only had purulent arthritis and no other invasive findings. Findings in synovial fluids are atypical in MD, but have been described internationally as occurring more frequently in infections caused by group W meningococci.
EPI-NEWS 40/2019 described that an increase in group W was also seen in the rest of Europe. In response hereto, several European countries have introduced vaccination against groups A, C, W and Y for adolescents aged 11-18 years. At the European level, the majority of cases were detected in the 15-24-year age group and among adults aged more than 65 years. In Denmark, group W cases have been observed in most age groups, with the highest incidence occurring in the 15-19-year age group and an increasing incidence in the age groups from 60 years upwards in the 2016-2020 period, see Figure 3.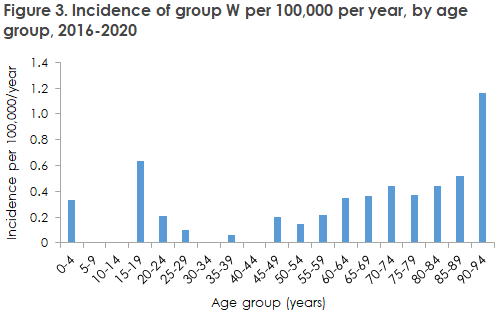 (F.K. Lomholt, P. Valentiner-Branth, Department of Infectious Disease Epidemiology and Prevention, S. Hoffmann, S. Baig, Department of Bacteria, Parasites and Fungi)