Pneumococcal vaccination programme for persons aged 65 years or more and for risk groups

Pneumococcal vaccination programme for persons aged 65 years or more and for risk groups
The Danish Ministry of Health has announced that the parties of the Danish Parliament and the Danish government are launching a novel vaccination package. The package is to reduce the number of vulnerable patients affected by other serious infectious diseases and contribute to preventing overheating of Danish healthcare during the coronavirus outbreak in Denmark. Among others, the vaccination package contains an offer of pneumococcal vaccination for people aged 65 years or more and for risk groups. The vaccination programme will be implemented in the course of the next year. The first phase will come into force on 22 April 2020 and will comprise nursing-home residents, people aged 65 years or more with chronic disease, and people below 65 years of age with a particularly high risk of serious pneumococcal disease, e.g., because they have had their spleen removed, Table 1.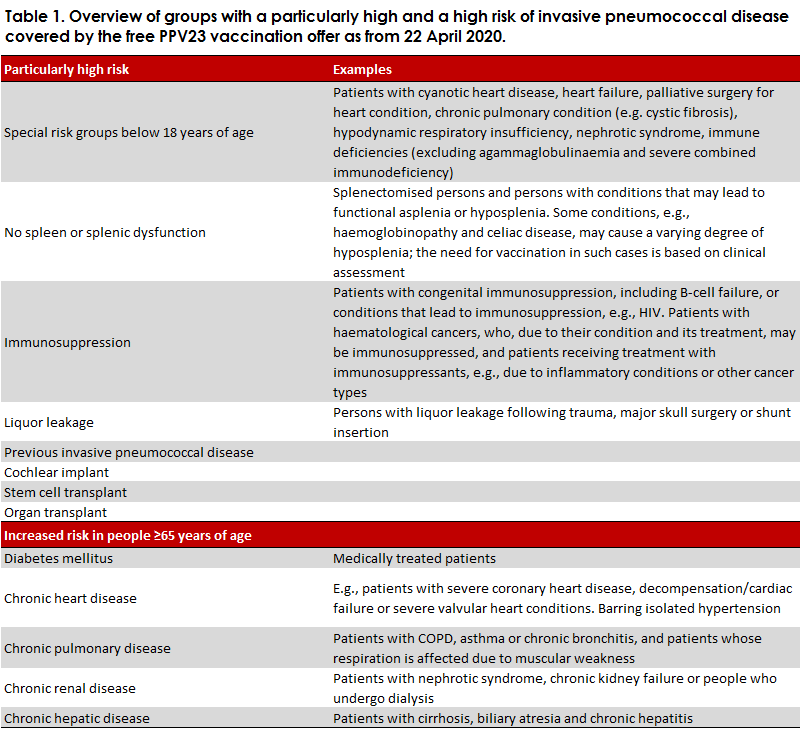 As from the autumn, as more vaccines become available, additional groups will be offered pneumococcal vaccination. This applies to persons aged 65 years or more who do not belong to a risk group, and risk group persons below 65 years of age (it should be noted that persons below 65 years of age who have a particularly high risk are already covered by the first phase of the programme). We expect that the vaccination efforts in the autumn will be planned to coincide with the seasonal influenza vaccination.
Several other countries, including the US, Germany, England and Wales, have in place similar offers for elderly people; and in the autumn of 2020, a similar programme will be launched in Holland.
Pneumococcal disease
Pneumococci (Streptococcus pneumoniae) are gram-positive bacteria with a polysaccharide capsule. Any person may carry pneumococci naturally in the nasal cavity, but this only rarely causes illness. More than 95 different types of pneumococci exist, which are characterised by differences in their polysaccharide capsule. Pneumococci are an important cause of invasive pneumococcal disease (IPD), comprising sepsis and/or meningitis, in particular. The presence of pneumococci is the principal cause (20%) of pneumonia in adults. Non-invasive pneumococcal pneumonia is three times more frequent than invasive pneumococcal pneumonia, i.e., where pneumococci are also found in the blood stream. Pneumococcal pneumonia is difficult to diagnose, but it is estimated that pneumococcal pneumonia is at least ten times more frequent than IPD. Two pneumococcal vaccines are approved for use in adults: a 23-valent polysaccharide vaccine (PPV23) and a 13-valent conjugated vaccine (PCV13). Both vaccines protect against pneumococcal pneumonia and IPD caused by the pneumococcal types covered by the respective vaccines.
The occurrence of IPD has declined following the introduction of pneumococcal vaccination using the conjugated vaccine into the Danish childhood vaccination programme in 2007. The decline was observed among children and elderly people alike. When children are vaccinated, they achieve good protection against the 13 pneumococcal types of the PCV13 vaccine, and vaccination also changes the pneumococcal types carried in the nasal cavity of vaccinated children from vaccine to non-vaccine types. Therefore, the circulation of the 13 pneumococcal types in the population is now more limited, and the share of IPD caused by these types has also declined among elderly people. Following the introduction of the conjugated pneumococcal vaccine into the Danish childhood vaccination programme in 2007, PCV13 coverage has decreased from approx. 70% to approx. 14% (based on the 2017-2019-period). This is owed to the so-called herd effect by which general spreading of pneumococci in the population of the types of pneumococci covered by the PCV13 has been reduced because the occurrence among young children has declined. Therefore, the benefit of PCV13 vaccination of elderly people has diminished as IPD in people aged 65 years or more is mainly due to pneumococcal types not covered by the PCV13.
In contrast to the PCV13, the share of IPD covered by the PPV23 continues to be high - 74% (average 2017-2019) - and has also remained stable for the past six years. Owing to its much superior coverage, the PPV23 has been selected for use in the upcoming vaccination programme.
There is a continued high occurrence of serious pneumococcal disease in persons aged 65 years or more and in risk groups below 65 years of age with approx 460 and 87 annual cases, respectively (average based on the 2018-2019 period). Among patients aged 65 years or more, the mortality is about 16%; and among risk groups below 65 years of age, it is approx. 12%.
The vaccination programme
The 23-valent polysaccharide vaccine (PPV23) is given. Free PPV23 vaccination should be offered only to groups of persons who have not received PPV23 vaccination in the past six years. We recommend confirming the previous vaccination status by look-up in the Danish Vaccination Register and the patient record before vaccination.
Pneumococcal vaccines are ordered and vaccination issettled following the model in place for seasonal influenza vaccination.
Naturally, it is very important that the vaccination of the citizens/patients is planned to ensure that they are not exposed to possible infection with COVID-19.
Vaccination may be performed by a doctor authorised to practice medicine in Denmark or it may be delegated by such doctor. For further information, please see the website of the Danish Medical Association.
Furthermore, municipal councils may issue time-limited authorisations to municipal home-nurses allowing them to perform medical work, cf. Executive Order on temporary permission for municipal home nurses to perform selected types of medical work during the management of coronavirus 2019 disease (COVID-19). The Executive Order rescinds on 1 July 2020.
Combined vaccination with PPV23 and PCV13
Because of the limited coverage of PCV13, combined vaccination with PCV13 will be indicated only in a limited number of people.
If combination vaccination is considered to be indicated, it is recommended to give PCV13 initially and then PPV23 at an 8-week interval. If PPV23 has been given initially, one year must pass before giving PCV13 (see Figure 2 of Report on pneumococcal vaccination of risk groups at increased risk of invasive pneumococcal disease).
A combined vaccination programme is still recommended for persons who are at a particularly high risk of invasive pneumococcal disease, e.g., immunosuppressed patients, see Table 1. This is so because the mechanism of action of PCV13 is different from that of PPV23, and therefore immunocompromised people may have difficulties achieving as good a response to PPV23 as people with a normal immune response. PCV13 is a conjugated polysaccharide vaccine that produces a T-cell-mediated immune response and creates immune memory.
In persons aged 65 years or more who are at an increased risk due to chronic disease, medical assessment determines if PCV13 is offered. If the patient has severe chronic disease or several competing conditions, the risk of invasive pneumococcal disease is also increased, and in such cases, PCV13 may be considered. If PCV13 is offered, the citizen will need to defray the associated cost (restricted reimbursement is given to some groups – but these are currently being reassessed).
The PPV23 vaccine and injection
The PPV23 vaccine (Pneumovax) is marketed by Merck Sharp & Dohme B.V. (MSD) and is approved for children >2 years and for adults for prevention of conditions caused by infection with pneumococcal bacteria, including sepsis and meningitis. Furthermore, the vaccine has a preventive effect against pneumococcal pneumonia. One vaccine dose (0.5ml) contains 25 micrograms of pneumococcal polysaccharides of each of the following 23 types of pneumococci: 1, 2, 3, 4, 5, 6B, 7F, 8, 9N, 9V, 10A, 11A, 12F, 14, 15B, 17F, 18C, 19F, 19A, 20, 22F, 23F, 33F and may be injected either intramuscularly or subcutaneously.
The majority (85-95%) of people aged ≥2 years of age react to vaccination by developing antibodies to the majority or all of the 23 pneumococcal polysaccharides of the vaccine. Antibodies can be detected three weeks after vaccination, but the antibody level may decrease already 3-5 years after vaccination, and an even more rapid decrease may occur in some groups (e.g., in immunosuppressed persons).
The effect of the PPV23 vaccine against IPD caused by pneumococcal types covered by the vaccine among persons aged 65 years or more was studied in England and Wales, among others. Here, the effect was 41% in the initial two years following vaccination, 34% years 2-4 after vaccination and 23% ≥ 5 years after vaccination.
Pneumovax may be given concurrently with influenza vaccine, but in separate syringes and at different injection sites. Concurrent administration of Pneumovax and Zostavax against herpes zoster (shingles) may reduce the immunogenicity of Zostavax. Even so, data collected in a major observational study indicated no increased risk for development of herpes zoster following concurrent administration of the two vaccines.
Side effects
Very common side effects occurring in ≥1/10 of cases include general symptoms with fever ≤38.8°C, erythema, swelling, pain, induration and a warmth at the injection site. Side effects following booster vaccination are comparable for persons aged 65 years or more and persons aged 50-64 years. Studies have established that side effects at the injection site are typically present within three days after vaccination and typically recede on day five. Generally, the more common systemic side effects are fatigue, muscle pain and headache.
The frequency of local reactions and some systemic reactions in persons ≥65 years of age have been shown to be higher after booster vaccination than after primary vaccination if 3-5 years pass between the vaccinations.
Enhanced duty of notification
While PPV23 is used in a vaccination programme targeting persons aged 65 years or more and risk group persons, the Pneumovax and Pneumokok polysaccharide "Paranova" vaccines are added to the list of medical products that are subject to enhanced duty of notification. Therefore, all presumed adverse effects of the vaccine must be reported by physicians to the Danish Medicines Agency.
The current list of medical products that are subject to an enhanced duty of notification is available here.
Other healthcare workers as well as vaccinees and their relatives may also report any presumed adverse effects to the Danish Medicines Agency. When notifying, it is important to specify the vaccine's batch number, if possible.
Adverse effects may be reported to the Danish Medicines Agency at: www.meldenbivirkning.dk
How to order
SSI item number 101873 Pneumovax 10x1 dose, packed in Argentinian packaging and charged at DKK 1,650.00 net VAT using Form 6.
Note: The package contains no syringe or cannula. Please note that the batch has a short shelf life, and we therefore recommend ordering vaccination for the next 3-4 months only. According to the stability data of the producer, the product may be used up to four months after the shelf life stated on the pack. Please also note that orders should only be placed for use in risk groups, in pursuance of the Executive Order. Orders may be made continuously.
For further information, please see the Danish packet insert for Pneumovax at www.indlægsseddel.dk and the summary of product characteristics, which is available via "The Vaccine Encyclopaedia".
Registration in the Danish Vaccination Register
All vaccinations, including PPV23, shall be registered in the Danish Vaccination Register in pursuance of Executive Order on Access to and Registration etc. of Medicinal Product and Vaccination Information.

(P. Valentiner-Branth, F. Kristensen Lomholt, P.H. Andersen, Department of Infectious Disease Epidemiology and Prevention, T. Dalby, H.-C. Slotved, C. Sværke Jørgensen, K. Fuursted, Bacteria, Parasites and Fungi, S. Ulendorf Jacobsen, B. Søborg, Danish Health Authority)