Everyone above 65 years of age will be offered pneumococcal vaccination
MRSA 2019
Everyone above 65 years of age will be offered pneumococcal vaccination
As from 15 June 2020, the free pneumococcal vaccination offer is extended to include persons who have turned 65 years old and who do not belong to a risk group. Pneumococci are the cause of invasive pneumococcal disease (IPD), comprising sepsis and/or meningitidis, in particular. The presence of pneumococci is the principal cause (20%) of pneumonia in adults. The 23-valent polysaccharide vaccine (PPV23) will be used. The vaccine prevents pneumonia, blood poisoning and meningitis caused by the comprised pneumococcal types. Vaccination with PPV23 should be offered only to groups of persons who have not received PPV23 vaccination within the past six years.
Since 22 April 2020, an offer of free pneumococcal vaccination has been in place for nursing-home residents, persons with a particularly high risk of IPD and elderly people who have turned 65 years old and who have an increased risk of IPD due to chronic illness. In the course of the spring of 2021, we expect that the offer will be extended further to also include persons below 65 years of age with an increased risk of IPD. See risk groups and vaccination guidelines here.
For further information about the pneumococcal vaccination programme, including how to order and enhanced duty of notification, please see EPI-NEWS 14-16/20 and 17/20.
(P. Valentiner-Branth, Department of Infectious Disease Epidemiology and Prevention)
MRSA 2019
2019 recorded a total of 3,657 new MRSA cases, Figure 1, which was slightly lower than the number recorded in 2018 (3,669), EPI-NEWS 26/19. Thus, it seems that the increase observed in the number of MRSA cases, mainly since 2007, has now largely receded.
For a detailed epidemiological description of the 2019 incidence, please see the 2019 annual MRSA report.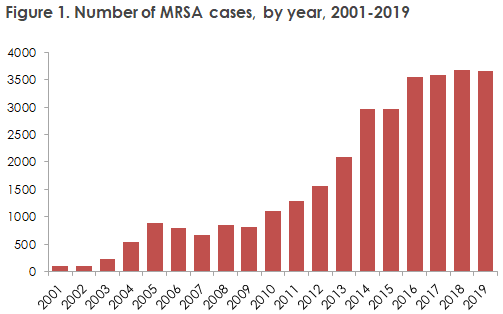 In 2019, a total of 23 outbreaks were registered at hospitals, nursing homes and other institutions, comprising a total of 157 MRSA cases. Seven of the outbreaks occurred in neonatal departments, comprising a total of 85 cases. An additional eight outbreaks comprised nursing homes (counting a total of 38 patients) and two outbreaks included residential schools (11 patients).
The number of MRSA cases of the livestock type (CC398) observed in 2019 (1,122) was lower than the number observed the three previous years (1,215 in 2018, 1,212 in 2017 and 1,249 in 2016) and comprised 31% of the total number of cases. 2019 saw another decrease in the number of persons with no livestock contact who became infected with livestock MRSA CC398 compared with the previous year (86 persons in 2019 compared with 158 persons in 2018). Spreading of livestock MRSA CC398 in the general population therefore does not seem to follow an increasing trend despite the fact that more persons with livestock contact have tested positive over the years. 2019 saw a total of eight cases of livestock MRSA CC398 bacteraemia. One of these patients died within 30 days after the sampling date.
In 651 (18%) cases, MRSA had been acquired abroad, which is a slight increase from 2018 when 588 imported cases were recorded.
(A. Petersen, A.R. Larsen, Bacteria, Fungi and Parasites, B. Kristensen, A. Koch, T. Urth, H. Amtsbiller, Y. Canales, Department of Infectious Disease Epidemiology and Prevention)