HPV Vaccination of boys postponed until 1 september 2019
Offer of free influenza vaccination is postponed until 1 November as from the upcoming influenza season
New reminder scheme for childhood vaccination
MRSA 2018
HPV vaccination of boys postponed until 1 september 2019
As described in EPI-NEWS 24-25/19, HPV vaccination of boys was scheduled to start as per 1 July 2019. The Danish Ministry of Health informs that this is not possible due to ongoing coalition negotiations in the wake of the Danish general election. The expected start date for HPV vaccination of boys is 1 September 2019. As previously, the vaccination scheme will include boys who have turned 12 years old on 1 July 2019 or later.
(Department of Infectious Disease Epidemiology and Prevention)
Offer of free influenza vaccination is postponed until 1 November as from the upcoming influenza season
As from 2019, the executive order on free influenza vaccination for risk group persons comes into force as per 1 November. Previously, the annually published order came into force as per 1 October.
This change was introduced in part because in 2019 it has been difficult for the manufacturers to supply the vaccines by 1 October due to the late publication of the WHO recommendations on the vaccine composition for influenza vaccines for the Northern Hemisphere. Furthermore, medical considerations speak for a later initiation of the influenza vaccination in the future as the influenza vaccines' effect recedes with time while the occurrence of influenza in Denmark typically occurs late in the period, mostly in the December-March period. The late influenza seasons mean that if vaccinations are given early, the protection will be lower in the later part of the influenza season. As early as six months after vaccination, the antibody level has decreased to about half of the peak antibody level. Elderly people generally respond less strongly to the vaccine; i.e. their antibodies are at a lower level, and the antibody level decreases more rapidly in elderly people than in young people.
Influenza vaccination yields protection against influenza after about two weeks, and immunity usually has a duration of 6-12 months.
In Denmark, influenza vaccination will therefore be offered free of charge to special risk groups from 1 November to 15 January. For pregnant women in their 2nd or 3rd trimester and for immunosuppressed persons and their household contacts, the period is extended until the end of February.
As from the 2019/20 season, 4-valent inactive influenza vaccines are offered to all risk groups. This vaccine protects against two influenza A viruses and two influenza B viruses. The shift to 4-valent vaccines means that the price has increased, but the remuneration given to the doctor/vaccination health staff has been increased correspondingly.
For more information about influenza vaccination in general, and for more information about ordering influenza vaccines.
Also, see the executive order on free influenza vaccination for specific population groups here (Danish language).

(I.G Helmuth, L.K. Knudsen, T.G Krause, Department of Infectious Disease Epidemiology and Prevention)
New reminder scheme for childhood vaccination
Since 15 May 2014, Statens Serum Institut (SSI) has sent out written reminders concerning childhood vaccination to parents of children who turn 2 years, 6½ years and 14 years old if the children lack one or more of the vaccinations recommended under the Danish childhood vaccination programme.
This scheme has contributed to increasing the vaccination coverage to ensure that as few children as possible are affected by serious diseases that may be prevented through vaccination. Even so, the Danish vaccination coverage is slightly lower than in the countries with which we normally compare ourselves, and vaccinations are frequently given late.
In October 2018, the then government presented a new vaccination initiative: The many must protect the few. In this initiative, one of the objectives is to ensure that childhood vaccinations are given as scheduled. This issue of EPI-NEWS provides a brief description of one of the measures of the initiative: A new reminder scheme will be described in more detail in EPI-NEWS in August.
As part of the new reminder scheme , children born after 1 August 2019 will automatically be allocated the Danish vaccination programme in the Danish Vaccination Register (DVR), which will be presented as a "recommended vaccination scheme" in the DVR.
Two weeks before the scheduled time of any childhood vaccination, both parents/the parents who holds custody of the child/the guardian (below coined "the parent") will receive an E-boks message reminding them to schedule an appointment for childhood vaccination.
One month after the planned vaccination date, automatic follow-up will check if the vaccination has been given; for example, it will be checked if 4-month-old children have received their 3-month vaccinations. If a vaccination seems not to have been registered in the DVR, another reminder about lacking childhood vaccination will be sent to both parents.
In case of delayed vaccination, the system will automatically take into account the minimum intervals separating the vaccines. In this way, general practice and parents are encouraged to ensure that the vaccines are given in a timely manner. In case doubt arises about which vaccine a child may not have received, the parents are to contact their GP. If the GP is in doubt, he or she may contact the phone service of the Department of Infectious Epidemiology. Thus, parents are not supposed to contact the SSI.
Parents will be given the opportunity to opt out of these reminders. That is done via Opting out of reminders , and, in time, opting out will also be possible via Sundhed.dk.
If parents want to opt out of the vaccination programme altogether, the GP may tick this option in FMK online.
For parents who are not receiving digital mail, the letters will be sent as standard surface mail.
Once implemented, the parents who have signed up for NEM SMS will receive a notification informing them of the letter from Statens Serum Institut.
Who are covered by the new scheme?
Children born after 1 August 2019 will be allocated a vaccination schedule at birth.
Children who turn 4 years old as from 1 November 2019 will be allocated a vaccination schedule comprising the 4-, 5-, and 12-year vaccinations (MMR2, DTaP-IPV booster and HPV 1 and 2).
Furthermore, children who turn 12 years old as from 1 November 2019 will be allocated a vaccination schedule comprising the 12-year vaccines (HPV 1 and 2).
Children who are not included in these groups will continue to receive reminders based on the existing scheme at 2 years, 6½ years and 14 years of age. This schedule will be phased-out gradually as all children are comprised by the new reminder scheme.
For further information about the use of vaccination schedules, registration of vaccines, etc., please see the Danish childhood vaccination programme, which will be updated by mid August 2019.
Furthermore, information will be published in PLO-NYT (a publication by the Danish General Practitioner's Association) and general information will be disseminated via various news media in August.

(L.K. Knudsen, T.G. Krause, Department of Infectious Disease Epidemiology and Prevention)
MRSA 2018
2018 recorded a total of 3,669 new MRSA cases, Figure 1, which was slightly higher than the number recorded in 2017 (3,579), EPI-NEWS 25/18.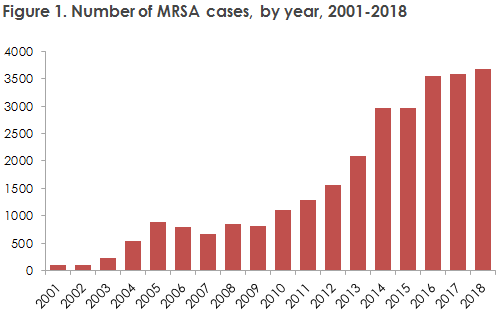 In 2018, a total of 16 outbreaks were registered at hospitals, nursing homes and other institutions, comprising a total of 111 MRSA cases. Six of the outbreaks occurred in neonatal departments. One of these outbreaks counted a total of 59 cases (spa-type t223) and affected a total of four Danish neonatal departments. The remaining outbreaks counted 2-8 cases.
The number of livestock MRSA CC398 cases was 1,215, which is in line with the level recorded for the four preceding years. 2018 saw a decrease in the number of persons with no livestock contact who became infected with livestock MRSA CC398 compared with the previous year (158 persons in 2018 compared with 172 persons in 2017). Spreading of livestock MRSA CC398 in the general population therefore does not seem to follow an increasing trend despite the fact that more persons with livestock contact have tested positive over the years. 2018 saw a total of eight cases of livestock MRSA CC398 bacteraemia. Two of these patients died within 30 days after their sampling date.
In 588 (16%) cases, MRSA had been acquired abroad. This number is roughly in line with 2017 when 581 imported cases were recorded.
For a detailed epidemiological description of the 2018 incidence, please see the 2018 annual MRSA report.

(A. Petersen, A.R. Larsen, Bacteria, Fungi and Parasites, B. Kristensen, A. Koch, C.H. Møller, T. Urth, H. Amtsbiller, Department of Infectious Disease Epidemiology and Prevention)