The Danish whooping cough epidemic continues
Hepatitis A 2017-2018
The Danish whooping cough epidemic continues
In Denmark, a total of 629 whooping cough cases were detected in November 2019. This number is in line with the number of detected cases in the month of October (627), and it is therefore clear that the whooping cough epidemic has not yet receded, Figure 1.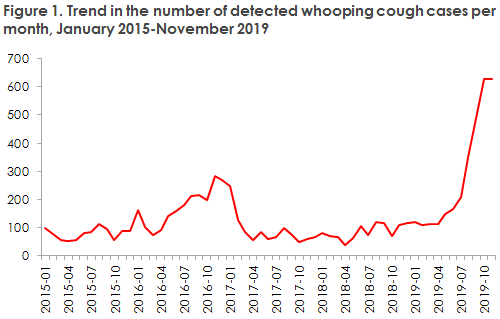 This year up to and including November, a total of 3,069 whooping cough cases have been detected in Denmark, which is the highest number recorded in recent years.
In August, Statens Serum Institut (SSI) reported an increased number of whooping cough cases since May. Furthermore, based on a continuously increasing number in August, by September the SSI assessed that we were in the midst of a nation-wide epidemic.
Normally, a total of approx. 80 whooping cough cases are detected monthly in Denmark, but for the past six months we have recorded twice that, or more. In the past four months, we have recorded more than fourfold the normal number of detected cases, i.e. more than 320 monthly cases; and in both October and November, nearly eight times as many whooping cough cases as normally were detected. In the first two weeks of December, a total of approx. 300 cases have been detected across Denmark.
The epidemic is not evenly distributed across Denmark, but increases in the number of whooping cough cases have been observed in practically all areas, Table 1.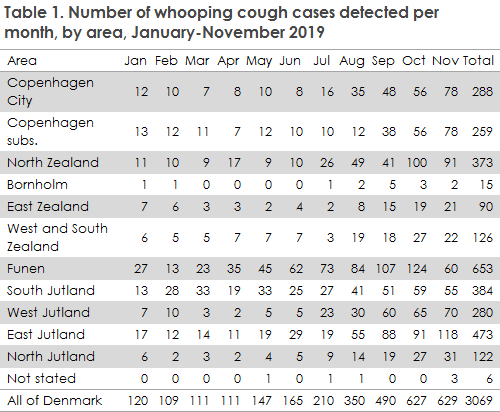 Even so, November has seen a stagnating number of cases in some areas, and even a declining number on the Island of Funen in particular, Figure 2.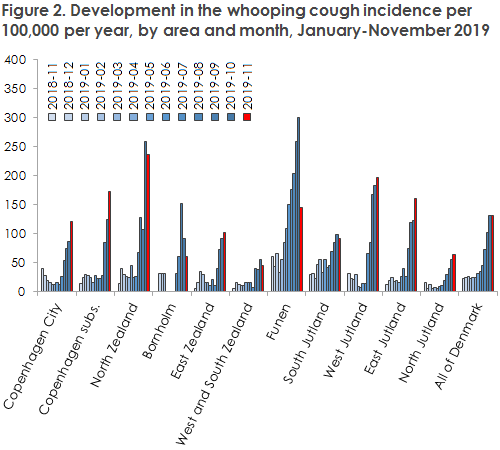 During the epidemic, all age groups have been affected, and the incidence has been most increased among younger children aged less than 5 years. However, increases have also been observed among 10-14-year-olds and among adults aged 40-49 years of age, Table 2.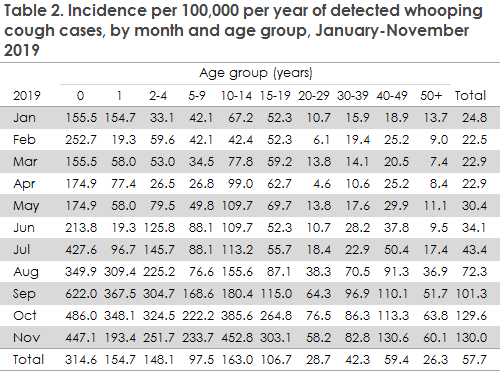 Children below two years of age are at increased risk of running a serious disease course of whooping cough, and therefore the incidence in this age group is monitored closely. In this group, a total of 266 cases have currently been recorded. Among 234 notified cases with information about vaccination status, 96 were unvaccinated, 27 had received one vaccine, 67 two vaccines and 44 (16.5% of all notified cases) had received all three primary vaccinations. This represents a higher number of fully vaccinated people than normally seen among the whooping cough cases in this age group, where approx. 10% have received full primary vaccination in non-epidemic years. The reason for the many "breakthrough" disease cases in fully vaccinated people is probably the unusually high infection pressure. Even so, vaccinated children will normally run a milder disease course.
The publication of the news of the epidemic in Week 38 triggered a considerable increase in the number of diagnostic samples submitted to departments of clinical microbiology for whooping cough analysis, Figure 3.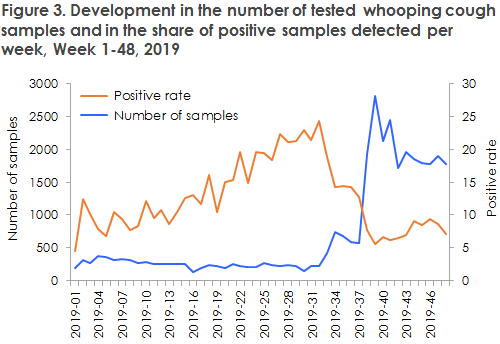 All else being equal, such an increase produces an increase in the number of detected cases, but intensified sampling alone cannot explain the sustained high whooping cough level observed. The rather recent epidemic recorded in 2016 may have contributed to improving the knowledge of whooping cough. It is therefore possible that more samples are being submitted for diagnostic testing than previously, also among older children and adults. In contrast hereto, the shift made in March 2019 to a different vaccine product in the childhood vaccination programme is not believed to have influenced the development of the current epidemic.
During the previous epidemics in 2002 and 2016, the period with an increased number of detected whooping cough cases after the epidemic had peaked lasted for approx. three months in both cases. The currently increased incidence has now perdured for seven months, but it is too early to establish if the epidemic has peaked.
For more information about the condition and guidelines on whooping cough diagnosis, please see the Disease Encyclopaedia at the SSI website (in Danish).
It is important to protect particularly vulnerable people from whooping cough. This applies to infants but also to other children below two years of age who have received less than two whooping cough vaccines and pregnant women who are close to their term date, as there is a risk that the neonate may become infected (unless the mother has been vaccinated against whooping cough during her pregnancy). Following specific assessment, patients with severe pulmonary conditions and immunocompromised patients (i.e. patients with cancer, haematologic conditions or kidney transplant) may also be vaccinated.
For information about the handling of exposed people with an increased risk (post exposure prophylaxis) and about treatment, please see the guideline on the SSI's website .
Whooping cough vaccination of pregnant women
Since 1 November 2019, a temporary free whooping cough vaccination offer has been in place for pregnant women in their third trimester, EPI-NEWS 42-43/19. The vaccination activity can currently be assessed only based on the number of diTeki vaccines given to women of childbearing potential, i.e., aged 18-45 years of age. Based on data extracted from The Danish Vaccination Register (DVR), many women have chosen to become vaccinated during the first month or so with the vaccination scheme.
Assuming that approx. 62,000 children are born annually, on average about 5,200 will be pregnant each month among whom 1/3 will be in their third trimester, corresponding to about 1,700 pregnant women. In the period from 1 November to 11 December, a total of 2,305 diTeki vaccines were recorded for women aged 18-45 years of age. This figure, however, also includes women who were not pregnant at the time of vaccination. Thus, more vaccines than normal may have been given to some groups of healthcare staff, e.g. nurses. In the same period in 2018, approx. 68 women in the same age group received the vaccine in question.
A precise vaccination coverage cannot be calculated until later when the settlement code for the diTeki Booster becomes available in the DVR, but the considerable difference in the number of women vaccinated this year from 1 November to 11 December compared with the same period last year indicates that the coverage of the scheme has so far been high. Additionally, some pregnant women in their second and third trimester may also themselves have defrayed the cost for vaccination in the period leading up to the introduction of the new scheme. In addition to a report on the coverage, an assessment of the scheme's impact on whooping cough among infants will also be made.

(T. Dalby, Department of Bacteria, Parasites & Fungi; P.H. Andersen, L.K. Knudsen, Department of Infectious Disease Epidemiology and Prevention)
Hepatitis A 2017-2018
In 2017-2018, Statens Serum Institut (SSI) received a total of 106 notifications of persons who had become infected with hepatitis A virus (HAV). Figure 1 presents the development in the number of notified HAV cases by infection in Denmark and abroad in the 2009-2018 period. Due to three disease outbreaks, the number of HAV patients in 2018 was higher than that observed in the preceding years. Two of the outbreaks were due to food-borne transmission in Denmark, and the third was a prolonged European outbreak among men who have sex with men (MSM).
For a detailed epidemiological description of the incidence and the outbreaks, please see the 2017 and 2018 annual report on hepatitis A.
Several hepatitis A outbreaks with different routes of infection
Hepatitis A does not normally occur in Denmark, and the majority of the population is therefore susceptible to infection with this virus. This is one of the reasons why there is a risk of outbreaks due to HAV-contaminated foods produced in areas where HAV is widespread. Such outbreaks were seen twice in 2018.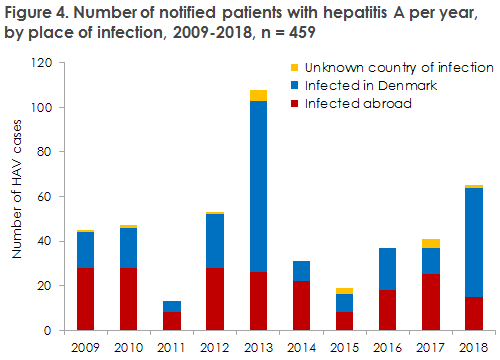 In early 2018, dates were shown to be the source of infection of a Danish outbreak comprising 31 notified patients. A rapid investigation and recall of the dates in question presumably prevented further disease cases. Later in the year, ten notified patients were linked to an outbreak that was probably due to fresh foreign strawberries.
In 2017 and 2018, a total of 24 HAV patients were linked to a large ongoing European outbreak among MSM. The outbreak underlines the continued need to ensure accessible knowledge and information for risk groups about effective protection.
HAV vaccination provides life-long immunity to the condition. Vaccination is recommended when travelling to endemic areas (see EPI-NEWS 27b/19). You should be particularly attentive to the fact that children of immigrants who visit their families in their country of origin may be at risk of hepatitis A infection. The SSI furthermore recommends that MSM be vaccinated. MSM who have not previously received hepatitis B vaccination are recommended combination vaccines covering both hepatitis A and hepatitis B. The vaccine as well as the doctor's fee are paid by the person receiving the vaccination.
Virus typing is important
Virus typing of HAV-IgM-positive samples is an important part of outbreak tracing and linking to other countries. The SSI therefore takes this opportunity to encourage Danish laboratories to continue submitting all HAV-IgM-positive samples for virus typing. PCR for HAV and any subsequent sequencing is provided free of charge at the SSI.
(L. Müller, Department of Infectious Epidemiology and Prevention, S. Midgley, Department of Virus and Microbiological Special Diagnostics)