HPV vaccination coverage for boys is now presented on the SSI website
HPV vaccination coverage for boys is now presented on the SSI website
Since September 2019, boys born after 1 July 2007 have been offered HPV vaccination free of charge when they turn 12 years old. As for the other childhood vaccinations, the coverage of HPV vaccination among boys can now be followed at the website of Statens Serum Institut. Vaccination coverage is shown by birth year, area and municipality and may be presented as columns, tables or maps.
SSI has previously reported that the offer has been well received by boys, EPI-NEWS 49-50/20, and this seems to continue. As per 8 March 2021, a total of 82% of boys born in 2008 have received HPV1, whereas 38% have received HPV2 and thereby concluded their HPV vaccination programme. Thus, the vaccination coverage is still nearly as high for the boys as it is for the girls, where 85% have now initiated their vaccination programme and 42% have received both vaccinations, Figure 1. A minimum of five months is required between the two HPV vaccinations, and some time therefore needs to pass until the share of those who have concluded their vaccination programme has caught up with the share of vaccination courses initiated.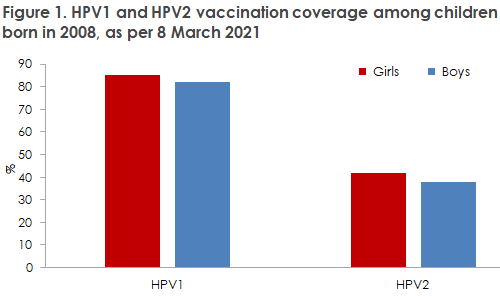 The high coverage is seen across Denmark and for both sexes, Figure 2. If coverage is presented by province, the highest vaccination among boys is observed on Funen and in West Jutland (84%), whereas the highest coverage among girls is seen on Funen and in East, West and South Jutland (86%). Thus, North Jutland has lost terrain since the previous report, when the vaccination coverage among both sexes was highest in this area (EPI-NEWS 49-50/20). For both sexes, the lowest coverage is observed in the City of Copenhagen (boys: 77%, girls: 79%), but this has also been the case previously among girls, and it is therefore no surprise that the coverage among boys is also slightly lower here than in the rest of Denmark. Even so, is it encouraging that boys are now on a par with girls across the provinces, as it shows that the boys have been quick to accept the offer on a national scale.
As for the remaining vaccinations in the childhood vaccination programme, the coverage objective is 95%. We are still some distance away from the objective, but the high coverage in both sexes enhances herd immunity and heightens the protection of unvaccinated children.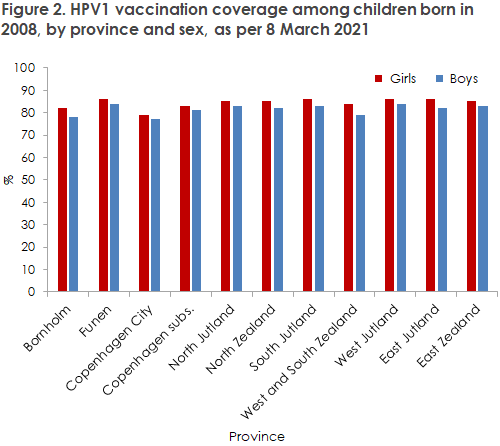 Focusing on the municipal level, the share of HPV1-vaccinated individuals is higher among girls in most places, but in 17 out of 98 municipalities, the share of vaccinated boys is higher than the corresponding share of girls. The municipalities in question are: Albertslund, Billund, Brøndby, Dragør, Fanø, Furesø, Gladsaxe, Haderslev, Herning, Holbæk, Hørsholm, Lejre, Læsø, Rødovre, Stevns, Svendborg and Ærø.
High HPV vaccination coverage despite covid-19
Once again, the coverage of the HPV vaccination programme has been high among girls in the past few years, EPI-NEWS 5/20 – a trend that seems to continue despite covid-19. Figure 3 presents the number of HPV vaccination programmes initiated for girls from 2012 to January 2021.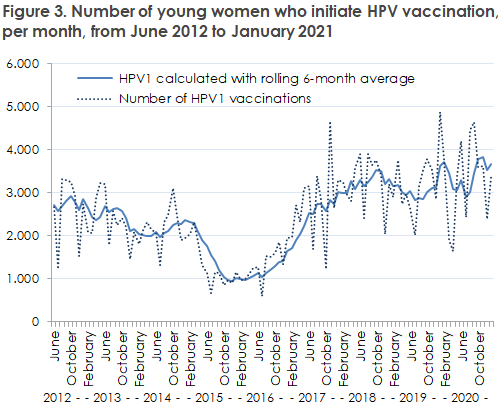 A decline is seen in the number of vaccines administered in 2015 due to a crisis of trust affecting, in particular, the girls who turned 12 years old in 2015 (born in 2003). Even so, trust seems to have been restored, as a steady increase has been observed in the number of HPV vaccination programmes initiated since then and especially in the autumn of both 2019 and 2020. Despite the fact that Denmark has been in lock down and even though a decrease was observed in coverage last spring, when visits to the GP was difficult, a total of 40,909 HPV1 vaccines were administered to girls in 2020, which is nearly 4,000 more than in 2019.
The catch-up programme for boys expires this year
In addition to children who turn 12 years old, HPV vaccination is offered free of charge for two groups of boys and young men through so-called catch-up programmes. The programmes have been operational since February 2020 and expire on 31 December 2021.
The following are included in the catch-up programmes:
Boys born from 2006 to 30 June 2007.
Young men who are attracted to men and who turned 18 years old on 1 January 2020 or later, but not 26 years old before 1 January 2020 i.e. born from 1 January 1994 to 31 December 2003. The offer expires when the person turns 26 years old.
Among boys born in 2006, the HPV1 coverage is 63%, while it is 60%among boys born in 2007, even though half of the 2007 cohort is covered by the standard vaccination programme, Figure 4. The SSI would like to remind GPs to offer boys born in this period free HPV vaccinations before the catch-up programme expires.
Vaccination coverage in the target group is difficult to calculate in the second group, as the criterion "attracted to men" is established in consultation with the person's GP. Even so, the vaccination coverage for the entire birth year cohort can be calculated; for boys born between 1994 and 2003, the vaccination coverage rises the younger the cohort is. Coverage is between 2% for cohort 1994 and 16% for cohort 2003, corresponding to between 868 and 5,678 vaccines administered per cohort.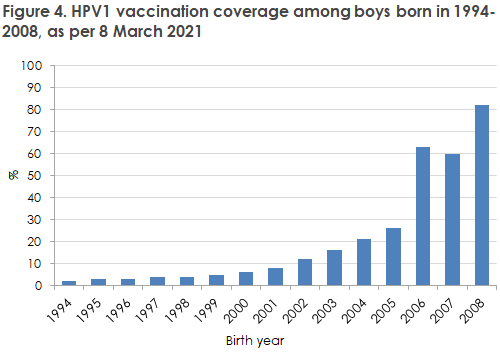 (K. Finderup Nielsen, P. Valentiner-Branth, Department of Infectious Disease Epidemiology and Prevention)