Information about the new corona virus outbreak
HPV catch-up vaccination programmes for boys born in 2006 and in the first half of 2007 and for young men aged 18-25 who feel attracted to men
Information about the new corona virus outbreak
Statens Serum Institut (SSI) monitors the development of the new corona virus outbreak closely and updates its outbreak page about the disease daily. The outbreak page describes the outbreak, risk of transmission and precautions and also holds information for healthcare workers about diagnostics and sampling. Furthermore, the page has a link to the SSI's news items about the outbreak and to the Danish Health Authority and the SSI's questions/answers about the new corona virus.
For more information, please also see the website of the European Centre for Disease Prevention and Control (ECDC) , which brings daily updates on the number of confirmed disease cases, including the number of fatalities and the number of cases detected in the EU.
(Department of Infectious Disease Epidemiology and Prevention)
HPV catch-up vaccination programmes for boys born in 2006 and in the first half of 2007 and for young men aged 18-25 who feel attracted to men
The offers of free HPV vaccination against anal cancer are temporary. They come into force on 1 February 2020 and conclude on 31 December 2021.
The offer of catch-up HPV vaccination comprises
Boys born in the period from 2006 to 30 June 2007. This temporary offer remains in place until 31 December 2021 and serves as a supplement to the general and permanent HPV vaccination programme that includes boys born on 1 July 2007 or later. See Executive Order no. 54 of 22 January 2020 on free vaccination against certain infectious diseases, etc.
Young men who feel attracted to men and who turned 18 years old on 1 January 2020 or later but who had not turned 26 years old before 1 January 2020. The offer thus includes men who feel attracted to men and who were born in the period from 1 January 1994 to 31 December 2003. The offer expires when the person turns 26 years old. See Executive Order no. 50 of 22 January 2020 on temporary free vaccination against anal cancer (HPV) for young men who feel attracted to men .
In both programmes, vaccination may be performed by a doctor authorised to practice medicine in Denmark or it may be delegated by such doctor to other healthcare staff. For further information, please see the website of the Danish Medical Association.
The vaccination programme
Boys who are below 15 years of age at their initial vaccination receive Gardasil 9 in a two-dose schedule as do girls . Boys receive their first vaccination as soon as possible after the offer comes into force and the second no sooner than five months thereafter. The vaccination series must be concluded within 13 months. If these intervals are not observed, a total of three doses are to be given.
Boys who are 15 years of age or above at their first vaccination need three doses at months 0, 2 and 6, respectively. The minimum interval separating the 1st and 2nd vaccination is one month, and the 2nd and 3rd vaccinations should be given at a minimum interval of 3 months. Where possible, all three vaccines should be given within a 12-month period. If the time span exceeds the recommended period, the next vaccination should be given as soon as possible. The vaccination series should never be re-initiated.
We recommend that boys who have a weakened immune system at the time of the vaccination receive three doses, i.e., the same vaccination series as that given to persons aged 15 years of age or more.
Boys who have started with Gardasil or Cervarix may conclude their vaccination series with Gardasil 9. See "HPV vaccination - information for healthcare workers" , Table 1.
For information about HPV vaccination and injection, side effects and protection following vaccination and enhanced duty of notification, please see EPI-NEWS 24/25-19.
How to order Gardasil 9
Gardasil 9 is delivered as 10x1 doses and may be ordered using item number 99204 on Form 6 or at ordre@ssi.dk.
Registration in the Danish Vaccination Register
All vaccinations, including Gardasil 9, shall be registered in the Danish Vaccination Register in pursuance of Executive Order on Access to and Registration etc. of Medicinal Product and Vaccination Information .
Status on the coverage of the 2019 HPV vaccination programme for young women and boys
Young women
HPV vaccination of girls aged 12 years has formed part of the childhood vaccination programme since 2009. At least 90% of birth years 1997-2000 accepted the offer to receive HPV vaccination. In 2013-14, the number of persons who initiated HPV vaccination followed a decreasing trend. The decrease peaked after the TV2 documentary "The vaccinated girls", broadcast in March 2015. The coverage of birth years 2001 and younger declined, particularly birth years 2003-4, i.e. girls who turned 12 years old in 2015-6. From September 2016, a slight increase was observed in the vaccination activity, which in 2017 was doubled compared with 2016, whereas 2018 brought an additional 20% increase, Figure 1.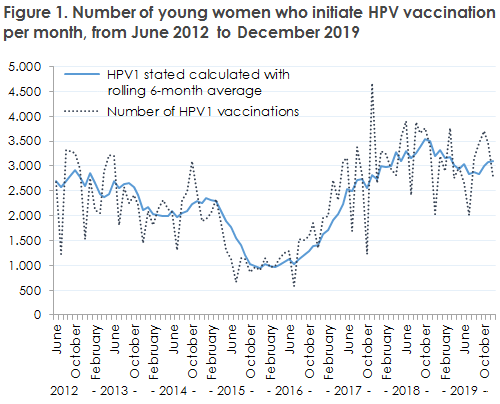 In 2019, a total of 36,810 girls initiated their course of the HPV vaccination programme. In 2019, like in 2018, the number of girls who initiated the HPV vaccination programme exceeded the number of 12-year-old girls in the birth year, which was approx. 33,000 in both 2018 and 2019. Compared with 2018, a slight decrease (5%) has been observed in the number of girls who have initiated HPV vaccination. Even so, more girls (16%) initiated their vaccination course in 2019 than in 2017: 36,810 versus 31,636.
HPV vaccination is targeted 12-year-olds. Even so, all girls aged 12 to 17 years are covered by the free vaccination offer. The high number of girls who have initiated HPV vaccination in 2019 is therefore a reflection of the fact that girls who are older than 12 years of age are also vaccinated.
By comparing the share of HPV-vaccinated girls in February 2019, as described in the 2018 Annual report on the childhood vaccination programme, with the current statement from January 2020, i.e., 11 months later, it becomes evident that the share of vaccinated girls has increased for birth years 2002-2005, Table 1. The year 2019 recorded a continued high HPV vaccination activity for girls, and catch-up vaccination is still seen among girls in the birth years up to 17 years of age, which is reflected in a 2-11% increase in the HPV1 vaccination coverage for birth years 2002-2005.
The largest increase is observed among the youngest birth years.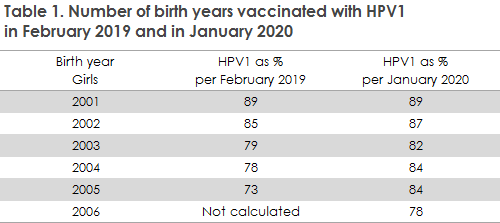 The share who have concluded vaccination currently falls in the 71-76% range for birth years 2001-2005 and is 60% for birth year 2006.
Boys
From 1 September 2019, a free HPV vaccination offer has been in place for boys born as from 1 July 2007. In the period from 1 September to the end of December 2019, a total of 4,784 HPV vaccinations were administered.
Boys born from 1 July 2007 to 31 December 2007 are the target group. This group counts ½ x 34,453 = 17,227 persons. This means that currently 4,784/17,227 = 28% of the target group boys have received HPV1 vaccination.
Commentary
In addition to increasing the direct protection against anal cancer and genital warts, a catch-up programme for 1½ birth years of boys will also contribute to increasing indirect protection of unvaccinated girls (herd immunity).
An offer of HPV vaccination for boys who feel attracted to other boys/men is important as this group carries a substantially increased risk of developing anal cancer due to an HPV infection.
For girls, continued catch-up vaccination is expected in the birth years of girls up to 17 years of age. This will raise the share who have had HPV1 vaccination and who have concluded their vaccination, thereby leaving coverage closer to the objective of 90% and 80%, respectively, for HPV1 and concluded vaccination.
Among boys, only approx. 28% of the relevant age group was vaccinated in 2019. The HPV vaccination offer has been in place only for four months, and some delay is typically seen with respect to the recommended age. It is assessed that the coverage will likely increase in 2020 when the programme has been operational for a longer period. Furthermore, it is expected that the broader offer of catch-up vaccination of boys described in this issue of EPI-NEWS will lead to increased attention to HPV vaccination of boys.

(P. Valentiner-Branth, P.H. Andersen, Department of Infectious Disease Epidemiology and Prevention)