Gonorrhoea 2013
Measles on Bornholm and in the Capital Region of Denmark
Listeria outbreak
Pilgrimages to Mecca
Influenza
Weekly report on individually notifiable diseases and selected laboratory diagnosed infections will no longer be published
Gonorrhoea 2013
2013 saw 841 reported gonorrhoea cases in 819 persons, as 20 persons were notified with two and 1 person with 3 cases. A total of 602 (72%) were male and 239 (28%) were female cases.

The median age for women was 19 years (range 0-68 years) and 25 years for men (range 15-73). The age distribution is shown in Table 1.

One neonate who was diagnosed with gonorrhoeal conjunctivitis. The four remaining children were 11-14-year-old girls, and all were infected through sexual activity.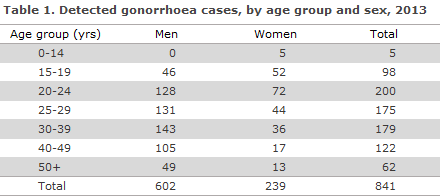 A total of 526 (63%) cases were detected by culture and reported to the Laboratory Notification System (LNS), Department of Microbiology and Infection Control and also to the Notification System for Infectious Diseases (NSID), Department of Infectious Disease Epidemiology. A total of 47 cases were only reported to the LNS and 268 only to the NSID. Among the 268 cases not reported to the LNS, the diagnosis had been established by molecular biology technique (NAAT) in 229 (85%) cases.

Information on origin was stated for 837 persons, of whom 663 (79%) were Danes.

Table 2 shows the distribution by residence.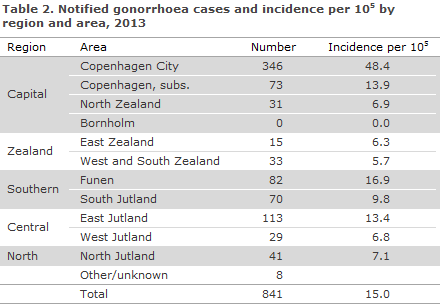 Transmission
A total of 794 cases were reported to the NSID.
Among 570 cases reported in men, 256 (45%) were acquired through heterosexual contact, 292 (51%) through homosexual contact (MSM), and in 22 (4%) cases the mode of transmission was unknown.
A total of 223 cases of heterosexual infection were reported in women, Figure 1. Additionally, one neonate with conjunctivitis was notified.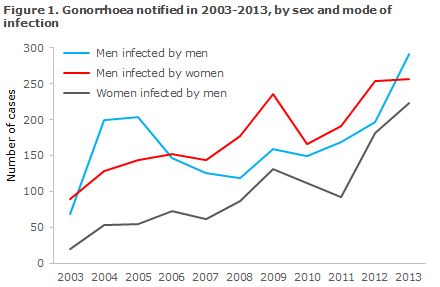 Among a total of 246 MSM cases in which the country of infection was stated, 226 (92%) were infected in Denmark, whereas the corresponding share was 181 (78%) among the 232 cases observed in heterosexually infected men. Among the 202 female cases for which the country of infection was known, 183 (91%) were infected in Denmark.

A total of 90 cases (71 in men and 19 in women) were reported as acquired abroad, including 16 in Thailand: 15 cases in heterosexually infected men and a single case in a woman. The second-most frequent country of infection was Greenland with 14 cases, 8 in heterosexually infected men, 1 case in an MSM and 5 cases in women. Among these 14, a total of 10 were reported as immigrants from Greenland and 4 were Danes.
Gonorrhoea and HIV
Among 223 MSM with information on HIV status, 38 (17%) were reported as HIV positives, including 33 with previously diagnosed HIV. Among the 254 men who stated that they had been infected through heterosexual contact, two were reported as HIV positive. No women were reported as being HIV positive.
Specific anatomical localisations
Gonococci were cultured from blood (one case), anal abscess (one case) and from the conjunctiva (three cases). The first of the above-mentioned patients also had gonococci detected in the throat by molecular biology technique.
Antimicrobial resistance
In 2013, the reference laboratory received 572 gonococcus isolates from the Danish departments of clinical microbiology. The isolates were tested for fluoroquinolone and ceftriaxone sensitivity and for penicillinase production, which indicates that they are highly resistant to penicillin. Fluoroquinolone resistance was found in 54% of the isolates (56% in 2012), Figure 2, whereas 2% had a reduced sensitivity (4% in 2012). Penicillinase production was detected in 11% (17% in 2012). Over the past years, the MIC (minimum inhibitory concentration) for ceftriaxone has followed an increasing trend, Figure 3, but no strains were resistant (MIC ≥ 0.25 microgram/ml).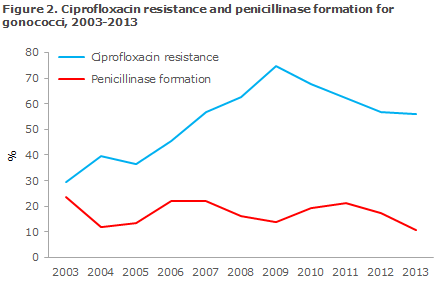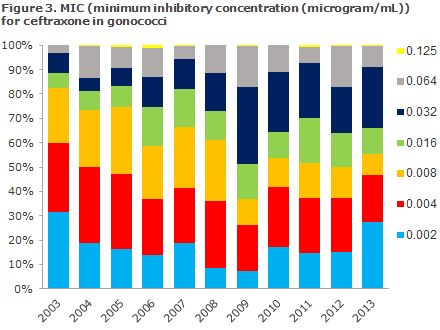 Mode of transmission and resistance
Fluoroquinolone resistance was detected in 54% (39% in 2012) of isolates from homosexual men, whereas the corresponding number was 63% (67% in 2012) for heterosexual men and 50% (57% in 2012) for women. Penicillinase production and resistance to fluoroquinolones were more frequently acquired though infection abroad than in Denmark, Table 3.

As part of a joint EU project, the reference laboratory tests 50-60 strains against an expanded panel of antibiotics twice a year. In 2013 it was determined that among 109 strains, 45% were resistant to azithromycin (8% in 2012), 12% (11% in 2012) to cefixime (an oral cephalosporine) and 0% to spectinomycin (0% in 2012). None of the two latter are marketed in Denmark.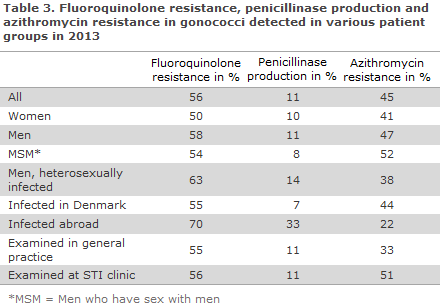 Treatment
Several locations abroad have reported ceftriaxone treatment failure and detection of ceftriaxone-resistant strains. The present European guidelines from the IUSTI (International Union against Sexually Transmitted Infections) recommend 500 mg ceftriaxone and 2 mg azithromycin given as a single dose. In Denmark, treatment failure in ceftriaxone treatment and strains with reduced sensitivity to ceftriaxone have yet to be documented.
Additionally, the occurrence of azithromycin resistance in gonococci detected in Denmark increased substantially in 2013 compared with the previous year. Until revised Danish guidelines are published, a single dose of ceftriaxone 500 mg i.m. may be used.

In case of documented sensitivity to ciprofloxacin, a single dose of 500 mg may be given orally.
Gonorrhoea should not be treated with azithromycin alone. Doses of 1g carry a considerable risk of treatment failure and development of resistance, whereas 2g doses frequently have gastrointestinal side effects.

It is important that all treated patients attend test-of-cure. In cases with persisting symptoms, test-of-cure may be performed through culture after 3-7 days, if possible supplemented by NAAT 2 weeks after end of treatment. Asymptomatic patients should have a NAAT performed 2 weeks after end of treatment, and any positives should be supplemented by culture and sensitivity testing.
Commentary
The overall number of reported gonorrhoea cases has increased considerably since 2010, EPI-NEWS 35/13, and still follows an increasing trend. In 2013, the increase mainly occurred among MSM, but also among heterosexually infected persons. An increase was observed in the number cases in all age groups.
Both the increasing trend and the observed distribution on sex, age and mode of infection mark a contrast compared with syphilis, which seems not to be increasing much and which is mainly observed in MSM, EPI-NEWS 34/14.

Theoretically, the increase in the number of reported cases may be due to increased diagnostic use of molecular biology methods (NAAT) in connection with combined NAAT for Chlamydia trachomatis and gonococci, as some asymptomatic cases of gonorrhoea are detected through such testing. However, the share of cases diagnosed by NAAT alone has not increased at as high a rate as the number of reported cases. This indicates that the increase may be real.
Even though this trend is worrying, it should be noted that the level of antibiotic-resistant gonococci observed in Denmark remains low.
The main issue is to break the infection chains, by doing as much as possible to diagnose gonorrhoea, and then initiate partner tracing, sensitivity testing and rapid and relevant treatment.
If gonococci are diagnosed by NAAT, a culture should subsequently be performed to test for sensitivity.

It is also important that the development of resistance be monitored nationally through monitoring of the isolates submitted by the microbiological departments, a cooperative project that has been in place for decades.
(S. Cowan, Department of Infectious Disease Epidemiology, S. Hoffmann, Department of Microbiology and Infection Control)
Measles on Bornholm and in the Capital Region of Denmark
The month of August saw four diagnosed cases of measles. In the beginning of August, an adult returned from a vacation in Turkey and was diagnosed with measles immediately after returning. Subsequently, two persons in the patient's social circle have fallen ill with measles. Furthermore, by mid-August, a case of measles was diagnosed on Bornholm in a child who had also been infected abroad.
In the first 8 months of 2014, a total of eight children aged from 11 months to 4 years and 17 persons aged 15-43 years have been laboratory-confirmed with measles. An additional two children have had contact to a laboratory-confirmed case and have fallen ill with clinically diagnosed measles infection.
As per 26 August, the total number of measles cases in 2014 is distributed on 23 cases in the Capital Region of Denmark (including one case on Bornholm), one case in the Central Denmark Region and three in the North Denmark Region.
Cases of infection in the waiting rooms at GPs, emergency call services and at hospitals/emergency rooms have been reported, EPI-NEWS 7-8/14.
On suspicion of measles, the following should be observed:
Avoid seeing the patient in the practice/waiting room. If this is not possible, be sure to make an appointment with the patient at a time when no-one else is waiting.
Measles may be diagnosed through throat swabs and urine specimens for virus testing (PCR). The possibility of detecting measles virus is greatest in the early phases of the disease course, but virus is frequently detectable for several weeks after the acute disease occurs. Furthermore, a blood sample for IgM/IgG antibody determination may be used. (IgM antibodies may be detected as from a rash presents).
(L.K. Knudsen, Department of Infectious Disease Epidemiology, T. Kølsen-Fischer, Department of Microbiological Diagnostics and Virology)
Listeria outbreak
In late June, the SSI identified a cluster of listeria cases with isolates that proved to be identical through whole-genome sequencing. Sequencing of available isolates from tested, positive foods showed that in May the outbreak strain had been present at one specific producer of cold cuts, "Jørn A. Rullepølser".
Through further testing, the Danish Veterinary and Food Administration found listeria in a range of specimens, and all products from the producer were withdrawn in Week 33. Currently, the outbreak counts 28 cases, of whom 13 have died within 30 days from the day they were diagnosed. Doctors should be aware of listeriosis as a differential diagnosis when people present with relevant symptoms and a specific exposure to risk food. At ssi.dk, a theme page provides additional information about the outbreak and the handling of symptomatic risk persons, including pregnant women.
(S. Ethelberg, Department of Infectious Disease Epidemiology)


Pilgrimages to Mecca
In 2014, the dates for the Hajj are 2-7 October.
Meningococcal disease
To obtain a visa for Saudi Arabia, anyone above the age of two years shall have received the tetravalent vaccine against meningococcal disease of serogroups A+C+W135+Y no later than 10 days prior to entering the country, and the vaccine shall have been administered within a 3-year-period.
All travellers above 2 years of age, including those who have only been vaccinated against groups A+C within the past 3 years, should be vaccinated once.
Children aged from 2 months to 2 years shall receive a vaccine protecting against meningococcal group A. Nimenrix® may be used for children ≥ 1 year and for adults. The vaccination is given as a single dose, EPI-NEWS 10/13.
Menveo® in the "vial-vial" formulation is approved for children aged 2 years or older. The Danish Medicines Agency (Now the Danish Health and Medicines Authority) has previously assessed that children from 2 months to 1 year may receive primary vaccination with two 0.5 ml doses of Menveo® given at a minimum interval of 1 month, EPI-NEWS 37/10.
Influenza
Influenza vaccination is not a requirement, but it is recommended by the Saudi Arabian authorities, particularly in persons with chronic conditions.
International outbreaks, including Middle East respiratory syndrome coronavirus (MERS-CoV)
The Saudi Arabian authorities recommend that persons aged 65 years or above, persons with chronic diseases (i.e. coronary, pulmonary or renal conditions), diabetes, immunodeficiency, cancer and pregnant women and children below 12 years of age postpone their pilgrimage (Hajj and Umra) for a later occasion.
Furthermore, it is recommended that travellers observe standard hygiene advice, including:
avoiding contact persons suffering from acute infections of the respiratory tract
maintaining good hand hygiene
using a mask when staying among many people
avoiding contact to animals (particularly with animal excretions such as saliva and faeces)
Persons who in the first 14 days after returning from the Arabian Peninsula experience severe infection of the respiratory tract (fever with pneumonia and/or difficulty breathing) or other severe infectious disease should see a doctor.
(A.H. Christiansen, P.H. Andersen, Department of Infectious Disease Epidemiology)


Weekly report on individually notifiable diseases and selected laboratory diagnosed infections will no longer be published
After this year's summer vacations, the EPI-NEWS news mail has not included a link to the weekly report of individually notifiable diseases and selected laboratory diagnosed infections. Readers who are interested in these reports may see "Overvågning i tal, grafer og kort" (in Danish) at the SSI's website, which presents real-time data on the majority of the individually notified diseases and laboratory notified infections. We are planning to add to the page some of the diseases/infections, which are not currently presented there.
(P.H. Andersen, Department of Infectious Disease Epidemiology)
Link to previous issues of EPI-NEWS
27 August 2014