Zoonotic intestinal infections 2012
World TB Day
Zoonotic intestinal infections 2012
Zoonoses are diseases that are transferred from animals to humans. Zoonotic intestinal infections arise after ingestion of contaminated food or water, or after contact with infected animals or humans.
Bacterial enteropathogens are monitored through the Laboratory Surveillance System. Furthermore, verocytotoxin-producing E. coli (VTEC) infections and cases of haemolytic uraemic syndrome (HUS) are clinically notifiable on Form 1515. The same applies to intestinal infections (regardless of their aetiology) in case of suspicion of infection from a specific food or water source.
General development
Figure 1 shows the number of notified cases of Campylobacter spp, Yersinia enterocolitica, VTEC and zoonotic serotypes of Salmonella enterica in the 1980-2012 period. The age-specific incidence is presented in Table 1.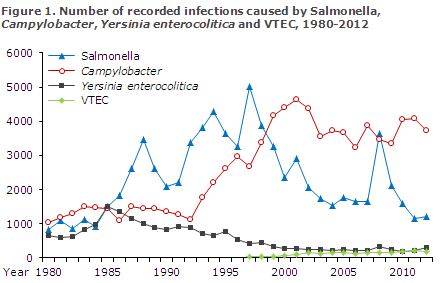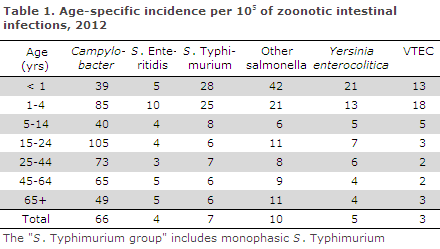 2012 saw 1,198 registered salmonella cases (21 per 100,000), which is in line with 2011 when 1,167 cases were recorded. As in previous years, S. Enteritidis and S. Typhimurium were the more frequent serotypes, Table 2.
The number of S. Typhimurium cases was 223, which represents a decrease relative to the previous year. Conversely, more cases were seen of the monophasic variant of S. Typhimurium, a total of 192 cases which is 36 % more than the previous year.
Monophasic S. Typhimurium includes isolates with the antigen formula 1,4,[5],12:i:-, i.e. isolates that are identical to the normal S. Typhimurium, but which cannot express the second-phase h antigen and therefore have an incomplete antigen formula.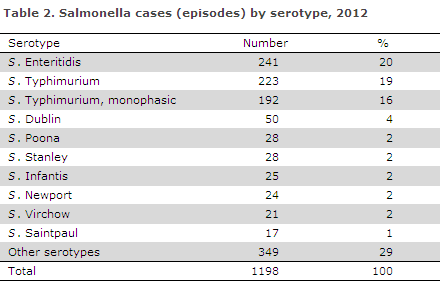 The number of S. Enteritidis cases continued to decrease in 2012 reaching a total of 241 cases, which was 15 % fewer than in 2011. The group Other serotypes, counting 515 cases, comprised a total of 113 different serotypes. The most frequent serotypes are shown in Table 2.
A total of 13 isolates belonged to other subspecies than Salmonella enterica spp enterica, and the serotype was unknown in 27 cases.

In 2012 a total of 3,722 cases (66 per 100,000) of Campylobacter jejuni/C. coli infections were recorded, a 9 % decrease compared with the previous year.

A total of 290 cases (5.2 per 100,000) of Yersinia enterocolitica were registered, a 29 % increase compared with 2011.

Furthermore, 204 VTEC cases (3.6 per 100,000) were recorded, 9 % down from the previous year. Hereof 163 and 193 cases, respectively, were notified via the clinical and the laboratory-based notification systems.
Isolates were available for 181 VTEC cases; the two most frequently occurring serogroups were O157 with 39 (22 %) cases and O145 with 19 (10 %) cases. Eleven HUS cases were registered, including seven confirmed by culture and two by positive O157 serology.

For further information, please see ssi.dk/data which links to "Surveillance presented as numbers and figures (in Danish: Overvågning i tal og grafer) at the webpage of SSI.
Here, data summarizing laboratory notification of bacterial intestinal infections are presented. Under "Laboratorieanmeldelser" (Danish for Laboratory notifications), you may select the individual bacteria and build data presentations by period, place and person.
Infections acquired abroad
In 2012 the SSI collected information on any infection acquired abroad when such information was not provided with the notifications. Specifically, telephone interviews were conducted with all salmonella patients and those campylobacter patients who were notified by the Departments of Clinical Microbiology in Odense and Aalborg.
The patients were asked about the date of disease onset and whether they had travelled abroad within a seven-day period prior to disease onset.
These interviews have yet to be completed, but the results for the patients for whom travel information is currently available show that 38 % of the campylobacter cases were acquired abroad, while the corresponding number was 70 % for S. Enteritidis, 15 % for monophasic S. Typhimurium and 45 % for Other salmonella serotypes.
For salmonella, Thailand, Turkey and Egypt were those countries in which most persons were infected. For campylobacter, Turkey, Thailand and Spain were the most frequent countries of infection.
Commentary
The number of salmonella infections in 2012 was at par with the number observed in 2011; which, in turn, corresponds to the occurrence before salmonella surfaced as a general problem in Denmark in the late 1980s.
A substantial share of the salmonella epidemics, which peaked in 1997, was due to S. Enteritidis infections acquired from Danish eggs, and this serotype has been the most common in Denmark for many years.
Since 2008, however, S. Typhimurium (including the monophasic variant) has been the primary serotype among Danish patients, and the S. Enteritidis cases observed have mainly been acquired abroad. The Danish and European measures against S. Enteritidis infections may be considered a success for public health. Overall, about half of all salmonella cases were acquired during travels abroad, and only two salmonella outbreaks, which were both minor outbreaks, were observed in 2012.
In contrast hereto, the number of campylobacter infections remained at a high level, even though the incidence of these infections decreased modestly. Around a third of patients were infected abroad, and no general campylobacter outbreaks were seen in 2012.
The number of VTEC infections was in line with the number recorded the previous years. In the autumn of 2012, Denmark saw its first ever food-associated outbreak including HUS cases. It was caused by a VTEC strain of serotype O157: H7, the source of which was probably contaminated ground beef, EPI-NEWS 45/12.

(S. Ethelberg, K. Mølbak, Dept. of Infectious Disease Epidemiology, K.E.P. Olsen, F. Scheutz, M. Torpdahl, Dept. of Microbiology and Infection Control)
World TB Day
Extrapulmonary tuberculosis
24 March is World TB Day. The day is marked every year by the ECDC and the WHO in commemoration of Robert Koch who announced the discovery of the pathogenic bacterium Mycobacterium tuberculosis on 24 March 1888.
This year, World TB Day focusses on extrapulmonary tuberculosis (TB), i.e. TB located outside of the lungs, and the diagnostic and therapeutic challenges associated with this particular type of TB.
2011 saw a total of 6.2 million reported TB cases, including about 800,000 extrapulmonary cases. Extrapulmonary TB is rarely infectious, but it nevertheless contributes substantially to TB morbidity due to the potential complications and sequelae associated with the extrapulmonary location.
In Denmark, a total of 380 TB cases were notified in 2011, including 84 (22 %) cases of extrapulmonary TB, some of which were concurrent pulmonary TB cases (seven cases), EPI-NEWS 50/12. In Denmark, the primary extrapulmonary manifestation is TB of the lymph nodes. In 2011, a total of 46 cases of TB of the lymph nodes were notified, corresponding to more than half of all extrapulmonary cases.
Contact tracing, contact investigation and screening
A cornerstone in the fight against and the control of TB is thorough contact tracing and investigation: Who infected the current patient and who else has the source and the current patient transferred the infection on to? The principles of contact tracing are described in the National Danish Tuberculosis Programme from 2010.
The programme is currently being updated. Concurrently, the National Danish Health and Medicines Authority has initiated a major revision of the Guideline on Precautions Against Tuberculosis of 28 November 1996. It is expected that both the programme and the guideline will be published in the autumn of 2013.
In addition to contact tracing and investigation, the Department for Pulmonary Medicine, Gentofte Hospital, runs a pilot project in which sputum samples are collected among exposed population groups in Copenhagen, where TB is prevalent.
The first collection of sputum samples was undertaken in September 2012 when one specimen per person was collected. Of the 335 collected specimens, a total of 11 persons tested positive for TB (10 persons with culture-positive TB and one person with microscopy-positive TB), corresponding to approx. 3 % or all the tested persons. Among these were seven Greenlanders, two Swedes and two Danes.
The second collection was undertaken in January 2013. Of the 240 collected sputum samples, a total of six culture-positive specimens have been found at present, all in Greenlanders.
The Department aims to repeat this screening procedure every 3-4 months in future. The next collection session is planned for May 2013.
Commentary
The first two pilots indicate that culture of a single sputum sample collected in at-risk environments may be an effective means for identifying TB early in the disease course (microscopy-negatives) in exposed population groups. However, previous experience from Gentofte Hospital shows that an experienced person, e.g. a nurse, should supervise the sampling process to ensure that usable specimens for due culturing are collected rather than just saliva.
In addition to the sputum sample testing pilot, the Capital Region of Denmark has acquired a bus which will be fitted with x-ray equipment with a view to optimizing screening for active TB in risk environments in future, EPI-NEWS 51a/12.
(P.H. Andersen, Department of Infectious Disease Epidemiology, T. Lillebæk, National Reference Laboratory for TB & Mycobacteria, N.W. Olsen, Department for Pulmonary Medicine, Gentofte Hospital)

Link to previous issues of EPI-NEWS
20 March 2013