2021 recorded the lowest ever number of invasive meningococcal disease cases
2021 recorded the lowest ever number of invasive meningococcal disease cases
In 2021, a total of ten cases of invasive meningococcal disease (IMD) were recorded. This is the lowest annual number of IMD cases ever recorded.
Group W, which has followed an increasing trend since 2015, and which was the dominant serogroup in 2017, 2019 and 2020, has largely disappeared.
Group B was the dominant serogroup in 2021, accounting for 60% of all cases.
For a detailed description of the incidence, please see the 2021 annual report on invasive meningococcal disease.
In the 2015-2018 period, the number of IMD cases remained stable at approx. 40 annual cases. However, in 2019, a steep increase to 56 cases was observed. This trend continued in 2020, but as restrictions were introduced to curb infection with SARS-CoV-2 in March 2020, a drastic decrease was observed in the number of IMD cases. This decreasing trend continued in 2021, when the lowest number of IMD cases ever was recorded, Figure 1. In 2022, as per 15 September, nine IMD cases have been recorded, among which group B is the dominant group.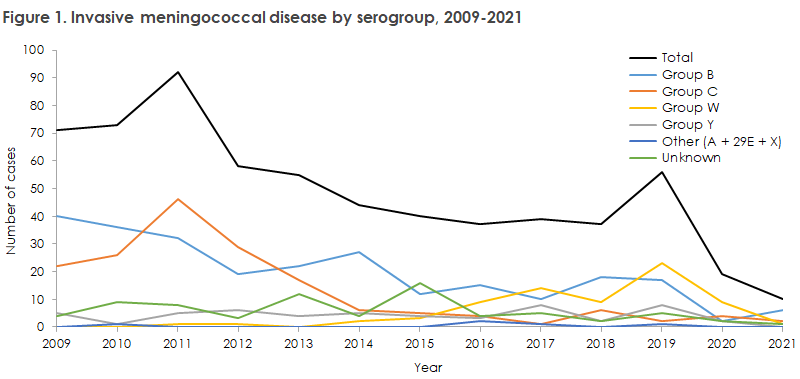 In EPI-NEWS 3-5/21 , Statens Serum Institut reported an increase in the proportion of IMD caused by group W. This increase was probably related to a special sub-clone, which was responsible for the majority of the cases caused by group W in 2019 and 2020. Since the introduction of COVID-19 restrictions in March 2020, only two group W cases have been reported; one in 2020 and one in 2021.
Currently, no group W cases have been recorded in 2022. Genotyping was possible in one of the cases, which belonged to the Danish sub-clone.
One patient died due to IMD in 2021, and sequelae to IMD were recorded in one patient. Half of the patients had underlying conditions recorded prior to IMD.
(F. Kristensen Lomholt, Department of Infectious Epidemiology and Prevention, S. Hoffmann, S. Baig, Bacteria, Parasites & Fungi)
12 October 2022