Status on participation in the HPV vaccination programme for boys and young men
Status on participation in the HPV vaccination programme for boys and young men
A year has now passed since free HPV vaccination for boys aged 12 was introduced into the childhood vaccination programme and it is time to evaluate.
The programme means that all boys born after 1 July 2007 are offered the two required vaccines (HPV1 and HPV2) free of charge when they turn 12 years old. Just like girls have been since 2009.
In addition to the childhood vaccination programme, two catch-up programmes are in place targeting boys born from 1 January 2006 to 30 June 2007 and men who feel attracted to men and who were born from 1 January 1994 to 31 December 2003. The free catch-up programmes were introduced on 1 February 2020 and will remain in place until 31 December 2021.
Following a longer period where approx. 1,000 self-paid HPV vaccines were given monthly, the number increased to 2,254 in August 2019. Furthermore, in September 2019, when the offer of free HPV vaccination for boys was introduced, a total of 3,616 boys and young men were vaccinated, see Figure 1.
An additional increase in vaccination activity was observed from January 2020, even though the two catch-up programmes were not introduced until 1 February 2020. In this period, an average of more than 7,000 boys and young men were vaccinated monthly. In comparison, the first four months after the vaccination programme was introduced, fewer than 4,000 boys were vaccinated on average per month. A small decrease was observed in the vaccination activity in March and April, which is thought to be caused by the lockdown introduced due to the COVID-19 epidemic.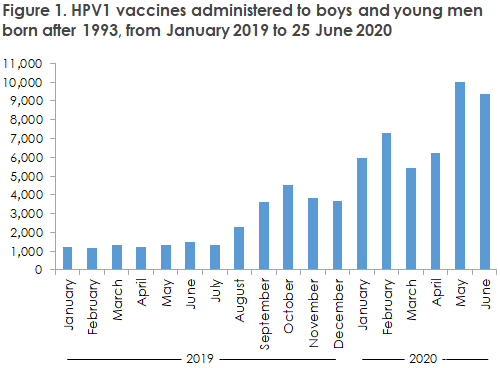 The highest vaccination coverage is seen among the younger cohorts included in the vaccination and catch-up programmes, i.e. 2006-2008. For cohorts 2006 and 2007, a coverage of 32% and 39%, respectively, was recorded. Among the boys who turn 12 years old this year (cohort 2008), the coverage in the first half of 2020 was 25% despite the fact that slightly less than half of these boys had turned 12 years old, and were therefore eligible for free vaccination, on the date of data collection, see Figure 2.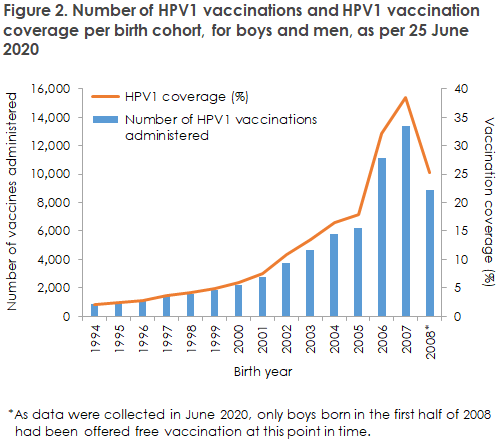 We do not yet have data for a full birth cohort with boys offered vaccination for free through the childhood vaccination programme and who are not vaccinated as part of a catch-up programme. Even so, the 39% coverage recorded for birth year 2007 shows that the implementation of HPV vaccination for boys has been well received. Even though the vaccination coverage is increasing, the objective of a 95% coverage has yet to be reached.
The vaccination helps ensure equal terms between sexes. A higher coverage among boys will increase the direct protection against anal cancer and genital warts, and contribute to increasing herd immunity thereby indirectly protecting persons of both sexes who have not been vaccinated.
Reminder letters regarding HPV vaccination
Children who have turned 12 years old on 1 November 2019 have all been allocated a 12-year vaccination programme in the Danish Vaccination Register (DDV), including the 12-year vaccines (HPV1 and 2). Therefore, the parents or guardian of the child receives a reminder letter in e-Boks two weeks before the child turns 12 years old. In some cases, this meant that a vaccination appointment was scheduled before the child had turned 12 years old, i.e., before the child was included in the programme (in Danish).
When a vaccination is scheduled in general practice, it is therefore important to ensure that the adolescent has turned 12 years old at the time of vaccination.
(K.F. Nielsen, P. Valentiner-Branth, Department of Infectious Disease Epidemiology and Prevention)
Read more
Read more about HPV vaccination for boys and girls, and about the catch-up programmes at the SSI website and at stophpv.dk
Read the update on the coverage of HPV vaccination programmes for girls published in EPI-NEWS no. 5, 2020.
Press release from the Danish Health Authority (in Danish)