The theme of World AIDS DAY 2019 is Communities make the difference.
The theme of World AIDS DAY 2019 is Communities make the difference.
On 1 December, organisations, associations and individuals across the world will mark World AIDS Day (WAD). This year, UNAIDS focuses on the role of communities in the prevention of HIV cases and in supporting HIV-positive persons.
This year's UNAIDS motto is: "Communities provide an invaluable contribution to the fight against HIV. Communities of people living with HIV, key populations such as homosexual men and other men who have sex with men, people who inject drugs, sex workers, transgender persons, etc. The communities help defend human rights and support each other. The communities are the lifeblood of effective HIV protection and an important pillar of support."

In Denmark, men who have sex with men (MSM) is the group that most frequently becomes infected by HIV.
Even though we are seemingly experiencing a decline in the number of new HIV infections in this group - not least owing to novel prophylactic methods - we still have a long way to go before HIV infection is a thing of the past.
Access to effective prevention, access to frequent and free HIV testing, and access to free and effective treatment shortly after diagnosis are all available in Denmark. One of the reasons why not all MSM opt for these opportunities is the major stigma that still shrouds HIV and people who have HIV.
It is a burning wish that MSM communities as well as the general population actively strive to curb the stigma which is - among others - rooted in an unfounded fear of HIV-positive people.
The main message in this context is: Well-treated HIV-positive people cannot transmit HIV. Not even through unprotected sex.

Figures from the UNAIDS
Worldwide around 40 million people live with HIV. Approx. 8 M hereof are unaware that they have become infected.
Approx. 1.7 million people became infected with HIV in 2018
A total of 32 million people have died of HIV-related diseases since the onset of the epidemic.
Less than 1 million died of HIV-related diseases in 2018.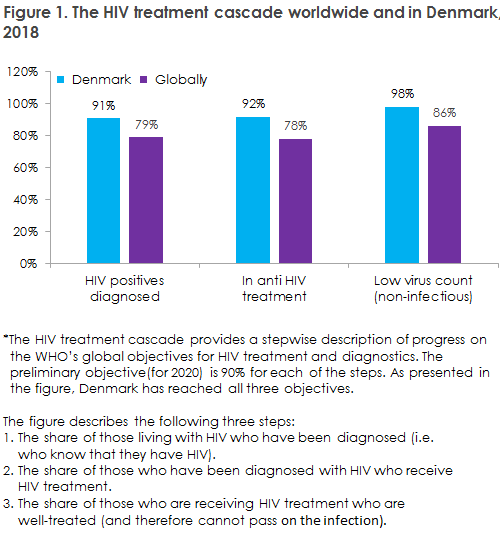 For more information about HIV in Denmark, please see EPI-NEWS 44/19.

(S. Cowan, Department of Infectious Disease Epidemiology and Prevention)