Listeriosis 2006-2013
Conclusion of hepatitis B vaccination in the temporary childhood vaccination programme
Shift of polio vaccine for revaccination at 5 years of age
Listeriosis 2006-2013
Listeriosis is a food-borne infection caused by the bacterium Listeria monocytogenes. Presumably, most people ingest food containing Listeria now and then, but in most cases you do not fall ill or experience only light influenza-like symptoms or gastroenteritis. However, particularly the elderly and immuno-deficient persons can fall seriously ill due to listeriosis. Thus, the highest risk of falling ill due to the bacterium is seen among persons above 60 years of age with certain diseases like cancer, haematological disorders, diabetes, immunosuppressant conditions, and among persons receiving therapy (e.g. with anticancer agents, corticosteroids and other anti-inflammatory drugs), persons with organ transplants and persons who suffer from alcoholism.
The condition most frequently presents in the form of bacteraemia/sepsis and/or meningitis/meningoencephalitis. In rare cases, the following conditions, among others, may be seen: peritonitis, abscesses, arthritis and endocarditis. In most cases, patients are admitted with symptoms like fever, generalised weakness and, possibly, diarrhoea and vomiting. Invasive listeriosis is a serious infection with an overall mortality of approx. 25%.
Pregnant women are also at risk of becoming infected with Listeria, and the infection can transfer to the unborn child. Frequently, the pregnant woman is not herself seriously affected, but the infection can cause abortion/still birth or cause the newborn to be seriously ill with sepsis and/or meningitis.
The incubation period for listeriosis typically ranges from 7 to 21 days, but may vary from 1 up to 70 days. The long incubation period generally makes it difficult to find the source of infection in case of an outbreak.
The bacterium is widespread in nature and may be found in soil and water, among others, but it is also present in the intestinal flora of both animals and humans. It may occur in many types of raw and processed foods, including meat, meat and fish products, vegetables, smoked foods, ready-made meals and products based on milk. The bacteria reproduce at fridge temperature, but perish when heated.
L. monocytogenes is resistant to cephalosporines, but can be treated with ampicillin, among others, in some cases in combination with aminoglycoside. In the majority of cases, a relatively long treatment period is recommended (approx. 2-4 weeks depending on the disease picture) with intravenous antibiotics to avoidrelapse of the infection.
Monitoring and notification
In Denmark, listeriosis is monitored via the laboratory notification system. The departments of clinical microbiology report any findings of L. monocytogenes in their patient samples and submit bacterial isolates to the SSI where typing is performed with a view to detecting any outbreaks. The latest reports on listeriosis are available in EPI-NEWS 34/98 and 42-43/06.
As is the case for purulent meningitis, cases of Listeria meningitis are also notifiable via the individual notification system. The treating physician's notification is made by telephone and in writing to the Medical Officer of Health, and in writing to the Department of Infectious Disease Epidemiology, SSI. Furthermore, food-borne conditions in which a specific food is under suspicion are individually notifiable on Form 1515.
Listeriosis development
The 2006-2013 period saw an average of 60 annual listeriosis cases (range 50-98), Table 1. In 2009, an unusually high number of cases was recorded (98), EPI-NEWS 3/10. The 98 cases included an outbreak counting eight persons who had become infected due to a food delivery scheme of a catering company, EPI-NEWS 36/09, but apart from this no cause was found to explain the many cases.
Typing by pulsed field gel electrophoresis (PGFE) of the bacterial isolates detected many different types during the year. In 2010, six cases of mother-child listeriosis were recorded, which was the highest number in the currently reported period. Five of these cases occurred in the second semester of 2010, and they shared the same DNA profile. Another four cases seen in the second semester of 2010, which did not occur in pregnant women, also had the same DNA profile. Investigation of this cluster did not succeed in establishing with certainty a shared source of infection, but based on patient interviews, cold-smoked salmon was under suspicion.
In the remaining years, PGFE showed that a host of DNA types were involved, but apart from minor clusters, no outbreaks were detected. These clusters were difficult to interconnect epidemiologically as some of the patients had died, and because the clusters occurred in periods spanning several months.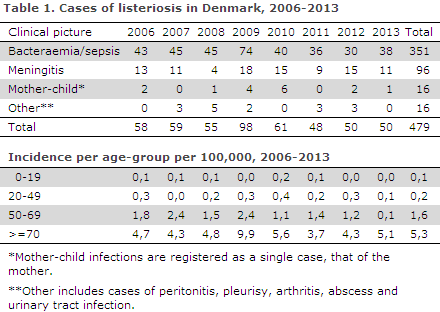 Figure 1 shows the development in the incidence of listeriosis in Denmark over the past 20 years. In 1994, the total incidence was 0.4 per 105 inhabitants, whereas in 2013 it had increased to 0.9 per 105. Within the period, fluctuations were seen as has previously been the case, but from 2003 to 2013 the overall incidence has been increasing. It is clear that the increase is primarily due to an increasing incidence among persons above 50 years of age. As mentioned in EPI-NEWS 42-43/06, mainly the number of bacteraemias has been increasing. In the 20-49 years age-group, a total of 41 cases were recorded, including 16 mother-child cases.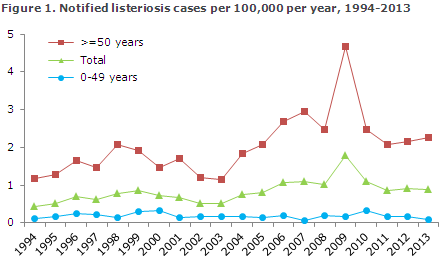 New initiatives in listeriosis monitoring
Towards the end of 2013, the SSI started monitoring listeriosis outbreaks using genome sequencing of bacterial isolates. Previously, PFGE was used. Genome sequencing and the subsequent data analyses provide a rapid and precise characterisation and therefore a more certain detection of possibly epidemiologically related patients.
It is expected that PGFE, which is presently the preferred typing method internationally, will be phased out and replaced by genome sequencing in the course of few years. This will provide us with new opportunities to easily and reliably compare isolates from patients and foods nationally as well as internationally. This year, to improve our knowledge of food sources and risk factors in listeriosis, the Department of Infectious Disease Epidemiology continuously conducts interviews with all listeriosis patients.
The interviews explore the patients' food habits and the circumstances concerning their food storage. In case an outbreak should occur, these interviews will improve the chance of achieving reliable information on possible sources of infection, as the information has been collected continuously and not retrospectively once a possible outbreak is detected.
Commentary
The collaboration with the departments of clinical microbiology on notification of any finding of L. monocytogenes is well-functioning, and a recent validation of the notification data shows that Denmark has a notification rate of approx. 95%. Submission of isolates is rapid, which is important to quickly identify an outbreak and collect usable information on the patients' food intake.
Since 2003, an increasing incidence has been observed, but over the past few years the incidence has remained stable around 0.9 per 105. However, compared with other European countries, the incidence observed in Denmark remains high. Possibly, part of the explanation for this is a well-functioning monitoring system.
The increase was mainly caused by more cases in the older age-groups, which are at increased risk of becoming infected with listeriosis. 2009 witnessed an unusually high occurrence, which has not been seen again in the following years.
For many years, the number of listeriosis cases in pregnant women has been low in Denmark. Only in very few cases has it been possible to identify the sources of infection for Listeria monocytogenes cases in Denmark.
Risk foods will typically be products with a long shelf life at fridge temperature and with a composition that allows the bacterium to grow. Examples of such products include: sliced meat cuts, cold-smoked fish and gravad salmon and soft cheeses. Raw milk (unpasteurised) can also be associated with risk. Soft cheeses and sliced meat cuts packed in a modified atmosphere have given rise to a number of major listeriosis outbreaks abroad. The handling of foods by consumers can probably be a listeriosis risk factor.
To avoid Listeria, the Danish Veterinary and Food Administration recommends that consumers discard any food which is past its used-before-date and that they are aware that food will not keep for long once the packaging has been opened. Additionally, it is important to observe general guidelines on good kitchen hygiene and to maintain the temperature in the refrigerator at a maximum temperature of 5 °C.
On suspicion of a source of infection for listeriosis, the treating physician and the clinical microbiology department, among others, may contact the respective food authorities with a view to initiating microbiological testing of the foods.
(A.K. Jensen, J. Larsson, E.M. Nielsen, Microbiology and Infection Control, S. Ethelberg, L. Müller, Department of Infectious Disease Epidemiology, A. Perge, Danish Veterinary and Food Administration)
Conclusion of hepatitis B vaccination in the temporary childhood vaccination programme
In cases in which Infanrix Hexa® is used as the basic vaccine for children under the temporary childhood vaccination programme, EPI-NEWS 50/13 and 3/14, it will now be possible to order the hepatitis B vaccine "Engerix-B pæd®", SSI item number 17606, via the SSI's electronic Form 6 with a view to concluding the hepatitis B vaccination series (2nd and/or 3rd vaccine). When ordering the vaccine for this purpose, checkbox "B" for børnevaccinationsprogram (Danish for childhood vaccination programme) should be checked.
As previously, the vaccine may also be ordered for use in pursuance of "Executive order on free hepatitis vaccination for particularly exposed groups of persons (checkbox "R") and for self-payment (checkbox "E"). As the indication is of importance for the settlement, it is very important that you thoroughly check that the order is filled-in correctly.
Shift of polio vaccine for revaccination at 5 years of age
As part of the temporary changes introduced to the childhood vaccination programme, EPI-NEWS 50/13 and 3/14, the SSI will provide polio vaccine from Sanofi Pasteur for revaccination at five years of age as from Monday 5 May and until further notice.
In contrast to the polio vaccine produced by the SSI, which is a ready-for-use orange-red, transparent solution, the polio vaccine from Sanofi Pasteur ("Imovax polio®") comes as a suspension which needs to be shaken before use. Imovax polio® is contraindicated in case of allergy to neomycin, polymycin B or streptomycin. The vaccine is ordered electronically on Form 6; its item number is 94008.
(G. Germod, Sales and Business Development, P.H. Andersen, Department of Infectious Disease Epidemiology)

Link to previous issues of EPI-NEWS
30 April 2014