Legionella pneumonia, 2012
Legionella pneumonia, 2012
Notified cases
There were a total of 125 notified cases of Legionella pneumonia (LP) with symptom onset in 2012; among these 90 cases were laboratory-verified in accordance with the criteria described in EPI-NEWS 40/09. The median age was 63 years (range 29-88), and 74 (59 %) were males. For 32 patients, a minimum of one predisposing factor was reported, five had no known predisposing factors, and in 85 cases information on predisposition was missing, or the risk was unknown. A total of 80 cases were infected in Denmark. Infection categories are presented in Table 1 and the geographical distribution in Table 2.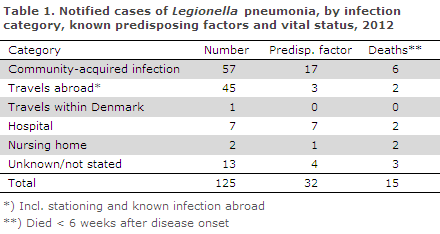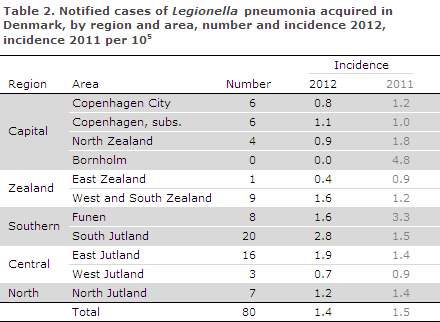 Cases acquired at institutions
Nine cases were notified with presumed or certain institutional infection. Seven were associated with hospitals and two with nursing homes. One of these cases was culture-verified. Five died in connection with the legionella infection. In one of the culture-verified cases, the results from water-sample analysis supported the suspicion of infection.
Community-acquired infection
In a total of 57 cases with presumed community-acquired infection in Denmark, 26 cases were culture-verified. For ten cases it was known that tests had been performed of a suspected water supply in the persons home, workplace or elsewhere. In four of these cases, the typing result from the patient sample isolate and the water sample (two from own home, one from a workplace (hairdressers) and one from the showers at an indoor swimming pool) were consistent, and the source of infection was thus confirmed. A total of three persons were believed to have been infected at their workplace. Two of these were infected in Denmark; both were culture-positive.
Travel-associated cases
A total of 45 cases were presumably infected abroad and one case while on vacation in Denmark, Table 3. Among these, 41 were reported to the European Centre for Disease Prevention and Control (ECDC). A total of 15 cases were culture-verified. In one of these cases, typing results from the water supply of the hotel where the patient had stayed confirmed the source of infection. A total of 15 Danes were involved in nine clusters/outbreaks, including two in Turkey counting three and five Danish cases, respectively.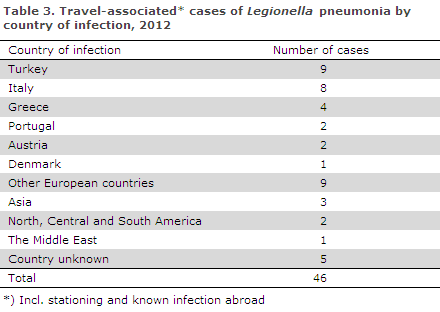 Laboratory-diagnosed cases
The SSI has knowledge of a total of 125 laboratory-confirmed (culture, LUT, titre increase or PCR) cases of LP in 2012, including 33 cases which were detected by PCR only. Two cases were not notified. Legionella was isolated by culture from 53 patients. The distribution of legionella isolates was as follows: 33 L. pneumophila sg 1 (22 Pontiac and 11 non-Pontiac) thirteen sg 3, five sg 6, one sg 10 and one sg 15.
Legionella pneumonia in the town of Kolding 2010-2012
In the 2010-2012 period, Kolding saw a higher LP incidence (7.5 per 100,000) than in the preceding ten years. Particularly, more L. pneumophila serogroup 3 infections were seen, and specifically infections with the unique DNA type L. pneumophila serogroup 1 subgroup Bellingham, ST 931, EPI-NEWS 46/12. In Kolding, a total of five different types of L. pneumophila have been detected, and these were also detected through culture of water for domestic use at various locations in the town.
Since 2000, the clinical microbiology departments at Vejle, Odense and Skejby hospitals and Statens Serum Institut have diagnosed a total of 39 probably community-acquired cases from Kolding. None of these cases were acquired at hospitals or were associated with travels abroad. Of the 39 cases, 21 (11 women and 10 men) developed LP in the 2010-2012 period. The median age of the cases was 65 years (range 27-89).
Statens Serum Institut in cooperation with the Public Health Medical Officers and the Municipality of Kolding are currently investigating possible sources and routes of infection in Kolding and nearby areas. At present, there are no signs to suggest an actual point source outbreak from a shared source of infection.
Previously, a periodic increase of incidence has been observed in other Danish areas. An example of this is the town of Randers in the 1996-2000 period when a similar investigation was conducted, however without definitive findings.
Commentary
The number of patients with Legionella pneumonia in 2012 and their distribution on the categories of healthcare sector/community/travels is largely in line with previous years. The share of travel-related cases, however, was slightly higher than normally due to an increase in the number of cases related to Turkey. The share of culture-verified cases and the distribution by serogroup was also largely in line with previous years, though with a high share (nearly 25 %) of serogroup 3 and the fact that no species apart from L. pneumophila were detected.
(A. Mazick, C. Kjelsø, Department of Infectious Disease Epidemiology, S. Uldum, Microbiology and Infection Control, T. Vestergaard, Public Health Medical Officers South)

Link to previous issues of EPI-NEWS
9 October 2013