Salmonella Enteritidis and Shigella sonnei in connection with vacation travel to Turkey in 2013
Pilgrimages to Mecca
Wild polio virus in circulation in Israel
Salmonella Enteritidis and Shigella sonnei in connection with vacation travel to Turkey in 2013
Since June, Statens Serum Institut has recorded an increasing number of patients who have been infected with Salmonella Enteritidis during vacation travels to Turkey. Concurrently, an outbreak at a hotel in Alanya was shown to have been caused by several pathogenic gastrointestinal bacteria including S. Enteritidis and Shigella sonnei.
In the course of the summer, subtyping of Salmonella Enteritidis has identified an increase of four closely related subtypes. By 3 September, bacterial strains had been received from a total of 81 persons who had been diagnosed with one of these four subtypes of S. Enteritidis since June 2013. Among these, 47 persons had known previous travels to Turkey. In the same period in 2010-2012, between 27 and 39 persons were recorded with S. Enteritidis infection after having travelled to Turkey. Interviews with the patients have shown that they lived in different towns and at different hotels in Turkey. Poor hygiene at a single hotel, restaurant or other establishment can therefore not explain the observed cases.
Additionally, over the course of the summer, cases of Shigella sonnei have been recorded in Denmark and in other Nordic countries in patients who had returned from Turkey. A joint Nordic epidemiological study - including all persons who have lived at a certain hotel in Alanya - is currently on-going aiming to identify the source of this probable outbreak. In a limited number of patients with gastroenteritis who had stayed at the hotel in question, other pathogenic gastrointestinal bacteria than Shigella sonnei were detected, including: S. Enteritidis and verocytotoxin-producing Escherichia coli (VTEC).
On this basis, Salmonella, Shigella and VTEC infections should be suspected in patients with symptoms that are consistent with bacterial gastroenteritis following travel to Turkey. For Shigella and VTEC, specific guidelines are in place for persons in sensitive occupations EPI-NEWS 50/03. General travel advice for the prevention of food-borne diseases is avaliable at the SSI's website.
Commentary
Previously, S. Enteritidis was the most frequently occurring salmonella type in Denmark. However, over the past 15 years, the number of S. Enteritidis infections has decreased steadily, EPI-NEWS 12/13. Since Danish chickens and egg-layers were declared salmonella-free, the majority of the recorded cases of infection have been acquired abroad, and the latest recorded outbreak of S. Enteritidis associated with a Danish source occurred in 2009, EPI-NEWS 36/09.
In Denmark, the country of infection of all salmonella cases has been monitored through telephone interviews since 2008. In the 2008-2012-period, a total of 37% of all salmonella cases with known country of infection were acquired abroad. In the same period, however, a total of 60% of all S. Enteritidis cases with known country of infection were acquired abroad. Since 2010, more than 75% of all S. Enteritidis cases with known country of infection have been acquired abroad.
Every summer sees an increase in the number of S. Enteritidis patients who have become infected during travels to Turkey, Figure 1. The numbers for 2013 were not included in the figure as the country of infection has yet to be established in a considerable number of cases. It remains unclear if the currently observed increase in S. Enteritidis cases from Turkey indicates a higher than normal level of food safety issues at the destinations, or if the cause is increased travelling activity to destinations in Turkey. Unfortunately, the total number of Danish tourists who have visited Turkey annually over the years is not known.
(S. Gillesberg Lassen, S. Ethelberg, and L. Müller, Department of Infectious Disease Epidemiology, M. Torpdahl and S. Persson, Microbiological Monitoring and Research)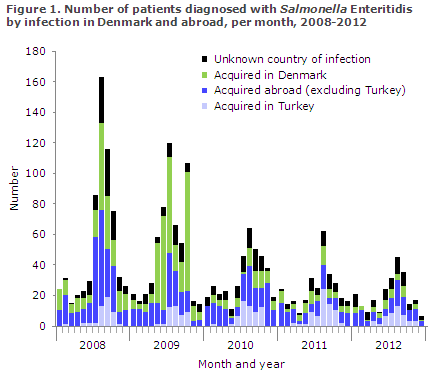 Pilgrimages to Mecca
Meningococcal disease
To obtain a visa for Saudi Arabia, any pilgrim above the age of two years shall have received the tetravalent vaccine against meningococcal disease of serogroups A+C+W135+Y no later than ten days prior to entering the country.
All travellers above two years of age, including those who have been vaccinated against groups A+C within the past three years, should be vaccinated once.
Children between the age of two months and two years are to receive a vaccination protecting against group A meningococci.
Nimenrix® can be used for children aged ≥ 1 year of age and for adults. The vaccination is given as a single dose, EPI-NEWS 10/13.
The Danish Medicines Agency (now the Danish Health and Medicines Authority) has previously assessed that children from two months up to one year may receive primary vaccination with two 0.5 ml doses of Menveo® given at a minimum interval of one month, EPI-NEWS 37/10.
Menveo® in the "vial-vial" formulation is approved for children aged two years or older.
Influenza
Influenza vaccination is not a requirement, but it is recommended by the Saudi Arabian authorities, particularly in persons with chronic conditions.
Middle East Respiratory Syndrome Coronavirus (MERS-CoV)
A limited number of cases of infection with MERS-CoV are still seen abroad, primarily in persons staying in Saudi Arabia.
The mortality among the recorded patients remains high. Limited person-to-person transmission has been confirmed, including a limited number of cases of infection of persons who stayed symptom-free, but who had contact with patients.
The source of infection remains unknown, but is believed to be related to animals.
It should be stressed that the risk of infection for persons travelling to the Arabian Peninsula and nearby countries is considered to be very limited, and no travel restrictions have been introduced; however, travellers engaging in pilgrimage to Mecca should adopt certain precautionary measures.
The WHO recommends that chronically ill persons are informed that they are at an increased risk of medical issues, including MERS-CoV infection, when travelling, and that their GP should assess if it is advisable for them to travel.
Furthermore, it is recommended that travellers observe standard hygiene advice, including:
avoiding contact with persons suffering from acute infections of the respiratory tract
maintaining good hand hygiene
avoiding contact to animals (particularly animal excretions such as saliva and faeces)
Persons should see a doctor if they experience severe infection of the respiratory tract (fever with pneumonia and/or difficulty breathing) or other severe infectious disease within a two-week period after having returned from the Arabian Peninsula.
(A.H. Christiansen, P.H. Andersen, Department of Infectious Disease Epidemiology)
Wild polio virus in circulation in Israel
Since February 2013, wild polio virus of type 1 has repeatedly been detected in wastewater in the southern and central parts of Israel, including in a single sample from the West Bank.
Furthermore, the virus was detected in the faeces of 42 healthy persons, predominantly in children below the age of nine years. In all cases wild polio virus type 1 has been identified. All affected persons had completed a relevant vaccination programme. Cases of actual polio with acute flaccid paralysis have not been recorded.
Since the beginning of August, a vaccination campaign targeting children has been underway in Southern Israel, and by mid-August a nation-wide vaccination campaign including all children up to the age of nine years was initiated, including the use of live attenuated polio virus vaccine (OPV).
The WHO and the ECDC currently warn of a risk of international spreading of infection from Israel, and all travellers to Israel should have completed a polio vaccination programme equivalent to that of the Danish Childhood Vaccination Programme, either "the old vaccination programme" consisting of three polio vaccines (administered as DT-IPV) and a minimum of two OPV, or four inactivated polio vaccines like in the present programme.
Persons who have completed one of the two programmes are considered to have achieved long-term - probably lifelong - protection against polio, and currently there is no recommendation for revaccination of persons who were previously fully vaccinated.
For infants travelling to Israel, the recommendation is that the child should have received a minimum of two polio vaccines, three if the first was given already at two months of age, EPI-NEWS 6/11.
(A.H. Christiansen, P.H. Andersen, Department of Infectious Disease Epidemiology)

Link to previous issues of EPI-NEWS
18 September 2013