Acute and chronic hepatitis C, 2021-22
Acute and chronic hepatitis C, 2021-22
In 2021, the Department of Infectious Disease Epidemiology and Prevention received a total of 150 hepatitis C notifications. In 2022, the corresponding figure was 207 notifications.
In 2021, acute hepatitis C accounted for four cases (two men and two women); in 2022, 11 cases (eight men and three women). In 2021, a total of 146 cases of chronic hepatitis C were notified (72% men). In 2022, 196 such cases were notified (67% men).
For a detailed epidemiological description of the 2021 and 2022 incidence, please see the annual report on acute and chronic hepatitis C.
In 2021, the number of notified hepatitis C cases was largely in line with the number observed in 2020. In 2022, the number of notifications increased by 38% compared with 2021, Figure 1.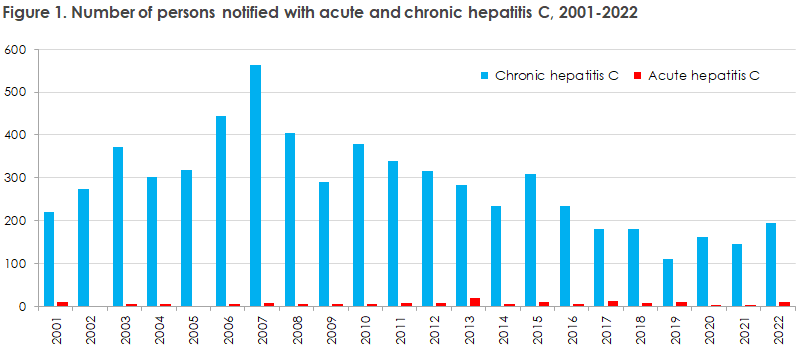 Median age (years)
The median age of acutely as well as chronically infected people followed a steadily increasing trend from 2000 to 2016. Subsequently, the median age of chronically infected cases has remained stable at around 50 years of age. Among acutely infected cases, the median age declined slightly in the same period of time, despite increasing from 2021 to 2022 (36 and 40 years, respectively).
However, the figures for acutely infected cases are small, and random fluctuations may occur, Figure 2.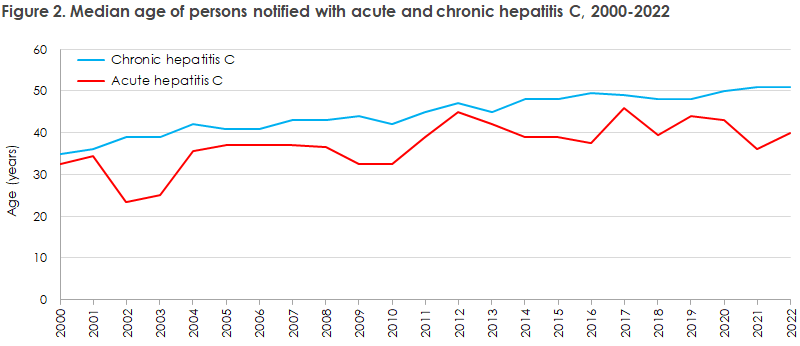 Region and area of residence
In 2022, the incidence of notified hepatitis C cases was highest in the areas surrounding the City of Copenhagen, and these areas also recorded the greatest increase (from 15 chronic hepatitis C cases in 2021 to 44 cases in 2022). Correspondingly, an increase was observed in the number of cases recorded in East Jutland from five notified cases in 2021 to 24 cases in 2022. A total of 80% of the cases had become infected due to drug use. Finally, an increase was also observed in North Jutland where seven cases were notified in 2021 and 21 cases in 2022. For 90% of the cases notified in North Jutland, intravenous drug use was stated as the source of infection.
In the Copenhagen subs. area, 75% of the notified casers received their first positive hepatitis C test result before 2021. Thus, the majority of the cases notified in Copenhagen subs. were not new cases but simply late notifications. This once more underlines that the number of hepatitis C cases stated in annual reports fails to describe the prevalence in the year in question but rather reflects the number being notified with hepatitis C in the year in question. After specific hepatitis C treatment was introduced in 2018 (direct-acting antiviral (DAA) agents), an ever-stronger focus has existed on identifying and treating hepatitis C across Denmark (see the description of current screening initiatives below). Increases in the incidences recorded nationally and in the individual regions and areas may therefore very well reflect the introduction of special initiatives to track hepatitis C and/or special measures to ensure that hepatitis C cases that have not previously been notified are now notified. As was the case in previous years, this assumption is underpinned by a Danish study from 2016 based on capture-recapture calculations of data from several registers that estimate that approx. 10,000 persons in Denmark are living with chronic hepatitis C, corresponding to 0.21% of the population. About a fourth hereof have not been diagnosed, and only about half of the diagnosed cases have been notified. Establishing laboratory-based hepatitis C monitoring therefore remains an objective for Statens Serum Institut as this may contribute to more correct statements and facilitate more targeted measures allowing Denmark to meet the WHO objective of eradicating hepatitis C no later than by 2030.
Current hepatitis C screening projects
As stated above, Denmark has seen a number of regional hepatitis C screening projects following the introduction of specific hepatitis C treatment in 2018. Some of these projects are described below.
Hepatitis C screening project in the Region of Southern Denmark "C-free South":
C-free South (in Danish language "C Frit Syd") is a hepatitis C eradication project located in the Region of Southern Denmark. The project became operational in March 2019. The eradication work is rooted in the infectious medicine departments of the region and implemented by an interdisciplinary team. The project has identified various focus areas to succeed in eradicating hepatitis C. Testing of citizens receiving substitution treatment was established in the form of a finger-prick test, a so-called dry blood spot, that tests for HCV antibodies and HCV RNA. In 2021, 628 persons received a finger-prick test of whom 36% were HCV-Ab positive and 11% were HCV RNA positive. In 2022, patients from a regional mental health emergency room were screened during a five-month period. A total of 358 persons were tested and 1.7% were HCV-Ab positive. In continuation hereof, a routine screening is currently being implemented for hepatitis B and C upon admission to the Psychiatric Department of Odense University Hospital, Denmark. Additionally, ongoing efforts have been made to call in citizens who have tested positive to hepatitis C for various causes, but who have not been referred for treatment. Concurrently, the project has operated a mobile clinic, which has offered testing of individuals associated with drop-in centres for socially marginalised people and homeless cafes, etc. The preliminary report for 2021-2022 shows that of the 800 people tested, 5% were HCV-Ab positive and 3% were HCV-RNA positive.
Hepatitis C screening projects in the Central Denmark Region "Eradication of hepatitis C in the Central Denmark Region:
This project is implemented as a PhD project by physician Martin Petri Bækby. The project is based on screening and has been operational since 2021. Sub-project 1 is a cross-sectional study of hepatitis C prevalence and hepatitis B and HIV in adult patients with mental illness (psychotic conditions, ADHD/AADD, and diagnostically unresolved patients with a double diagnosis) receiving treatment at the Department of Psychiatry at Aarhus University Hospital, Denmark. All participants are screened for hepatitis C, B and HIV, regardless of any risk behaviours (universal screening).
People who are known to have the infection may participate. Sub-project 2 is a cross-sectional study of hepatitis C prevalence in adult patients receiving substitution treatment (methadone, buprenorphine, prescription heroin) at municipal drug centres in the towns of Aarhus, Silkeborg and Herning. All participants are screened for hepatitis C, B and HIV, regardless of any risk behaviour (universal screening). People who are known to have the infection may participate.
Other hepatitis C screening initiatives
"Project C" is a mobile team in Region North Zealand that tests and treats citizens of the region who have become infected with hepatitis C.
In the Capital Region of Denmark, "the Mobile Clinic", which is operated by "The User Academy" (in Danish language "Brugernes Akademi"), is a healthcare offer targeting vulnerable people at street level in the region. The daily activities of the clinic are provided by volunteer healthcare staff and peer workers who test people for a range of conditions, including hepatitis C, without any need to schedule a visit. If you have become infected, you are referred for medical treatment and the patient support that the citizen may need in this situation. The User Academy and the Mobile Clinic facilitate examination, treatment and patient support where patients are located, which have proven effective among the vulnerable citizens of the region.
Migrants
In 2022, an increase was observed in the number of notified cases among persons from the Ukraine who had entered Denmark in the course of the year; a total of 13 notified persons compared with 1-3 annual cases in the 2010-2021 period. Some of the notified cases were known to have hepatitis C from their country of origin, whereas others were detected owing to routine screening performed at asylum centres or departments of infectious medicine. This increase serves to underline the importance of rapid screening of refugees and immigrants from areas where hepatitis C occurs endemically. These groups should be screened as soon as possible or at their first healthcare contact to ensure that they are offered examination and treatment, Danish Health Authority - Guideline on HIV and hepatitis B and C virus.
Resume
Since 2007, the annual number of notified hepatitis C cases has followed a steadily declining trend, reaching its lowest level to date in 2019 at 112 cases compared with 563 cases in 2007. In 2020 and 2021, the number increased slightly, but the numbers recorded remained low. However, from 2021 to 2022, the number increased by 38%, but this increase was unequally distributed among Danish regions. This is unlikely to reflect a real increase but likely linked to specific regional screening programmes/projects and an increased attention to notification.
Denmark has joined the WHO objective to eliminate hepatitis C before 2030. In practice, with 2016 as the base year, this means that the incidence needs to decline by 90%, that 90% of the infected persons need to have been diagnosed and that 80% of these need to have been treated. In relation to this objective, reduction of incidence measured as the number of notified cases is lower than what might be expected given the strategy as the incidence declined from 240 to 207 cases (14%). However, more cases are being diagnosed and notified than was previously the case. Therefore, the decrease probably does not reflect the reduction of hepatitis C incidence in Denmark. Without a doubt, focused screening is an important tool in the fight against hepatitis C, and even though this means that the number of cases notified increases, in the longer term, we will close in on the objective of eradicating hepatitis C in Denmark.
Attention is still needed on clinical notification of hepatitis C cases, particularly cases detected sporadically rather than as part of screening initiatives.
For a number of years, Statens Serum Institut has been preparing the introduction of laboratory-based hepatitis C monitoring. Unfortunately, this has yet to be introduced. Once this monitoring is in place, it will lead to more accurate monitoring of hepatitis C in Denmark.
A relatively higher number of cases infected abroad was detected in 2022 than in 2021. In part, this reflects an increased travelling activity in 2022 compared with 2021. Furthermore, more cases of infection were detected among migrants from the Ukraine. This underlines the importance of rapid screening of refugees and immigrants from areas where hepatitis C occurs endemically. These groups should be screened as soon as possible or at their first healthcare contact to ensure that they are offered workup and treatment.

(L. H. Holm, A. Koch, S. Cowan, Department of Infectious Epidemiology and Prevention, S. Dröse, Department of Infectious Medicine, Odense University Hospital, M. P. Bækby, Infectious Diseases, Aarhus University Hospital)