Leptospirosis - 2019-2022
Leptospirosis - 2019-2022
From 2019 to 2022, a total of 51 laboratory-detected leptospirosis cases were observed in Denmark. In this period, a decline was observed in the annual number of cases compared with 2017 and 2018, when 23 and 18 cases were recorded, respectively. The majority of those infected were men aged 26-64 years (71%). The median age among the 51 laboratory-detected cases was 41 years.
Among the 51 cases detected, 47 cases were notified to Statens Serum Institut (SSI). In the course of the entire period, approx. 25% (11) of the cases were notified with presumed place of infection abroad, and a slight decline was observed in travel-related transmission during the Corona epidemic compared with previous years. For a more detailed epidemiologic report, please see Annual Report on Leptospirosis 2019-2022. Additionally, a description of leptospirosis in the past decade in Denmark is available here.
Figure 1 presents the number of laboratory-confirmed cases of leptospirosis per year, by place of infection.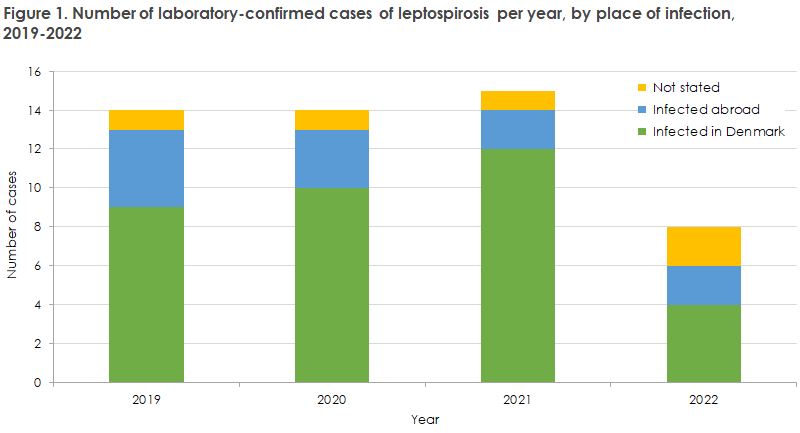 Leptospirosis is a zoonotic infection caused by infection with Leptospira bacteria found in the urine of infected small rodents, e.g., mice and rats. The condition is rare but serious and may develop from influenza-like symptoms into Well's disease causing organ failure and infection of the lungs. Leptospirosis infection may be treated with antibiotics, but no human vaccine is available.
Human leptospirosis may be prevented by using rubber gloves and boots during contact with rats and mice, sewers or waste water (e.g., in connection with floods, work in septic tanks or fish farming) and by covering wounds or scratches in the skin before coming into contact with freshwater. Additional information about the condition, its treatment and prevention is available in the SSI Disease Encyclopaedia.
In Denmark, clinical leptospirosis is individually notifiable to the Danish Patient Safety Authority and to Statens Serum Institut. Leptospirosis diagnostics are only performed at the SSI.
(C. Eves, C. Kjelsø, Department of Infectious Disease Epidemiology and Infection) C. Sværke Jørgensen, VMS Serology, Karen Angeliki Krogfelt, VMS Serology and Department of Science and Environment, PandemiX Center, Roskilde University)
19 April 2023