The avian influenza situation warrants an increased focus on human diagnostics
The avian influenza situation warrants an increased focus on human diagnostics
Since late 2020, Europe has been affected by outbreaks with H5 high-pathogenic avian influenza (HPAI) in wild birds, poultry and other birds held in captivity. The outbreaks exceed any previously recorded HPAI outbreaks in terms of the number wild birds that have the HPAI virus detected, the number of outbreaks in poultry flocks, geographical spread and the number of affected bird species.
Furthermore, H5 HPAI virus was detected in various mammals in several countries. The animals were either found dead or diseased. Most findings concerned seals and foxes, but other sea mammals, mink and otters and similar animals have also tested positive to H5 HPAI virus.
The mammals that have become infected with the high-pathogenic avian influenza virus currently circulating in European birds, including in Denmark, has had a very high level of virus in the brain.
According to the European Centre for Disease Control (ECDC), this indicates that exposed persons may possibly present with non-respiratory atypical symptoms, e.g., encephalitis or meningoencephalitis. For more information, please visit this site.
Among the HPAI avian influenza viruses that are currently in circulation in birds in Europe, isolated cases in humans have been reported from Russia, the UK, the US and Spain. The persons affected presented with no or very mild symptoms and tested positive owing to screening of persons who had come into close contact with infected burds/poultry flocks. None of these cases occurred in Denmark. The European Food Safety Authority (EFSA) has assessed that the risk of human infection is currently generally low for the general population in the EU and low to moderate for persons who come into direct contact with infected birds.
Zoonotic cases of avian influenza virus
Generally, influenza viruses that circulate in animal populations may sporadically be transmitted to humans and cause mild to serious disease. Zoonotic influenza viruses, i.e. influenza viruses that are transmitted from animals to humans, therefore cause concern for the health of humans. These viruses carry a pandemic potential. Rapid detection of influenza virus from animals that infect humans and that may be transmitted between humans is therefore extremely important to implement control and follow-up measures as early as possible.
Avian influenza in Denmark
In 2022 as per 11 November, H5 highly pathogenic avian influenza has been detected in 182 wild birds that have been found dead in nature. The overwhelming majority of the detected viruses are of the H5N1 subtype, and the latest findings were made in wild pheasants on Funen and Zealand, and in mute swans in Jutland.
Recently, HPAI virus was detected in two poultry flocks; in recreational chickens in South Jutland and in Turkeys on Zealand. Thus, HPAI virus has been detected in a total of eight flocks in Denmark in the course of 2022. The consequence of HPAI virus infection in domestic poultry is typically a very high mortality among the affected birds. When HPAI virus is detected in a bird flock, any surviving birds will typically be destroyed to avoid spreading and for animal welfare reasons.
The viruses detected in poultry flocks are closely related to concurrently circulating viruses detected in wild birds. Therefore, it is assumed that the domestic bird flocks may have become infected due to transmission from infected wild birds.
In Denmark, H5 HPAI virus was detected in a common seal that was found dead in September 2021. This virus was closely related to concurrently circulating viruses from wild birds.
Findings of dead wild birds can be notified to the Danish Veterinary and Food Administration who selects and collects birds for testing at DK-VET (a consortium consisting of the University of Copenhagen and Statens Serum Institut). The birds are necropsied at the University of Copenhagen and tested for avian influenza virus at Statens Serum Institut (SSI).
Read more at the website of the Danish Veterinary and Food Administration (DVFA)
Figure 1. Detected avian influenza virus in dead wild birds found in Denmark in 2022, as per 11 November 2022 (https://ai.fvst.dk/)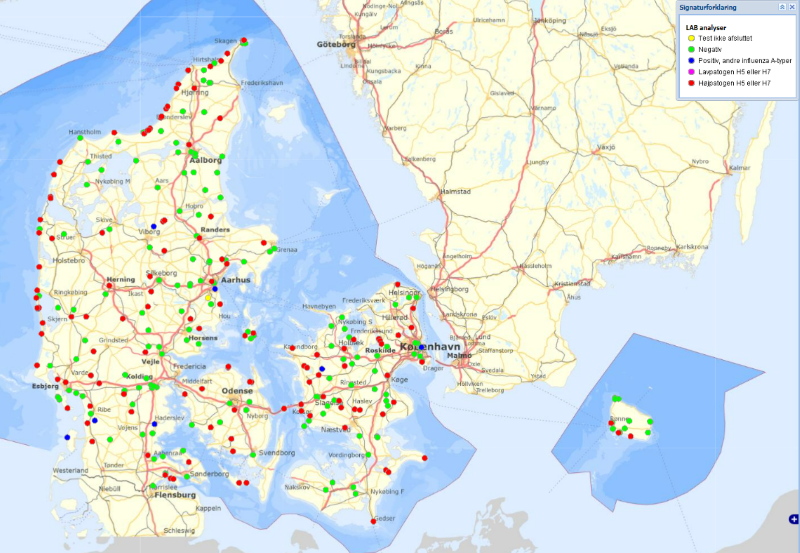 Do not touch dead birds
Due to avian influenza, the Danish Veterinary and Food Administration (DVFA) recommends that you avoid touching dead birds and sick wild birds.
Instead, you should contact the DVFA, who will ensure that the birds are submitted for testing.
Hunters should be careful to observe hygiene measures when hunting as they may introduce avian influenza to their homes when returning. Avian influenza may be introduced via footwear, equipment and game birds. The DVFA has prepared a fact sheet for hunters that lists hunting precautions.
Humans who come into close contact with dead birds
Furthermore, the Danish Health Authority recommends that people who come into close contact with birds suspected of having avian influenza use personal protection gear and, in some cases, that the affected people are offered treatment with medicine to prevent influenza. For more information about these measures, please see the guideline published by the Danish Health Authority (pdf).
The guideline defines three risk levels:
Risk level 1 (minimal risk): Sporadic contact with birds or bird droppings.
Risk level 2 (limited risk): Intensive contact with dead, presumably infected, wild birds.
Risk level 3 (larger risk): Contact with presumably or confirmed infected poultry flocks.
Symptoms
The typical incubation period in humans, i.e. the time from you become infected to you present with symptoms, is 1-2 days.
Cases of avian influenza recorded abroad have been characterised by varying symptom pictures depending on the virus involved and on the person affected. The reported symptoms have ranged from eye inflammation and mild airway infections to serious lower-airway infections causing a high mortality. The most recently recorded human cases in Europe with the avian influenza subtypes currently circulating in Europe have primarily been asymptomatic or characterised by mild symptoms.
Duty to notify
Human cases of avian influenza are notifiable by phone to the Danish Patient Safety Authority (DPSA) and electronically on form SEI2 to the DPSA and the Department of Infectious Disease Epidemiology and Prevention, SSI.
Diagnostics
In pursuance of the guideline published by the Danish Health Authority, patients who have come into contact with poultry flocks in which avian influenza has been detected (risk level 3) should undergo testing if they present with symptoms These persons may be tested in general practice or by an emergency service physician. Sampling should be done as swabbing or suction from the throat, in some case eye swabs, and a blood sample. Transportation of the samples need to be agreed previously with the on-call antivirus service of the SSI, see below.
Samples that test positive to influenza A and samples that test negative to influenza A, but where the clinical particulars indicate influenza infection, are submitted to the SSI. The SSI can rapidly distinguish between influenza (H5) and other avian influenzas and common seasonal influenza.
Generally, we recommend that diagnostic departments submit any influenza A positive samples for subtyping at the SSI if they do not themselves routinely subtype influenza A positive samples.
Diagnostic investigations
Zoonotic influenza (including avian and swine influenza) (PCR) (R. no. 641). When submitting samples for diagnostics for zoonotic influenza, the on-call anti virus service of the SSI should always be advised before the sample is sent. This is done by calling the SSI at phone: +45 40336379.

(C.K. Hjulsager, R. Trebbien, Department for Virus and Microbiological Special Diagnostics, L.S. Vestergaard, L.K. Knudsen, Department of Infectious Disease Epidemiology and Prevention)
16 November 2022