The temporary offer of free vaccination against some infectious diseases for adult Ukrainian refugees has been discontinued
Tuberculosis in 2021
The temporary offer of free vaccination against some infectious diseases for adult Ukrainian refugees has been discontinued
Since 30 April 2022, it has been possible to vaccinate adult Ukrainian refugees free of charge against diphtheria, polio and measles, EPI-NEWS no. 24/2022. The temporary executive order describing the vaccination offer (https://www.retsinformation.dk/eli/lta/2022/524) was rescinded as per 31 October 2022. Until as decision may be taken regarding a possible extension of the vaccination offer, it is therefore not possible to offer vaccination free of charge for adult Ukrainian refugees.
(Department of Infectious Disease Epidemiology and Prevention)
Tuberculosis in 2021
In 2021, Denmark saw a total of 208 notified cases of tuberculosis (TB).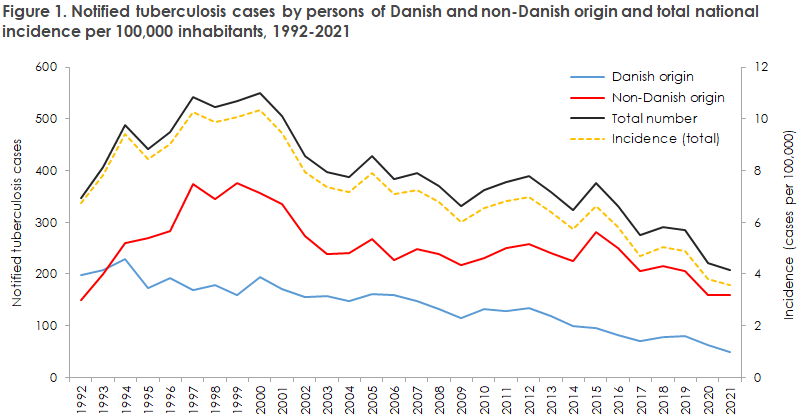 For a detailed epidemiological description of the 2021 occurrence, please see the 2021 Annual Report on TB Incidence.
In 2021, the total incidence of TB in Denmark was 3.5 cases per 100,000 inhabitants. As in the preceding years, the highest incidence was seen in the Capital Region of Denmark (4.6 cases per 100,000); and within that region, the highest incidence was recorded in the City of Copenhagen area (6.0 per 100,000) compared with the remaining regions and areas.
Incidence trends
The TB incidence continues to follow a declining trend in Denmark. Following a peak in 2000, when the incidence reached 10.3 per 100,000, the incidence has followed a steadily declining trend to 3.5 cases per 100,000 in 2021. The incidence decline observed in 2020 was larger than the declines seen in the preceding years. This is possibly caused by lacking TB diagnostics and/or more limited TB exposure during the COVID-19 pandemic. However, the decline in incidence continued in 2021 and 2022. It is therefore not obvious that the 2020 decline was caused by lacking diagnostics or low reporting, as you would otherwise currently expect to observe a cluster of cases being detected. However, an increase has been observed in the Capital Region of Denmark and in Region Zealand from 2020 to 2021. The active infection tracing among exposed people in Copenhagen was affected by COVID-19 lock-downs in 2020 and 2021.
Many contact sites, drop-in centres, nursing clinics at homeless shelters, etc. were either partly closed or heavily reduced their contact to exposed population groups. Many exposed people expressed considerable concern that they might become infected with COVID-19 at the drop-in centres, which caused them to seek help to a lesser degree than before the pandemic. The x-ray bus remained completely inactive in the spring/summer of 2020 and only made a limited number of trips in autumn. In the spring 2021, more COVID-19 lock-downs were introduced, which delayed proactive TB work until the late autumn.
Thus, screening activities in exposed settings in Copenhagen were more limited during the COVID-19 pandemic than was the case before the pandemic. This may have caused more delayed detection of cases than is normally the case. In short, the experience with infection tracing in Copenhagen in 2022 is that the socially exposed people who initiate treatment are severely ill and infectious, indicating that they have been symptomatic for a prolonged period of time.
By early November 2022, a total of 149 cases have been notified, corresponding to 87% of the number recorded at the same time in 2021.
Case median age
The median age for TB cases was 51 years for persons of Danish origin and 42 years for persons of non-Danish origin. This trend remains unchanged from previous years.
Presumed country of infection
Based on notifications, 86 (41%) of the cases had probably become infected in Denmark and 98 (47%) abroad. Thus, the distribution of cases infected in Denmark and abroad has remained unchanged for the past ten years. Among the cases that had become infected abroad, the majority of persons were of non-Danish origin; thus, 66% had become infected abroad and 34% in Denmark. The corresponding figures for TB cases of Danish origin were 12% infected abroad and 88% in Denmark. Among those persons of non-Danish origin whose notifications stated that they had presumably become infected abroad, 91% had probably become infected prior to their arrival to Denmark and 9% while travelling (tourist/business travels or stays with family and friends). That an overall share of 41% have become infected in Denmark and that this share has remained largely unchanged for the past ten years show that a considerable need still exists to trace and break infectious chains in Denmark. Furthermore, a need exists to direct attention to persons who are arriving from high-endemic TB countries as the majority of the infected cases among persons of non-Danish origin have still become infected before their arrival to Denmark.
Microscopy positivity
The share of persons with microscopy-positive TB, i.e. where TB bacteria are observed by microscopy in expectorate, increased in 2021 compared with 2020. The increase is more pronounced among people of Danish origin, where the share increased from 62% to 69%. Microscopy positivity indicates infectiousness and also provides information about how late the condition was detected as a late diagnosis increases the risk of microscopy positivity. It remains unclear exactly what caused the increase in microscopy positivity. However, during the COVID-19 pandemic, screening activities in the risk environments have been low, at least in the Copenhagen area, and this may have contributed to the increase.
TB in children
A total of seven children below 15 years of age were notified with TB in 2021 (11 cases in 2020, 17 cases in 2019). All cases were of non-Danish origin and the majority had presumably become infected in Denmark by a household member or by a close relative. All of these cases had pulmonary TB. Even though the number is low and stable, special attention is required because the fact that the children have become infected in Denmark by a household member or a close relative means that special attention should be given to children who come into contact with TB cases.
HIV among TB cases
Among the 208 persons notified with TB in 2021, six persons were HIV positives. Among the six HIV positives, two were newly diagnosed cases and four were known HIV positives. 101 persons were HIV negatives. For the remaining 101 persons, neither a HIV notification nor a HIV test result was available in MiBa. As HIV is an important risk factor for TB disease, HIV testing is essential when the TB diagnosis is made, unless the patient is already known to be HIV positive.
Summary
Overall, the TB incidence continues to follow a declining trend in Denmark, even though it increased from 2020 to 2021 in the Capital Region of Denmark and Region Zealand. It remains unclear if the decrease observed is due to lacking detection of TB cases during the COVID-19 pandemic or if the decrease is real. The increase from 2020 to 2021 was observed in the Capital Region of Denmark and in Region Zealand. We know that screening activities in Copenhagen were reduced in this period, and the higher share or microscopy-positive cases in 2021 than in 2020 may therefore indicate delayed detection of cases. Conversely, the total frequency of TB is decreasing; a trend which is currently continuing into 2022.
It is important to remain attentive to TB in Denmark, particularly as 2022 has seen a marked increase in multiple resistant TB in Denmark due to MDR-TB detection in Denmark as well as travellers entering the country who are known to have MDR-TB, see the news item 11 tilfælde af multiresistent tuberkulose i Danmark i år (11 cases of multiple resistant tuberculosis observed in Denmark this year) (ssi.dk).
(L.H. Holm, A. Koch, P.H. Andersen, Department of Infectious Disease Epidemiology and Prevention, T. Lillebæk, D.B. Folkvardsen, Department of Tuberculosis and Mycobacteria, N. Wrona, Department of Pulmonary Medicine, Gentofte-Herlev Hospital)