The corona virus pandemic – Outbreak update and patient handling
The Danish whooping cough epidemic continues
The corona virus pandemic – Outbreak update and patient handling
On 11 March 2020, the WHO declared that the COVID-19 outbreak caused by the novel coronavirus SARS-CoV-2 is a pandemic. Cases have been reported from more than 150 countries, and today the global number of confirmed cases is approx. 213,000, including nearly 9,000 fatalities. Based on the reported cases, it is assessed that Europe is currently the global epicentre of the pandemic. In Europe, an increasing number of cases is recorded in practically all countries, including Germany, France, Spain and Switzerland, but also in Great Britain and Holland. The past week has brought increasing community transmission in Denmark and a rising number of severely ill patients. Currently, 1,132 COVID-19 cases have been detected, among whom 153 have been admitted to hospital and six persons have died. In Denmark, the numbers of tested, infected and dead people are updated daily at Coronasmitte.dk and at the websites of Statens Serum Institut (SSI) and the Danish Health Authority (DHA) (all in Danish Language).
From a containment to a mitigation strategy
On 12 March, the Danish Health Authority changed the health preparedness measures in Denmark from a containment to a mitigation strategy, and also updated its guideline on the handling of COVID-19 in Danish healthcare. The guideline was updated again on 18 March.
The new strategy means that the focus is now on testing and treating patients with severe lower respiratory tract infection who require admission to hospital. This also means that patients with few or mild symptoms generally do not need to be seen by a doctor or to be tested. These patients should stay in their homes until they have recovered. Generally, patients may be considered non-infectious as from 48 hours after they become symptom-free. This applies to suspected and confirmed COVID-19 cases alike, regardless of their disease course.
In case of exacerbation in the form of progressive breathing difficulties and general malaise, contact to the GP or emergency service physicians should be made by phone to determine if the person needs to be referred to a regional assessment unit ("fever clinic") or to be admitted to hospital. This applies to children and adults alike, but particularly vulnerable groups include older people > 80 years of age and patients with a range of underlying conditions, as listed in the DHA's current guideline. Based on a precautionary principle, pregnant women and women who have given birth within the past two weeks should also be considered particularly vulnerable.
Additionally, the guideline describes the conditions under which some employees performing critical healthcare activities may be referred for COVID-19 assessment and testing. Specifically, this includes the following groups: employees in healthcare, eldercare services, or engaged in initiatives targeting socially exposed people, as well as employees performing critical functions in other sectors.
Assessment by phone of patients suspected of COVID-19
Patients with moderate to severe respiratory symptoms that may lead to suspicion of COVID-19 should contact their GP, the emergency service physicians or the helpline for assessment. Video consultation is preferable, whenever possible. Adults should contact the doctor by phone in case of respiratory symptoms that may lead to suspicion of COVID-19:
Moderate to severe symptoms, e.g., pain, malaise, fever, difficulty breathing, etc.
Prolonged symptoms that have persisted for several days
Worsening of symptoms
Parents who suspect that their children may have COVID-19 should contact a doctor by phone if a child with respiratory symptoms:
experiences difficulty breathing, including shortness of breath or superficial breathing
becomes drowsy, apathetic, flaccid or distant
presents with cool, pale or bluish (cyanotic) skin or noticeably cold hands and feet
Extra attention is warranted in case of fluctuating body temperature and/or malaise in infants who have come into close contact with a confirmed COVID-19 patient.
In neonates and infants, parents need to pay special attention to:
Noticeable difficulty breathing, including coughing and rapid or slowing breathing
Malaise, including laxity/fatigue, irritability, no interest in suckling, increasing tendency to regurgitate, dry diapers
A rectal temperature > 37.5 C or < 36.0.
Referral to a regional assessment unit for COVID-19 assessment
Children:
Following assessment by phone, children are referred in accordance with local agreements, including age limits, to the COVID-19 track of the paediatric admission service or a dedicated regional COVID-19 assessment unit, in accordance with the following criteria:
Presumed moderate to severe COVID-19 or other respiratory infection that requires acute assessment and treatment
Acutely ill children with non-respiratory symptoms are assessed and referred according to standard practice.
Adults:
Following assessment by phone, adults are referred to a dedicated regional COVID-19 assessment unit (fever clinic), according to the following criteria:
Severe symptoms that are consistent with COVID-19, e.g., difficulty breathing and general malaise
Symptoms that are consistent with COVID-19 and have aggravated progressively in the course of days
In case of symptoms that are consistent with COVID-19 in particularly vulnerable people (including elderly people, particularly > 80 years of age, and other patients with underlying conditions), people with moderate symptoms may also be referred based on a precautionary principle and following specific clinical assessment.
Persons with mild to moderate symptoms who perform critical functions in healthcare, the eldercare services, or who work with initiatives targeting socially exposed people or undertake other exceptional key social functions may be referred if the employer assesses that rapid clearing of the suspicion is expedient.
Acute admission:
If assessment by phone concludes that the patient needs to be admitted acutely, the Acute Medical Coordination (AMC) service is contacted and standard procedures are followed.
Treatment of other patients in general practice
On 16 March, the Danish General Practitioner's Association (DGPA) and the Danish College for General Practitioners (DCGP) published an opinion for its members stating which patients may be cared for in general practice during the COVID-19 epidemic and how such care may be provided (in Danish language). It is important to stress that the population's resistance to COVID-19 is strengthened by patients with chronic conditions being well-medicated and by adherence to the vaccination programmes.
Additionally, a temporary agreement has been made with the Regions' Board for Wages and Tariffs (RLTN) about payment for video consultations. The DGPA and the DCGP assess that video/phone appointments should replace physical visits to the doctor where this is justified from a medical perspective.
The Danish Health Authority finds it important to keep vaccinating healthy children under the childhood vaccination programme. Here, the focus should be on ensuring timely administration of the first three primary vaccinations with Pentavac® and Prevenar13® at 3, 5, and 12 months and the initial MMR vaccine at 15 months. Currently, this is only possible if the child does not present with symptoms of respiratory infection, including a cold, at the time of the vaccination. Similarly, planned childhood examinations and check-ups for patients with diabetes, COPD and cardiovascular conditions should be completed when possible, unless the patient presents with signs of an acute respiratory infection.
The employee's and employer's duty to impede transmission of the infection
In their letter to the five Danish regions on 13 March 2020, the Danish Health Authority and Local Government Denmark (LGD) clarified the duties of employees and employers of the healthcare and elderly care sectors with a view to impeding transmission of COVID-19. Among others, the Danish Health Authority informed that people will no longer be tested for COVID-19 based on their travel history, and that tracking and quarantining will be discontinued of persons who have come into contact with patients infected with COVID-19. Even so, the Danish Health Authority recommends that people who have been travelling in a "red risk area" do not return to work until 14 days after they returned from their journey. As the Danish Ministry of Foreign Affairs no longer differentiates between "country colours", the current recommendation is that anyone who has spent time abroad stay at home for 14 days after having returned from their journey (in Danish language). Employees in healthcare, in nursing and elderly care services and employees engaged in initiatives targeting socially exposed citizens may - if their employer assesses that they perform critical functions - contact their employer to agree on the specific conditions concerning their return to work.
Close contacts to any person in whom COVID-19 has been detected must subsequently be very attentive to symptoms that might be signs of COVID-19, so-called self-monitoring. If symptoms present, the person shall remain in his or her home.
Any staff in the healthcare or elderly sector who may have come into close contact with confirmed COVID-19 cases have a specially heightened duty to be attentive to any COVID-19 symptoms through self-monitoring.
In the latest guideline published on 18 March, the DHA additionally specified how health staff should respond:
Asymptomatic employees and employees with trivial symptoms not consistent with COVID-19 may attend their jobs as always. Employees may not attend work if they present with mild respiratory symptoms that may cause suspicion of COVID-19 and must leave their workplace if they present with such symptoms at work. Employees who have had respiratory symptoms may return to work 48 hours after they are free of any symptom.
Employees who perform critical functions in healthcare, the elderly care services or participate in initiatives targeting socially exposed citizens, and who present with mild to moderate symptoms consistent with COVID-19 may - following medical assessment by phone - be referred for COVID-19 assessment and testing, provided that their rapid return to work is deemed expedient. An employee may return to work once he or she has tested negative to COVID-19, despite any pertaining mild upper-airway symptoms.
Employees who perform particularly critical functions in other sectors may, upon recommendation from their employer and following medical assessment by phone, be referred for COVID-19 assessment and testing if their return to work is necessary to maintain functions of vital importance to society.
Monitoring data
The SSI has established electronic monitoring via the Danish microbiology database (MiBa). Data from the MiBa are used to prepare a daily monitoring report, which is published at the SSI's website (in Danish language). Information about the number of deaths is collected automatically from the CPR Registry and may include persons who have died due to COVID-19 as well as persons who tested COVID-19-positive, but died from other causes. Therefore, the number of deaths will be assessed continually.
Additionally, monitoring of COVID-19 community transmission is being planned. The SSI will use two different systems to monitor community transmission. The GPs who participate in the sentinel surveillance of seasonal influenza will receive test kits that patients with mild respiratory symptoms can then have picked up in their practices and use for home-testing. The GPs will be asked to collect a similar number of throat swabs from healthy patients who see their GP for other reasons. Furthermore, there are plans to use the influmeter.dk website (in Danish language) for weekly self-reporting of relevant symptoms consistent with COVID-19. Combined data from these two monitoring systems may subsequently be used to estimate the number of infected people in the community.
(P.H. Andersen, T.G. Krause, Department of Infectious Epidemiology and Prevention, B. Søborg, the Danish Health Authority)
The Danish whooping cough epidemic continues
Denmark still observes a continued and substantially increased occurrence of whooping cough. Thus, the whooping cough epidemic announced in September 2019 is still evolving. As previously, the epidemic embraces the entire country and all age groups, see monitoring data at the SSI website for children below two years of age and all ages.
In January and February 2020, a total of 874 and 851 cases, respectively, were detected, which is more than ten times as many cases as are normally detected monthly, Figure 1.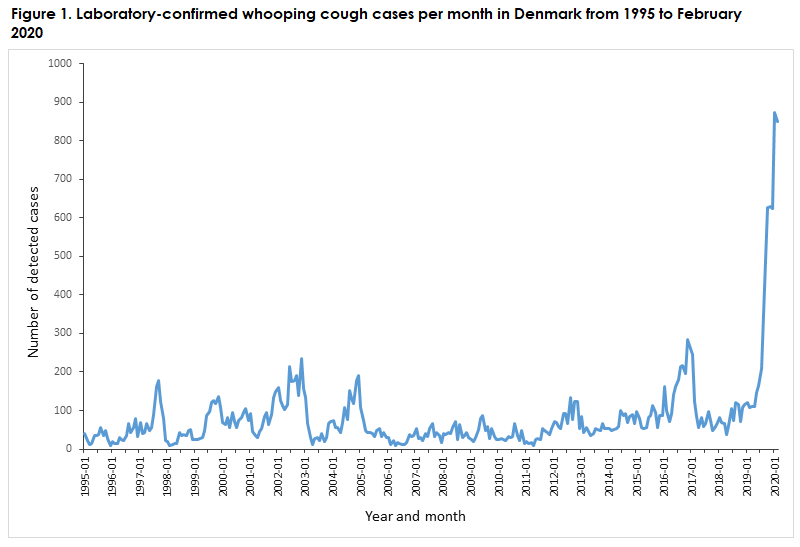 The occurrence corresponds to incidences of 180 and 175 per 100,000 per year, respectively. Whooping cough epidemics are not unusual and occur regularly, even in countries with a high vaccination coverage. The exact cause of the prolonged and very high occurrence remains unknown.
Two whooping cough epidemics have occurred in recent years (2012 and 2016). In these epidemics, the increased occurrence was maintained for 15 and nine months, respectively. The present increase/epidemic started in May 2019 and has thus lasted for approx. 10 months. It is not possible to foresee when the epidemic will recede.
Due to the current COVID-19 epidemic and the assessment guidelines introduced by the Danish Health Authority in this context (see above), it may be challenging for GPs to assess and swab patients who may have whooping cough. The symptoms of the catarrhal phase are a cold, coughing and possibly a mild fever, which may, of course, be mistaken for other respiratory infections, including COVID-19. The subsequent paroxysmal coughing phase with spells of dry coughing and no fever is different from most other respiratory infections, but it is only possible to detect the whooping cough bacterium in the nasopharynx for up to approx. three weeks after the onset of coughing. Subsequently, serological testing may be used, see Figure 2.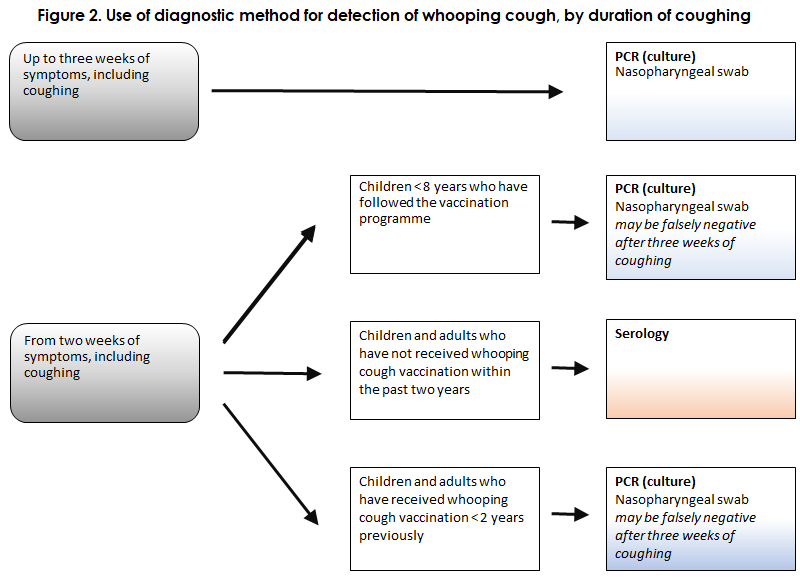 Whooping cough is not a childhood disease exclusively; it affects people of all ages. In older children and adults, the infection is rarely serious, but timely treatment with macrolide antibiotics may be considered, among others to curb transmission, and in particular if the patient comes into contact with young children. In contrast, whooping cough may be very serious in unvaccinated children, in particular. Therefore, doctors should remain attentive to whooping cough in this age group during the COVID-19 epidemic, and prophylactic antibiotics may be considered following relevant exposure, see the SSI's guidelines on prophylaxis and treatment of whooping cough.
As is the case for COVID-19, standard hand hygiene and alertness are recommended to reduce transmission of whooping cough infection. The physician needs to assess, on a case-by-case basis, if the patient may be swabbed or if antibiotics treatment should be given based on the clinical symptoms exclusively. To date, only a limited number of children have been diagnosed with COVID-19 in Denmark. However, if a child is swabbed and an increased risk of transmission by aerosoles is present, the physician should use personal protection gear, i.e., gloves and a surgical or full-face mask.
Alternatively, young children, in particular, may be referred directly for assessment at the COVID-19 track of the paediatric admission service.

(T. Dalby, Department of Bacteria, Parasites & Fungi; P.H. Andersen, Department of Infectious Disease Epidemiology and Prevention)