Legionnaires' disease 2018
Blood donor screening 2018
New chickenpox vaccine
Legionnaires' disease 2018
For a detailed epidemiological description of the 2015- 2018 incidence, please see the annual report on Legionnaires' disease.
Legionella are bacteria that live in wet and humid environments, they are thermophile and heat tolerant, and they have established a niche in many man-made water systems with luke-warm/warm water. One species in particular, Legionella pneumophila, is infectious and can be transmitted to humans via inhalation of vapourised water contaminated by the bacterium. These bacteria cause two classic disease manifestations in humans: Pontiac fever and Legionnaires' disease. Pontiac fever is an influenza-like condition that may affect anyone, but it passes in about a week's time. Legionnaires' disease (legionella pneumonia (LD)) is a serious pneumonia that requires treatment. This disease manifestation is primarily seen in elderly or immunocompromised persons and in about twice as many men as women. Legionnaires' disease is a notifiable disease in Denmark, as in most European countries.
In 2018 a total of 266 cases of Legionnaires' disease/LD were notified. Hereof, 175 (66%) were men. The median age was 67 years for men and 71 years for women. Twenty-nine patients (11%; same as in 2017) died within 30 days (median 8 days; range 0-24 days) after onset or admission due to LD. In 2018, all but two cases were admitted to hospital.
The majority, 205 of the cases (77%), were registered as infected in Denmark, 27 of whom died with or due to LD. In all likelihood, the majority of these cases had become infected in their homes, whereas 12 patients had become infected at hospitals and eight at nursing homes.
A total of 61 persons had probably become infected during travels abroad; two of whom died due to LD. In all, infection was recorded in connection with travels to 22 countries, among which Italy, Germany, Spain, Turkey and The United Arab Emirates were the most frequently recorded countries of infection in 2018 (accounting for a total of 36 of the 61 cases; 59%).
In 2018, several analyses were performed concerning the incidence of LD in Denmark in the 2015-2018 period. This revealed that the incidence of LD varies from one part of the Denmark to the next, which was particularly clear in 2017 when a steep increase was observed in the number of recorded LD cases. As LD is seen mainly in elderly people and in men, it was examined to which extent differences in the age and sex distribution of the Danish areas mirrored the occurrence of LD. This was done by describing and comparing the age-specific and age-standardised occurrence of LD in Danish regions and areas from 2015 to 2018, Figures 1 and 2.
The overall conclusion was that the age- and sex-distribution of the various Danish areas is so homogeneous that the standardised and non-standardised age- and sex-related occurrence are very similar. The study also reveals that some areas enjoy a relatively low and stable occurrence (e.g. The City of Copenhagen, West Jutland and North Jutland), whereas others record a stable high occurrence (e.g. the island of Funen). Even so, the study also showed that some areas are characterised by sudden oscillations, e.g. East Jutland, where the incidence more than doubled from 2016 to 2017. Other areas have seen a constant increase in LD over the years, e.g. Copenhagen Subs. and South Jutland. In seven of the 11 Danish areas, more cases were registered in 2018 than in 2017 when the incidence peaked. It remains unclear why some areas record a high and others a low incidence, but the demonstrated trends and oscillations may help pinpoint areas where more in-depth studies may contribute to producing explanations for the increase in the number of cases observed from 2013 to 2018.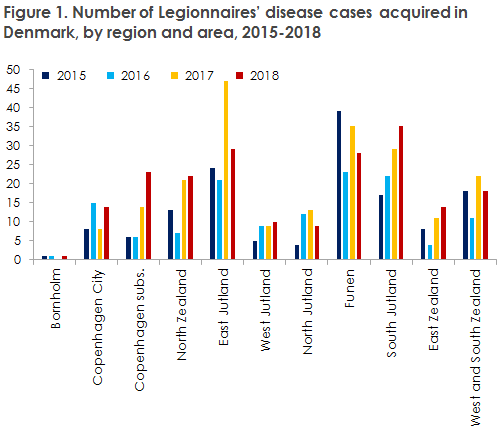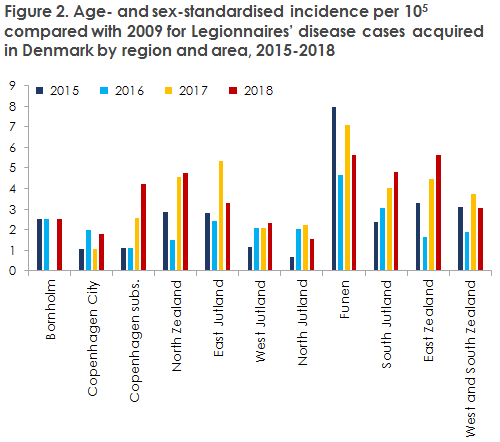 In 2018, fewer patients were culture-verified (n=90; 34%) than in 2017 (n=133; 48%). Data from the SSI shows that 2018 had more samples being PCR-positive near the threshold (assessed by their Ct value) than 2017 (see the annual report). Despite the relatively limited share of culture-verified cases in 2018, the serogroup distribution was roughly in line with that observed in previous years with approx. 60% L. pneumophila serogroup 1 cases and 20% serogroup 3 cases. Furthermore, DNA typing results based on whole-genome sequencing showed that the Legionella pneumophila population that causes LD in Denmark remains very diverse (45 different sequence types established in 90 isolates).
Like in 2017, there is no evidence to indicate any actual clusters or outbreaks of LD in Denmark in 2018. All disease cases acquired in Denmark are therefore considered sporadic.

(C. Kjelsø, Department of Infectious Disease Epidemiology and Infection, D.V. Thomas López, S. A. Uldum, Bacteria, Parasites & Fungi)
Blood donor screening 2018
2018 saw a total of 279,423 screened blood donations. The number of positive donors is presented in Table 1.

HIV
No HIV-positive donors were found in 2018.
Hepatitis B
Four persons tested positive to hepatitis B. Three persons were first-time donors: one of whom tested positive by NAT screening (nucleic acid-amplification technique) and would therefore not have been detected if antibodies had been measured only. The final person was a multiple donor who had become infected with hepatitis B. Look-back was performed for three recipients (patients who had received blood from the donor), none of whom had become infected by hepatitis B.
Hepatitis C
One first-time donor tested positive for hepatitis C.
Commentary
The number and incidence of positive donors and the number of blood donations in Denmark remained low in 2018, Figure 3 and Figure 4.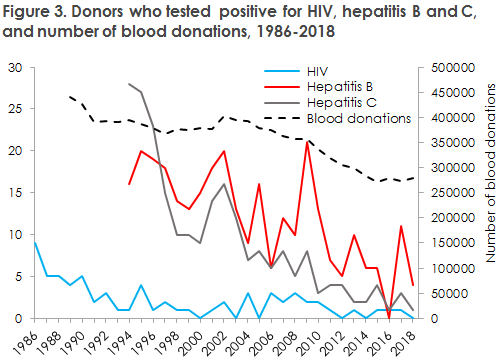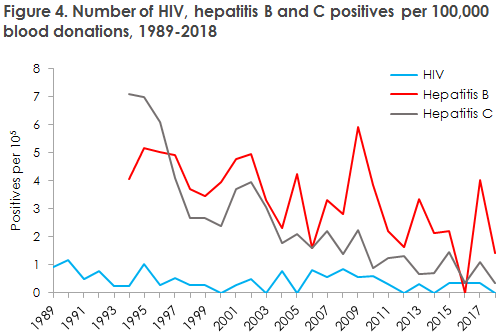 The only positive findings made in 2018 were among first-time donors and in one multiple donor with lowly virulent hepatitis B.
Since 2011, between none and one HIV-positive patient has been found in the blood donor corps.
In consequence of the low number of HIV-positive blood donations, the improved blood screening tests and the changed morbidity and mortality of HIV, the Danish Parliament decided that men who have sex with men will no longer be banned for life from serving as a blood donor. The Danish Patient Safety Authority has submitted for hearing a draft for an Executive Order on the change of Executive Order 366 of 23 April 2012 about safety in connection with donation of blood. It is expected that the Executive Order will come into force this year, and that the quarantine period for men who have had anal or oral sex with a man will be four months, which is in line with the quarantine period in place for other risk activities (piercing, sex with a sex worker, sex with a person from Africa, Asia, South or Central America, etc.).
The Department of Infectious Disease Epidemiology and Prevention holds information on screening of blood for HIV as from 1986 and for hepatitis B and C as from 1994.
The Danish Patient Safety Authority annually publishes "Report for the blood product area", which describes in greater detail the blood transfusion area.

(A.H. Christiansen, S. Cowan, Department of Infectious Disease Epidemiology and Prevention)
New chickenpox vaccine
For the prevention of chickenpox, the new live attenuated vaccine, Varivax, is now being marketed in Denmark. Issuing of the vaccine therefore does not require a permit. The vaccine can be ordered as normally with the SSI or by prescription at a pharmacy.
The target group for vaccination is:
Previously non-infected children and adults who are close relatives to a immunosuppressed person who has not previously had chickenpox.
Adults who have not had chickenpox may consider vaccination as the frequency of complications due to the condition increases with age, and because chickenpox in pregnant women constitutes a risk for mother and child/foetus alike.
Some immunosuppressed persons who have not previously had chickenpox and who have therefore not formed antibodies; e.g. prior to organ transplants and leukaemia therapy.
Vaccination is done following medical assessment of the person's immunosupression. Furthermore, it is important to be attentive to the vaccination time, as maximal protection may be expected only following administration of the second dose.

In addition, the vaccine may be used for immunisation of adults and children as from 12 months of age who want to achieve protection against chickenpox. Under special circumstances, e.g. during outbreaks, the vaccine may be given as from 9 months of age.
Furthermore, the vaccine may be used as post-exposure prophylaxis if given within three days after exposure, please see varicella post-exposure prophylaxis
The vaccination schedule depends on the age of the child when vaccination is initiated:
Children who initiate vaccination at 9-11 months of age:
Two doses given at a minimum interval of 3 months between the first and the second dose.
Children as from 12 months of age and adults:
Two doses given at a minimum interval of 1 month.
Persons who have previously received a single dose of the previously used vaccine Varilix may conclude their vaccination with a single dose of Varivax.
Varivax may be given concurrently with other live attenuated vaccines, but in separate syringes. If the vaccines are not given at the same point in time, a month interval should separate the administration of each vaccine.

As this is a live attenuated vaccine, chickenpox infection may be transmitted from a person who has been vaccinated to a non-immune person in extremely rare cases. This applies in particular if the vaccinated person develops a chickenpox rash following his or her vaccination.
As stated, the vaccine may be used to prevent chickenpox in close relatives to a non-immune and immunosuppressed person. If the vaccinated person develops a chickenpox rash following his or her vaccination, the vaccinee should avoid close contact with any immunosuppressed persons until all lesions have developed a crust or no new lesions have appeared for a 24-hour period. The risk may be further minimised by ensuring - if possible - that the rash is covered by clothing. It is not a contraindication to vaccination of a healthy child that the household includes a non-immune pregnant woman, as the advantages of vaccination outweigh the very limited risk of infection with a vaccine-strain virus from the vaccinated child to the pregnant woman. For further information about adverse effects, please see the approved summary of product characteristics.
The vaccine may be given to breastfeeding women as the vaccine virus is not excreted into breast milk. The vaccine is contraindicated in pregnant women due to a theoretical risk of infecting the foetus, and pregnancy should be avoided one month after vaccination. If a pregnant woman has, nevertheless, been vaccinated inadvertently, there is no indication for abortion. The remaining contraindications for vaccination include persons with serious immune deficiency or with allergies to the ingredients.
(L.K. Knudsen, P.H. Andersen, Department of Infectious Disease Epidemiology and Prevention)