Ongoing outbreak with Yersinia infection
Shiga toxin-producing Escherichia coli (STEC) and haemolytic uraemic syndrome (HUS) in the 2014-2018 period
Listeria trends and monitoring in Denmark, 2014-2018
Ongoing outbreak with Yersinia infection
Statens Serum Institut is currently investigating a disease outbreak with gastrointestinal infections with Yersinia enterocolitica. The outbreak currently counts 18 persons in Denmark, and cases with the same bacterial strain have also been observed in Sweden. The source of infection currently remains unknown. Danish doctors should remain attentive to the fact that the infection often presents with intense abdominal pain, which may be mistaken for appendicitis.
For more information about the outbreak, please see the SSI website.
Shiga toxin-producing Escherichia coli (STEC) and haemolytic uraemic syndrome (HUS) in the 2014-2018 period
A full annual report on Shiga toxin-producing Escherichia coli (STEC, previously VTEC) is available for the 2014-2018 period at the SSI website.
STEC is transmitted from foods, water, the environment, directly from ruminants and via person-to-person infection.
The number of persons registered with STEC nearly doubled between 2014 and 2018 from 282 cases in 2014 to 495 cases in 2018 (median age 23 years), corresponding to an incidence of 8.6/100,000 inhabitants in 2018.
In all, 1,033 (63%) of all STEC cases were registered as having become infected in Denmark, place of infection was unknown for 18% while 19% were registered as having become infected abroad, primarily in Europe, The Middle East and Africa, Table 1.
STEC can cause outbreaks, most frequentluy counting only a limited number of cases. 2018 recorded the largest Danish outbreak registered to date, counting 38 cases with a non-HUS-inducing O26 strain. The cases primarily occurred among children below four years of age (link til udbrudssiden). The outbreak was likely associated with ingestion of beef salami.
In contrast to other pathogenic intestinal bacteria, like Salmonella or Campylobacter, the number of bacterial intestinal infections due to STEC has followed an increasing trend in the period (see "Numbers and Figures" at SSI.dk. Part of the explanation may be that the diagnostic methods and clinical criteria for STEC testing have changed at several departments of microbiology in the 2014-2018 period. Thus, more people are tested and diagnosed than previously. The previous guidelines on STEC diagnosis were primarily aimed at children below seven years of age and patients with sanguinolent diarrhoea. Following increasing diagnostics in patients aged more than seven years and with all forms of diarrhoea, we were not surprised to observe a relative increase in the share of patients aged more than seven years and a relative decline in the number of patients aged below seven years.
In 2014-2018, 55 HUS cases (3.4% of all STEC cases) were recorded. As shown in Figure 2, more HUS cases were recorded in the above-7-years age group, and an increased number of HUS cases were observed in 2018. The median age of the HUS cases was 6 years, and 50% were between 2½ and 13 years of age (range 0-80 years). Year 2018 saw 21 HUS cases, which is the highest number of annual cases recorded to date.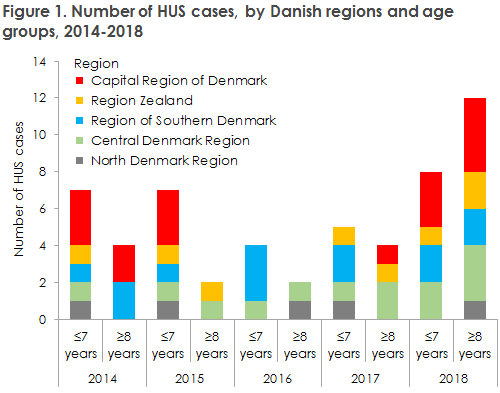 In the course of 2018, the SSI has repeatedly informed Danish departments of clinical microbiology, the Danish Patient Safety Authority and paediatricians at three large hospitals of the increase in the number of recorded HUS cases. It remains unknown whether this has generated an enhanced awareness, thereby producing a more complete notification. Only a single cluster was seen, counting two HUS cases that formed part of a larger outbreak with STEC O111; apart from this, there was no genetic relation between the bacteria found in the HUS patients, i.e. the cases were sporadic. It is to early to say if the number of HUS cases recorded in 2018 forms part of a larger annual trend or not.
The changes in the number of STEC infections and HUS cases are followed closely through ongoing monitoring which among other activities includes a case-control study being conducted at the SSI to reveal risk factors of infection.
(C. Kjelsø, L. Espenhain, Department of Infectious Disease Epidemiology and Prevention, S. Schørring, F. Scheutz, Department of Bacteria, Parasites and Fungi)
Listeria trends and monitoring in Denmark, 2014-2018
An epidemiological report on listeriosis in Denmark in the 2014-2018 period is now available at the SSI website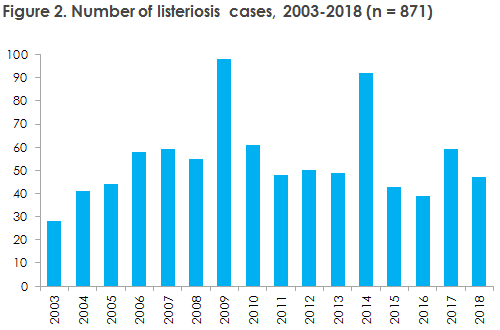 Listeriosis is a rare but serious invasive food-borne infection with the bacteria Listeria monocytogenes, which primarily affects immunocompromised persons, elderly people and pregnant women.
This is reflected in the figures summarising the 2014-2018 period, when 94% of the nearly 50 annual cases had an underlying predisposing condition or were pregnant, and 75% were older than 65 years of age. As previously, bacteraemia/sepsis was the most frequent manifestation of listeriosis, followed by meningitis. One in every four notified listeriosis patient died within 30 days from the diagnosis was made. Infection by L. monocytogenes in pregnant women is rare, but can be serious, as an infected pregnant woman may transmit the infection to the foetus - even without having symptoms herself. A total of 12 infections with L. monocytogenes were recorded in pregnant women from 2014-2018, among which at least eight infections caused abortion or foetal death.
The SSI collaborates closely with the Danish Veterinary and Food Administration and DTU Food to solve outbreaks and avoid that more people become infected by the same products.
Since 2014, human L. monocytogenes isolates have routinely been typed using whole-genome sequencing at the SSI, which facilitates identification of outbreaks (previously described in EPI-NEWS). Whole-genome sequencing of selected L. monocytogenes findings in foods was also introduced in 2014, initially at the SSI and subsequently at the Danish Veterinary and Food
Administration's laboratory, to ensure that human and food isolates could be compared and in certain cases to establish associations between human and food isolates.

The epidemiologic part of the outbreak investigation, handled by the Department of Infectious Disease Epidemiology and Prevention at the SSI, is hampered by:
the prolonged incubation period (typically 2-3 weeks)
the fact that months may pass between each case, and therefore outbreaks are identified with considerable delay relative to the first cases
that interviews are often made difficult by underlying disease/high mortality.
To counter these challenges, the SSI initiated a project that enhanced the epidemiological monitoring of listeriosis in 2014. All patients are contacted for an interview on exposures in the month leading up to their listeriosis. As information is collected routinely rather than retrospectively after an outbreak has been detected, these interviews help ensure reliable information about possible sources of infection. The information is continuously used to identify or verify possible outbreak sources.
Since the introduction of routine whole-genome sequencing of L. monocytogenes isolates and enhanced epidemiologic surveillance in 2014, the SSI, collaborating with the Danish Veterinary and Food Authority and DTU Food, has detected, handled and solved a total of 15 outbreaks. This compares to the period from 2006-2013 in which a total of three confirmed outbreaks were registered in the Danish Food- and waterborne Outbreak Database (FUD).
Despite enhanced outbreak identification, nearly 50 cases of listeriosis are registered annually. That is more cases than seen in most other European countries, taking into account the size and age distribution of the Danish population. Slightly more than half of the recorded cases were infected by a L. monocytogenes that had either been observed previously or subsequently was observed in other patients; the majority of these cases formed part of one of the 15 known foodborne outbreaks. This underscores the importance of having a good collaboration with the departments of clinical microbiology, ensuring rapid submission of isolates, and with the hospital departments and patients to ensure information about food exposures.
L. monocytogenes is present everywhere in the environment, and therefore also in many raw or lightly processed foods. L. monocytogenes grows at fridge temperature and risk foods are typically ready-to-eat foods with a long shelf life at fridge temperature. Known risk products include cold cuts, cold-smoked fish products and soft cheeses, particularly those produced from unpasteurised milk.
The Danish Veterinary and Food Administration has published guidelines to avoid listeriosis during pregnancy, or for those with serious illness or immunodeficiency.
(L. Espenhain, S. Ethelberg, Department of Infectious Disease Epidemiology and Prevention, S. Schjørring, E. M. Nielsen, Department of Microbiology and Infection Control).