Salmonella and Campylobacter infections 2016-17
Questionnaire survey on the sources of infection for STEC and HUS
Salmonella and Campylobacter infections 2016-17
The SSI website now includes epidemiological data for a 2-year period for two of the most frequently occurring zoonotic bacterial intestinal infections: Campylobacter spp and zoonotic Salmonella enterica. The bacterial intestinal pathogens are monitored through the laboratory notification system. Hence, first-time positive, diagnosed patients (within a 6-month period) are registered in the national surveillance database the Register of Enteric Infections (Tarmbakteriologisk Register). For Salmonella, the notifications are followed up through concurrent submission of isolates to the SSI reference laboratory. The most recent descriptions of Salmonella and Campylobacter were published in EPI-NEWS 11/16.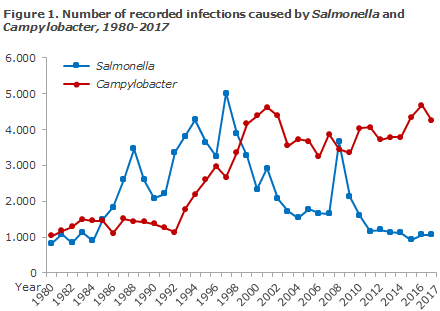 Approx. four times as many fall ill due to Campylobacter as to Salmonella. Figure 1 shows the number of notified cases of Campylobacter spp and zoonotic serotypes of Salmonella enterica in the 1980-2017 period. Recent years have seen a modest increase in the number of Campylobacter cases, whereas the number of Salmonella cases has remained stable in the past 5 years.
Campylobacter
The detailed report is available here.
The number of registered disease cases caused by Campylobacter infections increased in 2016, but then decreased again in 2017, and the joint incidence for the two years was 77.8 per 100,000 Danes per year. It is encouraging to see that the number decreased once again in 2017 following 2 years with increases - in fact, the number of cases observed in 2016 was the highest number ever recorded. As previously described, EPI-NEWS 11/16, the gradual introduction of PCR diagnostics on faeces material may impact the number of positive cases recorded. It may therefore not be a straightforward task to directly use surveillance data to assess the effect of any efforts made to reduce the number of people infected.
Campylobacter infection remains the most frequent cause of gastrointestinal infections in Denmark and should be seen as a substantial public health problem. Nevertheless, in contrast to Salmonella, Campylobacter does not cause many outbreaks. Among the few greater outbreaks recorded in the period, was an outbreak in an industrial kitchen where the source of infection was believed to originate from poultry, and an outbreak among schoolchildren who ingested raw milk during a farm visit (See the Annual Report). Both are classic types of Campylobacter outbreaks. Campylobacter is the primary cause of bacterial gastrointestinal infections in the remaining Western World and in many of the mid-income and low-income countries for which data are available.
The share of people who had been infected abroad exceeded what has previously been recorded, and in 2016 comprised 38% and in 2017 47% of the patients. These figures may, however, be affected by changes to the registration method used.
Salmonella
The detailed report is available here.
In 2016-17, the mean annual incidence was 18.7 patients per 100,000 citizens. The incidence has remained at the same low level throughout the past 7 years, Figure 1. Danish-produced eggs and chicken remain Salmonella-free; and S. Enteritidis, the Salmonella type that is mainly transmitted via eggs, is generally an infection that Danes acquire abroad. As in previous years, more than three-fourths of S. Enteritidis infections were acquired abroad.
The number of registered infections with S. Typhimurium and the monophasic variant of S. Typhimurium, traditionally associated with pork, also remains at a stable level but an increasing share of patients infected abroad was seen, viz. 46%.
2016 and 2017 witnessed 11 and 25 reported cases of Salmonella, respectively. The increase observed from 2016 to 2017 is due to the fact, among others, that the SSI initiated routine whole-genome sequencing of all Salmonella isolates in 2017. This method groups the Salmonella strains with great precision and reveals the exact relation between them. Consequently, more outbreaks and also smaller clusters of patients are detected. In Denmark, Salmonella outbreaks are mostly caused by S. Typhimurium or the monophasic variant hereof. In 2016-17, a total of 14 outbreaks were recorded with these types. It was possible to establish the source of infection in 6 of the 14 outbreaks, and all were related to pork. The largest outbreak comprised 21 reported patients from December 2016 to April 2017, and the source was ready-made meatloaf. In 2016-17, 12 outbreaks with S. Enteritidis were recorded eight of which were related to travel abroad.

(S. Ethelberg, L. Müller, K. Kuhn, Department of Infectious Disease Epidemiology and Prevention. E.M. Nielsen, M. Torpdahl, Department for Bacteria, Parasites & Fungi)
Questionnaire survey on the sources of infection for STEC and HUS
Infection with shiga toxin-producing Escherichia coli (STEC or VTEC) constitutes the most frequent cause of haemolytic uraemic syndrome (HUS) in Danish children < 5 years of age. The number of STEC cases has followed an increasing trend in recent years, and in 2016 the number slightly exceeded 250 cases.
The sources of STEC infection in Denmark are only partly understood, but are important to know in order to efficiently preventing the infections. Therefore, Statens Serum Institut is conducting a case-control study in which both patients and healthy people are interviewed following a structured electronic questionnaire , invitations for which are sent via e-boks. The preliminary study period is from January 2018 to January 2021. The aim of the study is to map sources of infection to minor clusters and sporadic STEC cases in Denmark and to provide a general overview of the epidemiology of the infections.

(C. Kjelsø, S. Ethelberg, K. Kuhn, Department of Infectious Disease Epidemiology and Prevention. F. Scheutz, Department for Bacteria, Parasites & Fungi).
Link to previous issues of EPI-NEWS

11 April 2018