Egg allergy and vaccination with egg-containing vaccines
European Antibiotic Awareness Day 2015 and national Danish antibiotic campaign
Egg allergy and vaccination with egg-containing vaccines
Allergic reactions following vaccination may be due to various vaccine ingredients, including egg, but also gelatine, yeast, antimicrobial agents (neomycin, streptomycin and polymyxin B) and preservatives (thiomersal) and adjuvants (aluminium hydroxide/aluminium phosphate). Finally, latex on the injection kit and gloves may trigger allergic reactions.
Serious allergic reactions, so-called immediate reactions, following vaccination are very rare. Immediate reactions occur from few minutes to 4 hours after vaccination (80-95% within the initial 15-30 minutes) and are characterised by symptoms from the skin, airways and the cardiovascular system:
Skin: pruritus, urticaria, angioedema, confluent rash
Airways: nasal congestion, globus sensation, stridor, hissing, dyspnoea, chest pressure sensation
Cardiovascular: malaise, syncope, palpitations, tachycardia and hypotension
Other: altered consciousness.
Studies have reported immediate reactions in children and adults following vaccination in 1 per 500,000-1,000,000 doses of vaccine.
Two scenarios generally require extra attention ahead of the vaccination:
Allergy to vaccine ingredients.
Obtaining a thorough patient history is important, and allergy work-up may be needed. In relation to egg allergy, please see the below presentation of each of the egg-containing vaccines.

Previous, serious allergic reaction following vaccination including immediate reactions and rare, late immunological reactions such as serum sickness, polyarthritis and erythema nodosum.
It is important to make the correct diagnosis, primarily to avoid life-threatening situations, but also to avoid unnecessary vaccination restriction.
Egg allergy is the most frequently observed food allergy in small children, but more than half of all children outgrow their allergy before turning 5 years old, and egg allergy is very rare in adults.
Some vaccines are produced in chicken embryo fibroblast cells (MMR and TBE) or in fertilised hens' eggs (influenza and yellow fever) and may therefore contain trace amounts of egg protein, mainly ovalbumin. The amounts are largest in vaccines produced using the latter method.
Studies indicate that the serious allergic reactions seen following vaccination with vaccines that contain egg protein are not due to egg, but are caused by other ingredients such as gelatine.
The following vaccines may contain egg protein: MMR, influenza, yellow fever, rabies, tick-borne encephalitis and hepatitis A vaccine.
MMR vaccine
The vaccine contains very small amounts of egg protein (nanogram-picogram), which for all intents and purposes cannot trigger an allergic reaction, and the vaccine is therefore not contraindicated in case of egg allergy.
Children who have egg allergy can and should therefore receive their MMR vaccination. The overwhelming majority may be vaccinated at their GP, but anaphylaxis preparedness measures shall be in place, and the patient shall remain under observation for 30 minutes after receiving the vaccination, Figure 1. Children with previous, serious immediate reactions following ingestion of egg, including aggravation of chronic asthma and anaphylaxis, shall be referred for vaccination at a hospital.
In children who have experienced an immediate reaction after the first MMR vaccination, the recommendation is to measure antibodies against all 3 vira - and if the child has antibodies, any further vaccination may be avoided. The child should undergo work-up with a view to diagnosing any allergies; and if it is assessed that the second MMR vaccination is required, this vaccination should be given at a hospital.
In Europe, the prevalence of anaphylaxis owing to MMR vaccination is estimated to be 1.2 cases per one million doses, but the majority of anaphylactic reactions following MMR vaccination were observed in persons who did not have egg allergy.
Previous skin prick testing for egg is not recommended due to low sensitivity and specificity, but children who have previously had an allergic reaction to MMR vaccine should undergo allergy work-up as the reaction is most frequently due to another vaccine ingredient, e.g. gelatine or neomycin.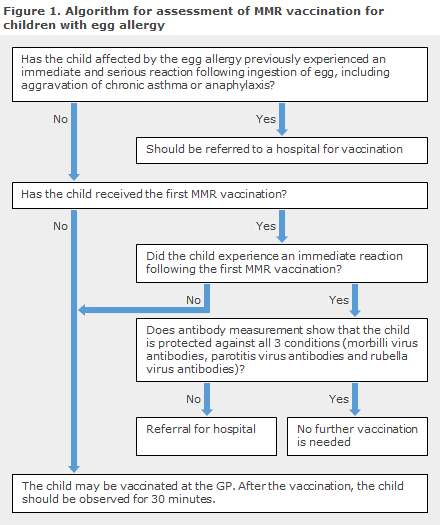 Influenza vaccines
It is recommended to ask about egg allergy before vaccination. People with egg allergy whose only reaction after ingesting egg is urticaria may be vaccinated at their GP, whereas patients who have experienced serious reactions following ingestion of egg shall be referred to a specialist for work-up, including IgE test and skin prick test for egg, and risk assessment, Figure 2. Many outgrow egg allergy, and patients who can ingest boiled or scrambled eggs without suffering an allergic reaction may be given the vaccination as normally, regardless of previous allergy or positive skin prick test or IgE test.
Skin prick test with influenza vaccine is not recommended due to low sensitivity and specificity for prediction of serious reactions. Fractionation of doses is also not recommended.
In patients who have previously suffered a serious reaction to influenza vaccination, future administration of influenza vaccine is contraindicated. This applies regardless of which vaccine component is under suspicion of having triggered the reaction.
Nasal, live attenuated influenza vaccine should be avoided. Influenza vaccines that do not contain egg exist (Flucelvax and FluBlok), but these vaccines are not currently marketed in Denmark.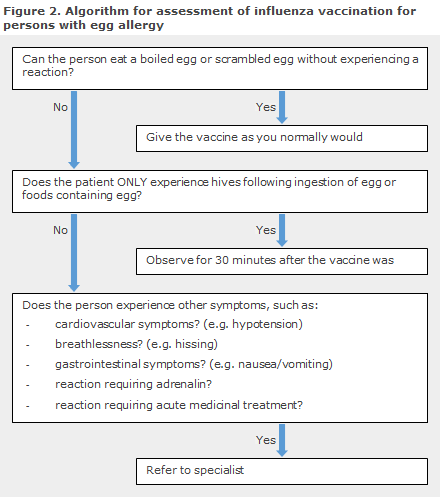 Yellow fever
The vaccine is cultured in chicken embryons and is not heated during manufacturing. Therefore the vaccine contains more egg protein, but the precise contents of egg protein is not known.
A total of 0.8-1.8 anaphylactic reactions per 100,000 injections of yellow fever vaccine have been reported; some of these reactions are probably caused by gelatine or other ingredients.
If requirements from international authorities (see the WHO's list here) are the only motivation for vaccinating a person who is allergic to egg, you should issue a Certificate of Exemption on paper carrying an official letterhead and stamp describing the contraindication.
The patient should be referred to a specialist in case of urgent travel to an area with a risk of yellow fever (e.g. due to a current outbreak) if it is assessed that the risk associated with travel without vaccination outweighs the risk associated with vaccination.
Rabies vaccines
The product Rabipur contains egg protein, whereas Rabies-Imovax and Verorab do not. Therefore the two latter products are recommended in cases with egg allergy.
Tick-borne encephalitis vaccine
Only a serious allergic reaction triggered by ingestion of egg or by a previous TBE vaccine constitutes a contraindication.
Generally, mild to moderate allergic reactions do not constitute a contraindication, but the patient shall be referred to hospital.
Hepatitis A vaccine
Epaxal is the only hepatitis A vaccine that contains egg protein. Consequently, on suspicion of egg allergy, this vaccine should be avoided and another used (e.g. Havrix, Vaqta or Avaxim).
(S. S. Voss on behalf of the Consultancy Team, Department of Infectious Disease Epidemiology)
European Antibiotic Awareness Day 2015 and national Danish antibiotic campaign
In keeping with tradition, 18 November will be European Antibiotic Awareness Day, a joint European initiative (www.ecdc.europa.eu).
The European Antibiotic Awareness Day is an annual event introduced in 2007 in order to increase awareness of the appropriate use of antibiotics. The initiative may target both citizens and healthcare workers. In connection with the awareness day, a national Danish antibiotics campaign will run, focusing this year on working healthy adults.
The campaign contains material in the form of the poster and folder "Cough is annoying - but antibiotics rarely help". The messages are also presented in banners on netdoktor.dk and apoteket.dk and in video clips that are shown on flat screen monitors in pharmacies. Additionally, a dialogue sheet for general practitioners will be published which may be used for dialogue with patients about antibiotics. The campaign will also be shown on the website www.antibiotikaellerej.dk.
"Cough is annoying - but antibiotics rarely help" is funded by the Danish Antibiotics Council and launched as a concerted initiative counting the Danish Ministry of Health, the Danish Medical Association, the Danish Health and Medicines Authority, Danish Regions, Danish Association of Danish Pharmacies and Statens Serum Institut.
(U. W. Sönksen, R. L. Skov, Microbiology and Infection Control; B. Jørgensen, Communications)
Link to previous issues of EPI-NEWS
11 November 2015