Chlamydia 2014
Extension of limited subsidy for 13-valent conjugate pneumococcal vaccine
Chlamydia 2014
The laboratory notification system for chlamydia (oculogenital infection caused by Chlamydia trachomatis) receives quarterly data on laboratory-diagnosed chlamydia from the clinical microbiology departments and from one clinical biochemical department. 2014 saw the detection of 30,881 chlamydia cases (27,628 in 2013), Table 1. This corresponds to an annual incidence of 549 per 105 (493 per 105 in 2013 and 473 per 105 in 2012). A total of 351,507 analyses were performed, and chlamydia was detected in 8.8% of those tested. The share of positives increased in the 2004-2009 period from 7.3% to 8.6% and then decreased to 7.8% in 2011 and 2012.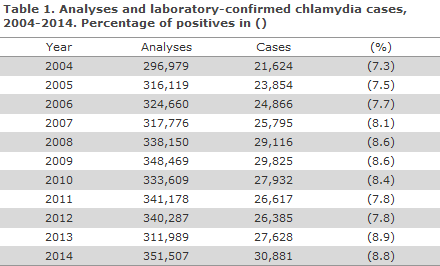 As in 2013, a total of 79% of the men and 87% of the women were 15-29 years old, Table 2. Compared with 2013, the sex- and age-specific incidences per 105 were higher both for men and for women in all age groups above 14 years, particularly for the 15-29-year-olds. The overall incidence also increased both for men (from 386 to 436 per 105) and women (from 595 to 660 per 105).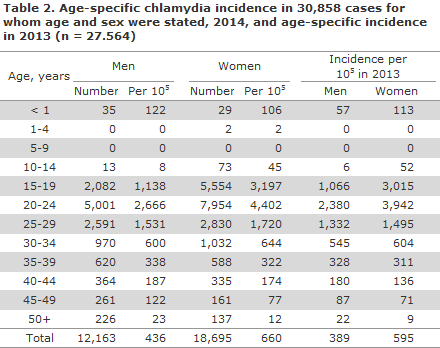 All 1-year age-group incidences in the interval from 15 to 29 years were higher in 2014 than in 2013, except for 16-year-old women and 17-year-old men, Figure 1. In the 2010-2014 period, the highest incidence among men was found in 21-22-year-olds. Among women the age group with the highest incidence has shifted 1-2 years from the 18-19-year-olds in 2010 to the 19-21-year-olds in 2014. Nevertheless, an increased incidence was also seen among women aged 21-29 years.

39% of diagnosed cases were observed in men. This share has previously increased steadily from 23% in 1994 to 38% in the 2009-2012 period.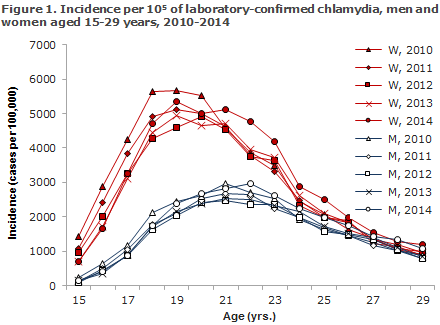 Based on the municipal code of the practice or hospital department performing the test, each individual chlamydia case may be ascribed to a specific municipality, part of country or region, Table 3.

Compared with 2013, an increase was observed in the incidence for both sexes in all regions in 2014, with the following exceptions: For men, a decrease was observed in Bornholm and East Zealand, and the incidence remained unchanged in North Zealand; and for women a modest decrease was observed in South Jutland. Relative to 2013, the M/W ratio decreased in Bornholm and in North and East Zealand, but remained largely unchanged in the remaining areas.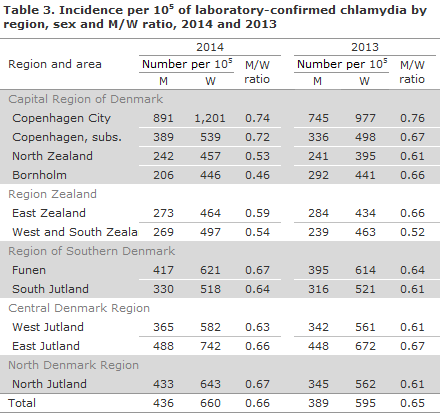 Diagnostics
A total of 91% of the positive samples were submitted by GPs, 8% by hospitals. All cases were detected using DNA amplification methods. Chlamydia was detected in urine samples in 11,526 cases, i.e. 37% of all cases. Male samples constituted 86% of the positive urine samples (87% in 2013 and 2012). Urine was used as sample material in 82% of the male chlamydia cases (82% in 2013 and 2012). All laboratories reported positive findings in urine samples. Rectal chlamydia was detected in 306 men (226 in 2013 and 123 in 2012).


Chlamydia in children
Chlamydia was detected in 152 children under 15 years of age (144 in 2013 and 179 in 2012). Among these, 64 (42%) were under 1 year old, of whom 62 had conjunctivitis. Among 30 children under the age of 1 year with conjunctivitis, for whom the age was stated in months, 22 were less than 1 month old, 5 were 1 month old and 3 were 2 months old. Urogenital chlamydia was detected in 5 13-year-old girls and 68 14-year-old girls and in 13 14-year-old boys. The incidence among 10-14-year-old girls decreased from 127 per 105 in 2009 to 45 per 105 in 2014, and for boys the incidence decreased from 11 per 105 in 2009 to 8 per 105 in 2014.


Commentary
In 2014 the number of chlamydia analyses was 12.7% higher and the number of detected cases was 11.8% higher than the corresponding figures for 2013, but the positive rate remained largely unchanged at 8.8% and 8.9%, respectively. For both sexes and in most age groups and regions, a higher incidence was observed in 2014 than in 2013. This may probably be explained by the increased testing activity, which likely also explains the increased number of detected cases in 21-29-year-old women.

As in 2009-2013, the male proportion of the detected cases had levelled off at nearly 40%, but there is no reason to believe that chlamydia is less prevalent among men than among women. Increased testing of men should therefore be continued. As previously, the number of men who had rectal chlamydia detected increased in 2014. When rectal chlamydia is found in a man, he should also be tested for syphilis, gonorrhoea, lymphogranuloma venereum (LGV) and HIV, EPI-NEWS 20/08.
(S. Hoffmann, Microbiology and Infection Control)
Extension of limited subsidy for 13-valent conjugate pneumococcal vaccine
The Danish Health and Medicines Authority extends the limited subsidy (Danish: klausuleret tilskud) for 13-valent conjugate pneumococcal vaccine (PCV13). The subsidy will comprise persons with chronic obstructive pulmonary disease (COPD) who are more than 65 years old or suffer from severely reduced pulmonary function with an FEV1 of less than 40% of the expected value. The extension came into force on Monday 17 August 2015.

In order for the patient to qualify for a subsidy, the physician must mark the prescription "subsidy", declaring that the person is covered by the limited subsidy.

Apart from this extension, the limited subsidies for PCV13 and 23-valent pneumococcal vaccine are identical, EPI-NEWS 51b/12.
(Danish Health and Medicines Authority)

Link to previous issues of EPI-NEWS
19 August 2015