Blood donor screening 2012
Psittacosis 2012
Blood donor screening 2012
In 2012, a total of 305,082 blood units were screened and 23,981 first-time donors were examined. The number of positive donors is presented in Table 1.

NAT screening (nucleic acid amplification technique) of donor blood for HIV, hepatitis B and C virus (HBV and HCV) was introduced by law on 1 January 2009, EPI-NEWS 2/2010.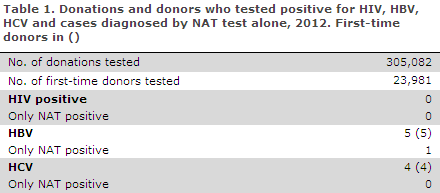 HIV
No HIV positive donors were found.
Hepatitis B virus (HBV)
In 2012, a total of five male first-time donors tested positive to HBV. Their median age was 25 years (range 19-39 years).
In two cases, the presumed mode of transmission was sexual contact with a person from an endemic area, another two were born in endemic areas, and for one person the mode of infection was IV drug use.
Hepatitis C virus (HCV)
In 2012, a total of four first-time donors tested positive for HCV, three females and one male. The median age was 39 years (range 38-51 years). Two of these donors were immigrants who had probably been infected through tattooing, piercing or the use of multiple-use needles for vaccination. In one person, the mode of transmission was IV drug use, and in one person the mode of transmission was unknown.
Commentary
2012 saw the lowest ever recorded number of donors who tested positive to the three virus markers in Denmark.
One donor was NAT positive only for HBV and he would therefore not have been detected by the donor screening scheme if NAT screening had not been introduced.
Several Danish blood banks have introduced screening of first-time donors for antibodies against hepatitis B core antigen. The background is that even NAT screening may miss very low virus levels in donors with so-called occult hepatitis B infection. These donors may, nevertheless, be infectious − particularly if the person receiving the blood is immunocompromised.
(A.H. Christiansen, S. Cowan, Department of Infectious Disease Epidemiology, L. Harritshøj, H. Ullum, Department of Clinical Immunology, Copenhagen University Hospital (Rigshospitalet))
Psittacosis 2012
In 2012, a total of 12 persons were notified with psittacosis (parrot fever) which is caused by the zoonotic bacterium Chlamydophila psittaci. This number of cases is at par with previous years.
The cases counted one female and 11 males with a median age of 57 years (range 29-73 years).
For clinical particulars and routes of infection, please see EPI-NEWS 5/08 and 19-20/10.
Three were presumably infected in connection with private bird-keeping; either pigeons, or parrots, and in one case following removal of a crow's nest.
One person was occupationally exposed at a German duck farm/slaughterhouse where C. psittaci was detected in the birds, another was exposed while releasing ducks in Denmark; as in the above case, C. psittaci was detected in the birds.
One person fell ill during a prolonged family stay in Pakistan. In the remaining persons, the mode and source of infection could not be established.
Diagnosis and clinical picture
All cases were diagnosed by PCR of airways secretions during hospital admission. In five cases, it was stated that the infectees had pneumonia; in another five cases there was information about fever/cough or influenza-like symptoms; and in two cases no clinical information was available.
Commentary
None of the notified cases were fatal. Nine of the 12 cases were diagnosed in the Region of Southern Denmark; these cases were not epidemically associated. This may indicate a lacking awareness of the diagnosis and of the duty to notify psittacosis in the remaining parts of Denmark. The overwhelming majority of psittacosis cases are mild and characterized by a subclinical or influenza-like course, and consequently only a limited share of these cases will be diagnosed.
Psittacosis in Southern Sweden
The counties of Skåne and Kronoberg in Southern Sweden are currently recording an increased occurrence of psittacosis. To this date, 2013 has seen a total of 20 reported cases. This is substantially more than the expected 5-10 cases, see the web of the Swedish Institute for Communicable Disease Control.
Many of the cases recorded in Southern Sweden had been cleaning bird feeders in private gardens, and it is believed that the infection was transmitted during such activities. There are, however, no reports to suggest an increased occurrence of C. psittaci in wild birds. The Swedish Institute for Communicable Disease Control alerts to the risk of infection and recommends good hand hygiene and avoiding contact with diseased birds. Also, high pressure cleaning should be avoided when cleaning areas with bird feathers and droppings.
(C. Kjelsø, Department of Infectious Disease Epidemiology, S. Uldum, MI – Microbiology and Infection Control)
Chlamydophila psittaci in parrots and parrot-like birds in animal shops
In 2011, the Danish Veterinary and Food Administration initiated a scheme to map the occurrence of Chlamydophila psittaci in parrots and parrot-like birds in animal shops. In 2012, the scheme was extended to include animal shop suppliers. The objective was to establish the prevalence and to underpin the Danish Veterinary and Food Administration's guidance on risks and routes of transmission.
In 2012, a total of 42 animal shops/suppliers were visited, and one or more positive specimens were collected in 11 shops. A total of 324 specimens were tested, each representing 1-3 birds. In three animal shops, only a single positive specimen was found, whereas the remaining eight had from two and up to 12 positive specimens. Of the 324 specimens, 50 tested positive, which is equivalent to 15.4% of all tested specimens. For comparison, 2011 saw a total of 3.5% positive specimens. This being so, the 2012 increase in the share of positive specimens is statistically significant.
A total of three of the five animal shops which had tested positive to psittacosis in 2011 were also tested in 2012. No infected birds were found in any of these shops in 2012. This seems to indicate that the control measures, including destruction or treatment of all the birds in the shop, followed by cleaning and disinfection, are effective and that the virus does not persist but is re-introduced.
For suppliers of birds, the scheme has shown that bird suppliers who also run shops are at a particularly high risk of psittacosis. This underpins the importance of the veterinary quarantine provisions establishing a minimum 30-day interval between each introduction of new birds to an existing flock.
For more information on the results, please see the report published by the National Veterinary Institute, Technical University of Denmark on the Danish Veterinary and Food Administration's scheme to map psittacosis (Chlamydophila psittaci) in animal shops. The report is available for download at the Danish Veterinary and Food Administration's webpage.
(Danish Ministry of Food, Agriculture and Fisheries; Danish Veterinary and Food Administration)
Link to previous issues of EPI-NEWS
1 May 2013