Screening of pregnant women, 2022
In 2022, a total of 64,841 blood type analyses were performed in pregnant women. Practically all of these women (99.9%) were tested for hepatitis B virus, HIV and syphilis.
Pregnant women with hepatitis B
Of the 64,841 tested pregnant women, 112 (0.17%) were HBsAg positives (hepatitis B surface antigen), which is at par with the level observed in previous years, Figure 1.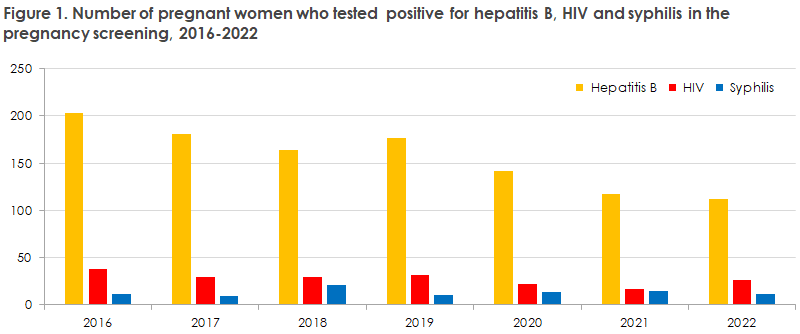 HIV-positive pregnant women
The HIV screening test was positive for 29 (0.05%) of the pregnant women, among whom 26 subsequently received a positive confirmatory test result.
Among these 26 women, five had newly detected HIV and 21 were known HIV positives.
None of the newly detected HIV positive pregnant women were Danish.
Pregnant women with syphilis
A total of 90 pregnant women were tested in the syphilis screening test in 2022. Confirmatory serological tests were performed in 88 of these women (98%). The confirmatory test makes it possible to identify both the false positives/previously infected cases and the pregnant women who currently have syphilis. The majority of the 88 women were false positives or had antibodies from previous syphilis. Current syphilis was established in 12 of these cases, corresponding to 0.02% of all the screened pregnant women.

Among the 12 screened pregnant women with syphilis in 2022, 6 were Danish.
Only 9 of the 12 women were notified via the statutory national notification system for infectious diseases.
Origin
Among pregnant women, hepatitis B almost exclusively occurs in women who were born abroad or born by immigrants in Denmark before the introduction of the general hepatitis B screening of pregnant women (November 2005), Figure 2. This distribution reflects the hepatitis B distribution in the general population, EPI-NEWS no. 51, 2022. Among the pregnant women with chronic hepatitis B who were not Danish, seven women were from the Ukraine.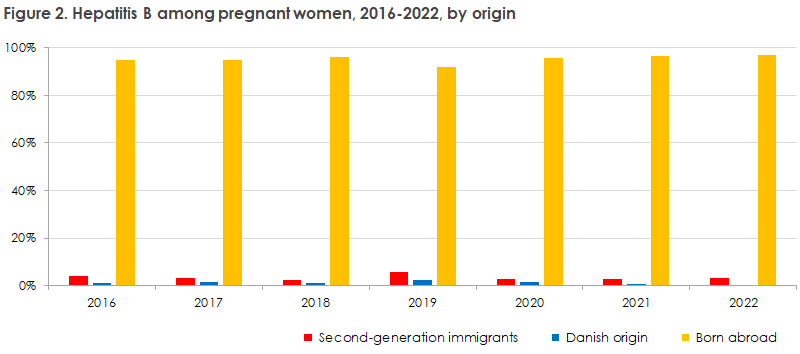 A considerable preponderance of women born abroad is also observed for HIV among pregnant women, Figure 3. In contrast, almost no second-generation immigrants with HIV were detected in the pregnancy screening. Three of these women were from the Ukraine, one was known to have HIV and two were newly diagnosed with HIV.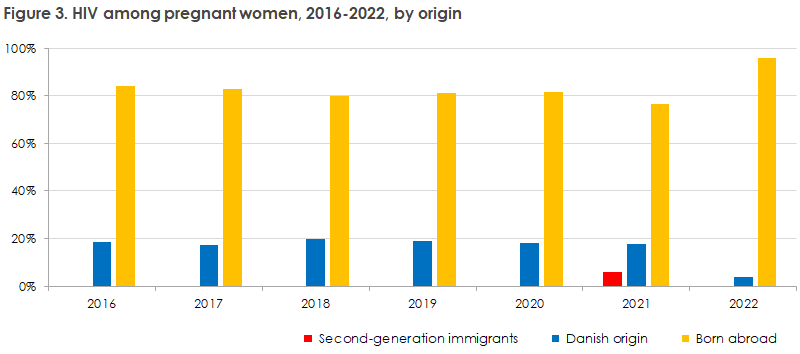 In contrast to hepatitis B and HIV, a considerable share of the women who have syphilis detected in the pregnancy screening were born in Denmark, Figure 4. None of the pregnant women with syphilis were Ukrainian.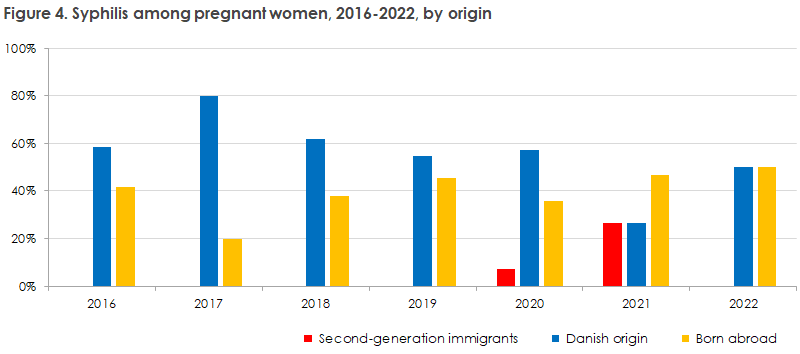 This report is also described in EPI-NEWS 24/2023.