Ornithosis 2017-2019
In 2017-2019, a total of 62 cases were recorded of human ornithosis (parrot fever), which is caused by the zoonotic bacterium, Chlamydia psittaci. Human ornithosis is notifiable to the Department of Infectious Epidemiology and Prevention, Statens Serum Institut, using Form 1515.
C. psittaci is found in faeces and in secretions from the nostrils and beaks of birds; it tolerates drying out and can remain infectious for a prolonged period of time. The bacterium may be transmitted to humans through direct contact to birds or through inhalation of vapourised/atomised material from feathers, faeces or secretions.
In the 2017-2019 period, a total of 54 persons were notified as having become infected in Denmark and three persons were notified as having become infected abroad. In a total of five cases, the country of infection was unknown, Table 1. Among the notified cases, 45 were men and 17 women, Table 2. The median age was 60 years (range 31-87 years). No patients died within 30 days after being diagnosed with ornithosis in the period.

More data are available in Danish at ssi.dk/data, select "Ornitosis" under "Individuelle anmeldelser" (Danish for "individual notifications").
Human diagnostics and clinical presentation
Among the 62 persons, 57 had been admitted to hospital, the majority only for a short period of time, or they had only been seen at an outpatient clinic or an acute treatment facility. In 51 of the admitted cases, the diagnosis was confirmed by PCR on lower-airway secretions, and in six cases on swabs from the upper airways. A total of five patients had only been seen in a medical practice.
In four of these cases, the diagnosis was made by PCR on a swab from the upper airways, whereas one case was diagnosed through positive IgM titre on a blood sample.
The analyses corresponding to the 62 patients were made at the following departments of clinical microbiology: Herlev (n=8), Hvidovre (n=8), Odense (n=11), Vejle (n=12), Slagelse (n=11), Aalborg (n=8), Skejby (n=1) and SSI (n=3). The number of registered human cases per 100,000 inhabitants by Danish areas is presented in Figure 1.
Figure 1. Incidence of human ornithosis per 100,000 inhabitants, by area, 2017-2019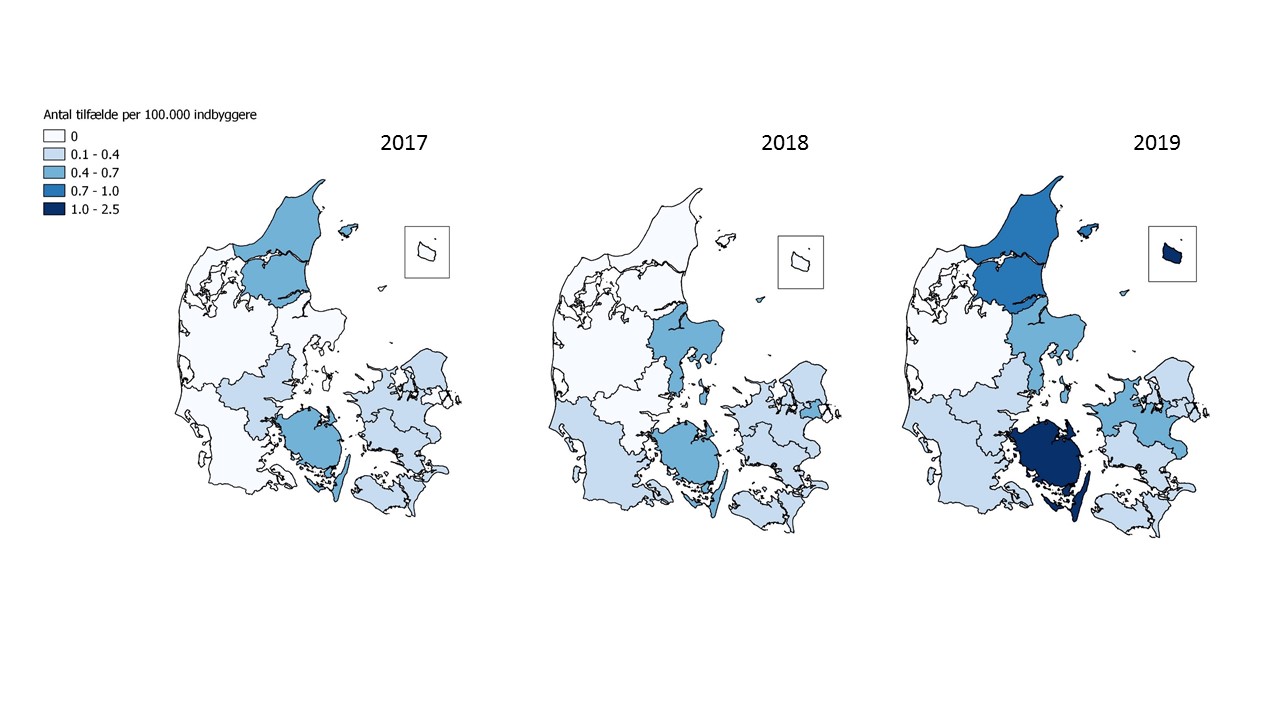 For ten of the cases, it was stated that they had presented with pneumonia in connection with their ornithosis illness, and one of the patients also had sepsis. For an additional 12 cases, fever was stated (including four highly febrile cases), along with cough and/or influenza-like symptoms. For the remaining 40 cases, information about symptoms was not available, but in 39 of these cases airway samples had been collected for PCR. Therefore, these cases presumably had either upper or lower airway infections. Positive serology was available for the final patient whose clinical picture was not provided.
Sources of infection in human cases 2017-2018
From 2017 to 2018, a total of 11 clinically notified persons were registered as having become infected in connection with private flocks of birds, including pigeons, chickens, geese or small pet birds.
An additional 11 cases were notified as having become infected through other contact with birds, e.g., wild birds. For the remaining cases (n=8), the mode of infection was unknown or not stated, even though two persons may have become infected occupationally.
Spreading of the infection for human and veterinary cases in 2019
Veterinary ornithosis is notifiable already when C. psittaci is suspected in a flock of birds.

In March 2019, the SSI and the University of Copenhagen jointly assumed responsibility for the Danish veterinary preparedness service (Danish Veterinary Consortium (DK-VET)). Since then, samples from birds suspected of carrying the disease have been submitted to the SSI for analysis.

Until March 2019, the Danish Veterinary and Food Administration (DVFA) and the Danish Technical University (DTU) jointly provided the veterinary preparedness services. In that period, suspicion of ornithosis was raised for seven flocks of birds, and the infection was detected in three of the flocks. In three of the seven cases, suspicion was based on work-up of human cases in persons who kept parrots and pigeons. As from March 2019, DK-VET conducted a total of seven investigations in veterinary cases to establish the courses of infection following notified human cases. In four of the outbreak investigations, C. psittaci was detected in samples from suspected pigeon flocks and in one case from a parrot. In the remaining two cases, samples from a suspected flock of chickens and samples from suspected pet birds at a workplace (budgerigars and a parrot) all tested negative.
Additionally, a total of 25 clinically notified human sporadic cases were registered in relation to which there were no signs of an outbreak, and veterinary infection tracing was not performed. Three of these cases were notified on suspicion of infection from private pet birds, including parrots (2), and seven on suspicion of contact to wild birds, including one suspected occupational exposure. In the remaining cases (15), no information was provided on possible/suspected sources of infection.
In August 2019, DK-VET and the DVFA conducted a study on samples from 32 contact flocks of homing pigeons on Zealand. C. psittaci-positive homing pigeons were detected in 11 of the flocks.
Only one human case was documented and notified in connection with the study. Thus, direct or indirect contact with the positive flocks of homing pigeons apparently did not contribute to the increased number of registered human cases of ornithosis in 2019, and no other likely reason has been proposed that might explain the increase observed in 2019. Even so, the findings from the study indicate that an increased risk may exist for spreading of infection among pigeons, and that humans may potentially be exposed to infection, including via transmission from mild non-diagnosed human cases. The study is described in the article entitled Chlamydia psittaci i brevduer, årsag til ornitose hos brevdueejere (Chlamydia psittaci in homing pigeons, a cause of ornithosis in pigeon owners)
Prevention in animals and humans
In humans, ornithosis is prevented by wearing gloves and a respiratory mask during contact with sick birds, and by frequently cleaning and disinfecting the floor of the cages of infectious animals. Read more about the monitoring and prevention of ornithosis in humans here.

On suspicion of ornithosis in a flock of domestic birds, the veterinarian contacts the veterinary preparedness service which forms part of the DVFA, after which the bird flock is placed under DVFA monitoring . This entails that the birds must be isolated and that no birds can be removed from the flock, which must receive antibiotic treatment for a prolonged period of time. The monitoring scheme is lifted once the birds are no longer infectious and the DVFA has approved the cleaning and disinfection of the cages and their surroundings.
Similarly, if transmission to a person is confirmed, the DVFA will also suspect ornithosis in the flock of birds concerned.

Read more about avian chlamydiosis here.

This annual report is also described in EPI-NEWS 11/20