Leptospirosis in Denmark 2019-2022
Leptospirosis in Denmark, 2019-2022
What is leptospirosis?
Leptospirosis is a zoonotic infection caused by the pathogenic bacterial species Leptospira, which is found in the urine of infected rodents, e.g., mice and rats. The bacterium is transmitted from animals to humans through contact between urine or urine-contaminated surroundings of infected animals, e.g., via contaminated freshwater and direct contact to human mucous membranes (e.g., nose and eyes), scratches or softened skin. Leptospirosis in humans is more prevalent in countries characterised by a tropical climate, but cases are observed every year in Western Europe and in Denmark in connection with floods or watersports. In Denmark, clinical leptospirosis is individually notifiable to the Danish Patient Safety Authority and to Statens Serum Institut via SEI2.

In humans, the condition causes flu-like symptoms, including high fever, headache and myalgia. In serious cases, the condition may develop into Weil's Disease, where the function of vital organs may be affected and, in special cases, cause organ failure and/or death. No vaccine exists against human leptospirosis, but the infection may be prevented by observing hygiene precautions and using protective equipment in the form of personal protective gear (e.g., rubber boots and gloves) when working in areas that are potentially inhabited by large amounts of mice and rats, e.g., waste disposal, sewers and waste water.
Leptospirosis in Denmark, 2019-2022
From 2019 to 2022, a total of 51 cases of leptospirosis were observed in Denmark; notified and/or laboratory detected. The year recording the most cases was 2021 with 15 cases, equivalent to an incidence of 0.26 per 100,000. Conversely, 2022 recorded the lowest number of cases, a total of eight, corresponding to an incidence of 0.14 per 100,000. Figure 1 presents the number of cases recorded in the past four years.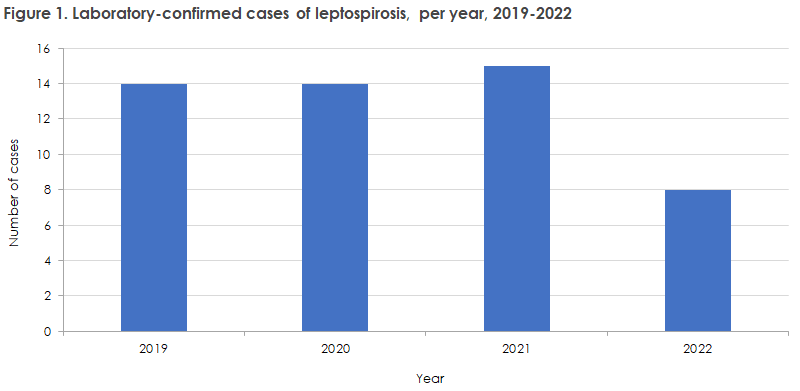 Among the 51 leptospirosis cases recorded in the period, eight (16%) were women and 43 (84%) men. The majority of the cases (40) occurred in people aged 26-64 years. The mean age was 41 years. Geographically, most cases were reported in the Region of Southern Denmark (18) and in the Capital Region of Denmark (15).

Typically, incidence leptospirosis cases are characterised by seasonal variation, probably related to periods when the likelihood of coming into contact with rats and freshwater is high. In the 2019-2022 period, most of the cases were recorded in late summer and during autumn, Figure 2. In August, nine cases were recorded in the entire period and both October and November recorded eight cases.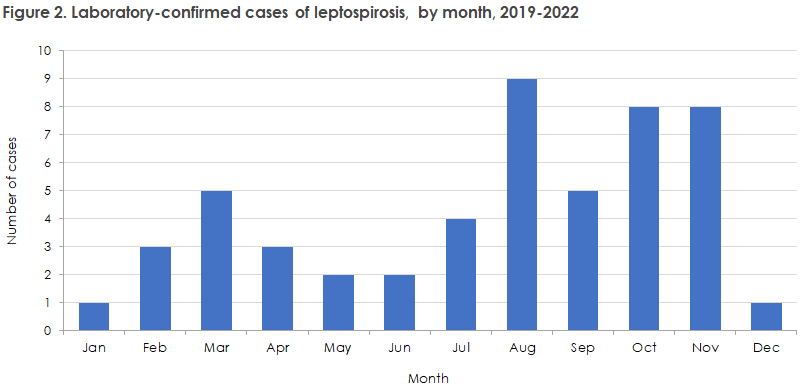 Among the 51 cases detected in the 2019-2022 period, 47 (92%) were notified to Statens Serum Institut. Among these 47 cases, there were 14 admissions and no deaths were recorded. A total of 35 (74%) cases were notified as having become infected in Denmark. The remaining 12 cases were notified as travel-related cases, all to destinations outside of Europe. Figure 3 presents the distribution of cases by place of infection and year.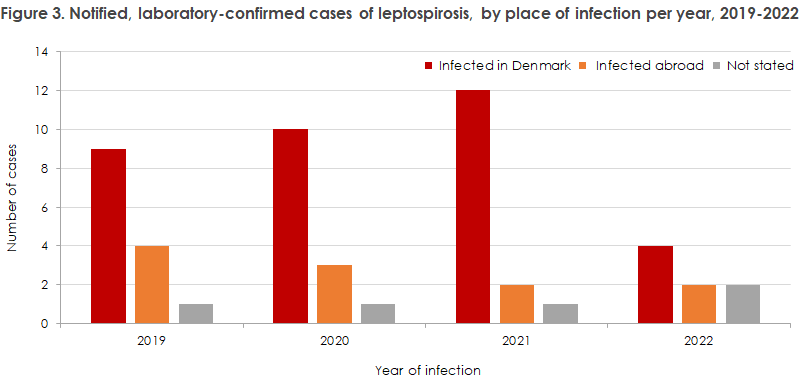 Leptospirosis diagnostics
Statens Serum Institut handles the laboratory diagnostics related to leptospirosis in Denmark. The diagnostics consist of serology (R-343) by micro-agglutination test (MAT), which tests for a total of 17 serotypes; PCR for the Leptospira species (R-065); and PCR and culture for Leptospira (R-1350). The recommended material for PCR testing is blood, urine or spinal fluids. With clinical suspicion, we recommend submitting a minimum of two samples at a 14-day interval. A positive PCR result is followed by submission of a serum sample for serotyping in order to establish the route of infection/source of infection if relevant, and to identify any animal contact. This serves to determine if agricultural animal flocks/herds should also undergo leptospirosis testing.

Among the 51 cases recorded in 2019-2022, a total of 16 (31%) were diagnosed by PCR only. The serotype was determined in the other 35 cases. The most frequently determined serotypes were Icterohaemorrhagiae with 15 (43%) cases and Hurstbridge with 12 (34%) cases. Other serotypes found included Bataviae, Canicola, Hebdomadis, Patoc and Sejroe.

This report is also described in EPI-NEWS 15-16/2023.