Leptospirosis 2017-2018
2017-2018 saw a total of 42 notified cases of leptospirosis. A total of 23 cases were observed in 2017 and 19 in 2018, which corresponds to an incidence of 0.4 cases per 100,000 citizens in 2017 and 0.3 in 2018. This constitutes an increase with respect to previous years. Figure 1 presents the number of notified cases and the number of laboratorydiagnosed cases. The figure shows that all of the laboratory diagnosed cases were notified in 2017-18. Nearly half of the patients were infected during travels abroad. For further information, please see Monitoring in numbers, figures and maps (In Danish: Overvågning i tal, grafer og kort) on the SSI's website. Tal&Grafer.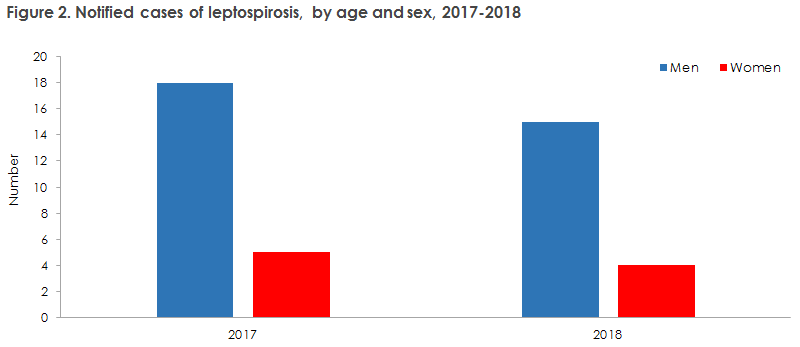 In 2017-2018, a total of 33 men and nine women were notified, Figure 2. In previous years, approximately 80% of the cases were also men. Among the 42 persons, 22 were infected in Denmark. A total of nine persons were believed to have become infected due to occupational activities, including eight in Denmark, Table 1. Among those who had become infected in Denmark, 13 were probably infected following exposure to freshwater, including six cases of occupational infection who had come into contact with sewage, sludge or fish farm water.
For another seven persons who had become infected in Denmark, there was knowledge of both voluntary and involuntary contact with rats. Two persons kept rats or mice as pets, and three had visited locations for occupational purposes that were known to be infested by rats.

An additional 20 persons had become infected abroad of whom 12 had become infected in Thailand. Another four persons had become infected in four different Asian countries, two in European countries, one in South- or Central America and one in East Africa. In 2018, a total of four persons from a family became infected by leptospirosis after participating in river rafting in Thailand. Only two of these cases were notified. Persons who become infected during travels have typically bathed in or travelled on rivers or lakes, whereas only a very limited number have had direct contact with, e.g., rats.
The seasonal variation for the notified cases of leptospirosis is presented in Figure 3. Seasonal variation depends in part on the share and distribution of people who have become infected abroad (see Figure 3), partly on local Danish conditions of importance for human infection with leptospirosis, such as the current number of rats, weather conditions, e.g., torrential rain and/or other known risk factors. Thus, 2017 witnessed a small outbreak among Danes who had participated in a swimrun race in Denmark, and in 2018 a small outbreak was seen among Danes who had become infected abroad in connection with river rafting in Thailand.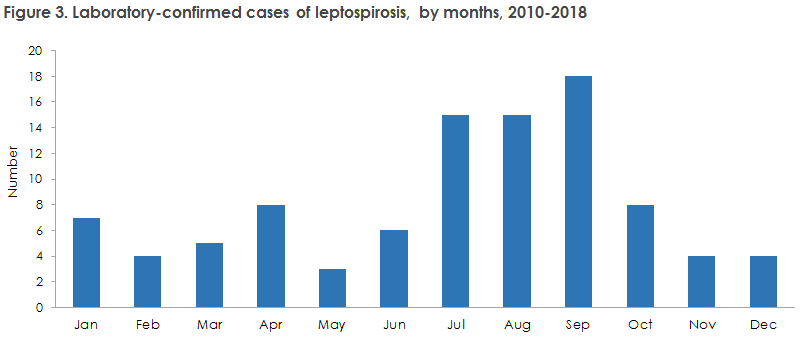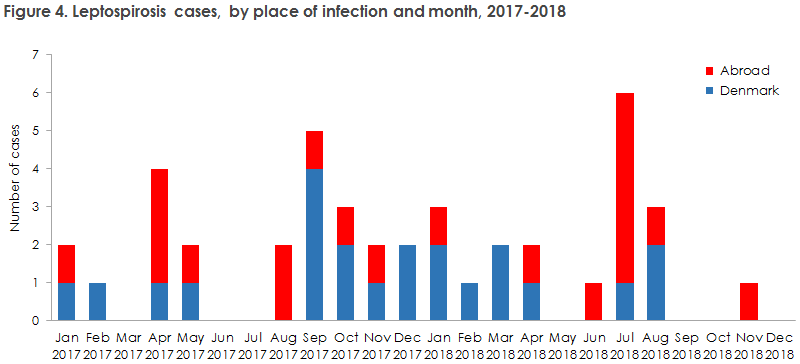 Outbreak in 2017 counting at least four cases of leptospirosis following a swimrun event
In September 2017, Statens Serum Institut (SSI) was informed that four Danish patients had become infected with leptospirosis following freshwater contact during a swimrun event in Denmark. Two of the cases were laboratory-confirmed and notified.
A total of 28 persons participated in the 2-hour event, which included 2.6 km of swimming and 9 km of running. Close to the finishing line, outdoor food stands, tents for changing of clothes and mobile toilet facilities had been set up. The nearest shower facilities were those of a close-by sports arena.
The persons who were diagnosed with leptospirosis had sores or scratches when the event started or acquired these during the event. Many of the participants did not have a change of clothes or a bath for several hours after concluding the event. It is believed that the participants may have become exposed to Leptospira from the water of the stream they were swimming in and from a meadow path that had been flooded by freshwater of unknown origin, why the participants were running in ankle-deep water. These cases are similar to a case described in 2016, also occurring after a swimrun event (EPI-NEWS 2016).

After the event, the organisers and several clubs have received preventive information and advice, e.g. recommending that they cover any sores/scratces and have a bath and a change of clothes immediately after exposure to freshwater - and also that they should be attentive to subsequent symptoms.
Diagnostics
In the 2017-2018 period, the human infections detected mainly belonged to two Leptospira species; borgpetersenii and interrogans. Serotypes from these species have been reported in rats, mice, hedgehogs, pigs and cloven-hoofed animals.
The number of laboratory-detected cases has increased in 2017-18, as has the number of notified cases, Figure 1.
In Denmark, Statens Serum Institut performs the laboratory diagnostics for leptospirosis. Diagnostics consist of serology (R-343) through micro-agglutination test (MAT), which comprises testing for 17 Leptospira serotypes, PCR for the Leptospira species (R-065) and PCR with subsequent culture for Leptospira (R-1350). Definite serological diagnosis requires a minimum of two samples taken at a 14-day interval. It may therefore be expedient to submit a new sample in case of any negative results and continued clinical suspicion.
The recommended materials for PCR are blood, urine or spinal fluid, if possible obtained before the initiation of antibiotic treatment.