Veterinary Vaccine Research
Vaccines are routinely used in the prevention of infectious diseases in pets and production animals. There is, however, still a need to develop new and better vaccines to protect against e.g. emerging virus infections or bacterial infections where the use of antimicrobials is high.
Veterinary vaccine research at SSI
The research group on Veterinary Vaccine Research at SSI was initiated in 2019 in parallel with SSI and University of Copenhagen took responsibility for the Danish Veterinary Contingency programme. We are working from a One Health mindset where we employ the many years of SSI R&D experience in human vaccines to rethink veterinary vaccines, and where new results in animals will contribute to an expanded toolbox for human vaccine development. In the research group for Veterinary Vaccines, we focus on swine diseases and on application of immunologic research, pharmaceutical technologies and vaccinology know-how to develop new vaccines tailored to provide the optimal protection for the given infection or disease.
Our current main focus is on development of vaccines tailored to induce secretory IgA antibodies against infections on mucosal surfaces in the intestines and respiratory system or induce cytotoxic T cells against chronic intracellular infections and cancer.
Research projects
SigAVAC
Title: SigAVAC - Prevention of E. coli-induced post-weaning diarrea by vaccine-induced secretory IgA
Objective: Newborn piglets are passively protected against E. coli infections by antibodies in the sow´s milk, but this suddenly stops when the piglets are weaned and they have not produced their own antibodies in the gut. Traditional vaccines induce systemic antibodies circulating in the bloodstream, but these antibodies do not pass the mucosal surface into the gut and are therefore not able to protect against the infection on the mucosal surface. Oral live vaccines induce the appropriate mucosal secretory IgA (SIgA) antibodies but are hindered by antimicrobials and the antibodies in the milk. We will take advantage of the many years of research in adjuvant formulations at SSI to develop a unique and revolutionary vaccine with induction of SIgA antibodies in the gut after injection of piglets.
Partners: University of Aarhus Universitet and SEGES
Funded by: Grønt Udviklings og Demonstrationsprogram (GUDP) under Miljø- og Fødevareministeriet
Contact: Gregers Jungersen, grju@ssi.dk
PAVE
Title: Characterisation of tumor and vaccine specific immune responses in PAVE oncopigs

Objective: The overarching objective of the joint European PAVE project is to establish new strategies and approaches for immunotherapeutics, including cancer vaccines in the treatment of pancreatic ductal adenocarcinoma (PDAC). Specifically, our role is to improve the immunological read-outs of relevant immune responses in pigs as animal models of cancer and immunotherapy. The genetically modified swine animal models (Oncopigs) will be developed at Technical University of Munich, while we will use perfectly healthy pigs in Denmark to investigate how best to induce and monitor an effective cytotoxic anti-tumor response by vaccination.
Partners: Joint European early researcher innovative training network with 13 partners and 9 partner organisations (https://pave-cancer.eu)
Funded by: The European Union, Horizon 2020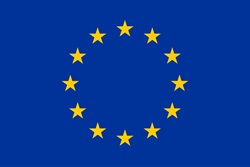 Contact: Gregers Jungersen, grju@ssi.dk